Goddess Initiation: A Practical Celtic Program for Soul-Healing, Self-Fulfillment and Wild Wisdom. This is a pagan book of practical Celtic Spirituality by a respected teacher and shamanic elder. Learn Wicca / Wiccan Classes / Faerie Tradition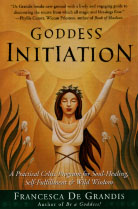 My dear, dear, community,

My HarperSanFrancisco book
Goddess Initiation: A Practical Celtic Program for Soul-Healing, Self-Fulfillment and Wild Wisdom
is in stores Oct. 2, 2001!

View a large version of the book cover to see how gorgeous it is.

I didn't want to be an author but the Goddess asked me to write books. (And I am happier for having done so!) So I write at Her pace, not mine. Goddess Initiation was 13 years in the making. Carefully thought-out solutions based in ancient wisdoms are needed to change our lives and the world for the better.

Mine is an interfaith Goddess, She is perfectly happy helping anyone regardless of their religious beliefs or lack thereof. She only wants to help. Anyone can use the tools in Goddess Initiation.

Goddess Initiation is based in material that helped my students and clients with everything from creating great sex, to conquering depression, to effectively parenting to finding personal happiness. It is a book that can help you discover what is meaningful to you personally and on a larger scale, and act on your insights.

Goddess Initiation provides healing, solace, power and direction, from a deity who treasures you with profound Mother love. She provides this lush, gorgeous planet and teaches us to celebrate everyday life with sacred playfulness and to enjoy worldly possessions and our body. In a sense, this book's lessons are not from me, but come through me from something stunningly larger than my human efforts, no matter how diligent those efforts have been. Someone once called me a wise-woman. It is an inaccurate term. All I do is share the Goddess's wisdom. She tells me things. I teach them to people in my books.

The Goddess is a never ending source of all we need and showers Her love upon us in Goddess Initiation. The lessons can be used to keep you clearer-headed in modern times, heal trauma, and help you discover what you can do to best serve your loved ones, community, humankind and planet. Whether through its prayer that the Goddess help one know the right action to take and then to stand firm upon one's convictions, or its exercise that helps one find within the wisdom of one's personal ancestors, Goddess Initiation helps you honor the spiritual journey that life provides, both its challenges and triumphs; when we do this we find the heart of spirit, become true shamans if we so wish, and fully reap the wondrousness of being human.

May Goddess Initiation give you inspiration, hope and vision while helping you keep your feet firmly planted on the ground. May it show you how to build a better tomorrow. May it help you find the joy that the Goddess truly wants Her children to embrace.

Blessings on your journey, I am with you each step,
Francesca De Grandis
---
Buy Goddess Initiation on-line. International sales are available there.
Goddess Initiation can also be found at your local independent or national chain book store. Any store, out of copies, will be glad to order it for you at no extra cost. Where to buy Goddess Initiation and my other book Be a Goddess!if you prefer walk-in bookstores
---
What folks have kindly said about Goddess Initiation:
"De Grandis offers comprehensive month-by-month instructions on achieving the internal power, serenity and creativity of a deity in one short year....classic therapeutic techniques for building self-esteem and reducing negativity...her meticulous approach should appeal to seekers who like their path to be carefully laid out and well traveled." -- Publisher's Weekly
"De Grandis breaks new ground with a lively and engaging guide...Goddess Initiation shares the author's unique and useful approach to discovering the Divine in all things -- the source from which all magic and blessings flow." --Phyllis Curott, author of "Book of Shadows."
"Goddess Initiation reveals the archetypal spiritual powers that are our birthright...If you want to learn to cultivate this potent source of transformation in your life, De Grandis will show you how." --Larry Dossey, M.D., author of Reinventing Medicine and Healing Words
"[A] group studying the writings of Francesca De Grandis or Thomas Merton could provide a wonderful and vibrant community...[Francesca has] a keen insight into the processes necessary for true spiritual growth. Her program is safe for the inexperienced seeker, yet has enough substance to be challenging and insightful even for those whose spiritual journey is well underway." -- Carl McColman, author of The Aspiring Mystic and Embracing Jesus and the Goddess
---
What folks have kindly said about me:
[De Grandis] "is a dedicated hard-working priestess...I have known her for many years and respect her as a...writer, teacher, and person." -- Starhawk, author of Spiral Dance
[Francesca] "has the trustworthy ethics of a Buddhist priest, psychologically sound respect for the complexity of human process, and a wicked sense of humor that keeps serious material in healthy perspective."--Adrienne Amundsen, Ph.D., and clinical psychologist
---
GODDESS INITIATION:
A Practical Celtic Program for
Soul-Healing, Self-Fulfillment and Wild Wisdom
by Francesca De Grandis
(Harper San Francisco 0-06-251715-5 $16.00 pb)
---
this page was created 9/01, Copyright 2001, Francesca De Grandis.