"ICONS, MORPHS & SAMPLES, TEXT SOUNDS & SCENES, SCRIPTS, HI & LO, WE ARE MIND CHILDREN."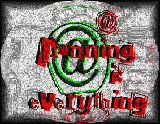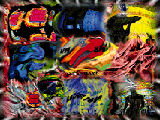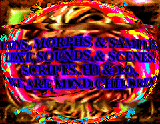 Besides travelling I spend almost all time in our multimedia Homestudio.
I feel very privileged about beeing able to maintain a digital bohemian avantgarde-lifestyle like that as a woman.

Until the final morph to a mind-child I workout besides my computers, plants & gary´s speakers; Our living area is right beside the studio, we dont pay for 2 spaces, dont have to drive to go to work. When cooperating with others the medium is CD-ROMS, ISDN, the net. The only reason to go out sometimes is to get food, cigarettes, wine, newspapers nearby, dresses from downtown, or to have some nice trips through the forests of the "Taunus".
Check out my pages called (netscape 2.0 or higher) and "Nature is Cool" to see what I mean.

If you are interested in my article "aesthetics of techno" which is published in a swiss techno-book, check out "SONEKA" e-zine on our homepage.


---
gunafa@well.com
---