Geneva Bandwidth Orgy: Oink, Bonk, & The Global Cafe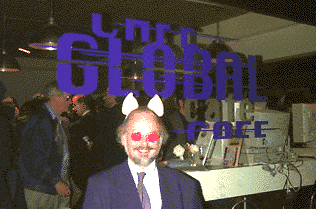 "Oink," Chief Geek
...of the Global Cafe, the week of Bandwidth Geekstock
Telecommunications technology definitely has taken a quantum burp since Telecom 91, the last time the International Telecommunications Union held its convention in Geneva. Four years ago, you could spend two weeks hunting for one of the few mentions of the Internet. At Telecom 95, you could stop every fifty yards and find a place to surf the web.
| | |
| --- | --- |
| This year, an estimated one billion dollars was spent. I can believe it. This is where entire countries come to shop for telecommunications infrastructure. I arrived two days before it began and discovered that my speaker's ID allowed me to wander through the monstrous Palais d'Expositions before it opened to the public. The sight of an instant high-tech city rising from one mondo empty room was worth travelling to see: hundreds of jumpsuited workers of sixteen nationalities built the thing from the ground up. Sparks flying, eighteen buzzsaws audible at all times, geeks on roller skates pulling glass, always three languages within hearing. A dwillion miles of the highest capacity cables you've ever seen in your modem-riding life. Fork lifts and heavy cranes raised matte black cylindrical girders the diameter of pickup trucks, as part of a full-scale starship, complete with dining room, at the IBM booth. Turn down the lights, and you could lose Madison Square Garden in one of the corners of the PalExpo. 350,000 people paid admission. Telecom 95 was the monster infotech orgy of all time. | Telecom 95 was the monster infotech orgy of all time. |

Virtual Aquarium: Finally, a Use for Multimedia

I jotted down some of the slogans different corporations used this year. Nippon Electric Company is "Bringing the global village to life," while IBM urges us to "Communicate for the global village." According to Ericsson, the Swedish giant, "It's about communication between people. The rest is technology." In Scandinavia, Telstra is "Connecting worlds," and Nokia is "connecting people." In Germany, Siemens is "Turning future into reality," France Telecom is "In touch with your future," while Fujitsu claims "We've seen the future. And it's here." A few idealistic voices ring out: Pirelli says "Let's make things better," and the European Commission pleads for "An information society for everyone."

The prize for most absurd use of multimedia went to NEC's

"Virtual Fishtank,"

a $15,000 high definition display linked to a laserdisk, showing simulated tropical fish swimming in a simulated aquarium. Is this just the first of many household objects that will gradually by replaced by indistinguishable but synthetic simulations? How post-Baudrillard!
And of course, there was the by-now

obligatory voluptuary in a datasuit,

dancing like a virtual gogo dancer on a platform, while an animated image shadowed her movements on a giant hi-def screen. Giant hi-def screens were also obligatory this year.

Oink was in the final stages of helping put together Geneva's first cybercafe, "Global Cafe." They had the ISDN lines up and running, Windows and Macs running Netscape and Telnet. Croissants, coffee, wine, and bandwidth. I cut a big purple ribbon. . I had known Oink for most of a year, as one of the founders of The River. We had corresponded about cyberstuff, but had never met in the flesh world. "You'll recognize me right away," we e-mailed each other, and we were both right. Drop in when you are in Geneva. It's on Rue de Roi in Plainpalais.[(+41 22) 328 2610]

The FEELIES are here!

By far the most interesting encounter of the extraterrestrial anthropological variety was my encounter with Bonk Industries' Atomic Telemotion Machine, a really cool looking gadget the size of an ice-cream vendor's cart, that allows people to transmit positive emotions at a distance. It can even turn negative emotions into briquets of "Canned Hate," that can be burned in your BBQ. Check it out!

Brainstorms has its fingers on your future, and don't you forget it!