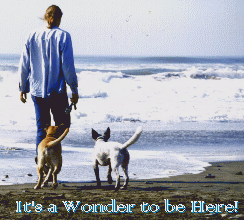 Hello!
Welcome to my home page. I am a software quality professional available for consulting work. I am currently working with Lawrence Berkeley National Lab on computerized simulations of CO2 sequestration systems. I previously worked as a principal engineer for Symantec, (via Brightmail) in San Francisco. I was a volunteer firefighter and EMT for the Crockett-Carquinez Fire Department, serving in Port Costa's Station 77 until January of 2011 when I moved back to San Francisco. Prior to re-entering the technology world, I was a veterinary technician at Berkeley Dog and Cat Hospital. I had been working there since August of 2002, deepening my knowledge of the veterinary technology field to better apply myself as a marine wildlife rehabilitator.

I was, before that, an Assistant Survey Technician aboard the NOAA Ship Rainier. The Survey Department collects the data used to create and maintain nautical charts. We worked mainly in Alaska, but, also in Washington state. I spent a fair amount of time running single and multibeam sonar systems (KLEIN, RESON and ELAC), collecting bottom samples and taking CTD casts. The decision to leave NOAA was a tough one personally as I made a number of great friends there - truly remarkable people - many of whom are now on other ships or in other assignments with NOAA. I have worked professionally as a kayak-based docent in a program jointly administered by the Monterey Bay National Marine Sanctuary and the National Marine Fisheries Service Office of Law Enforcement.

I am a volunteer with the California Oiled Wildlife Care Network, working at the International Bird Rescue and Rehabilitation Center in Cordelia, California. I also volunteer doing Animal Care and Rescue, Transport and Release related work with The Marine Mammal Center. In addition to this I have volunteered with the Farallon Marine Sanctuary Association and the Gulf of the Farallones National Marine Sanctuary in their SEALS program. This program monitors human disturbance of harbor seal populations in Western Marin County, just North of San Francisco. I find volunteering to be an extremely fulfilling use of my time, knowledge and energy and highly recommend it to everyone.

I love sea kayaking and have been doing so for several years in Central and Northern California, in Washington, in Alaska, off the coast of South Carolina and Georgia and in inland lakes in the Western US. In addition to sea kayaking, I enjoy hiking and camping and snowshoeing. I enjoy mountain biking - being lucky enough to live on Mount Tamalpais, birthplace of the Mountain Bike - and exploring established dirt roads/tracks in my 4WD pick-up. I like remote places. I am a budding amatuer naturalist, slowly learning the trees, wildflowers, other plants, animals and birds of my area of the world. Marine Mammals are my most concentrated area of study so far, and among them specifically the harbor seal.

I am considering returning to university to pursue an additional degree, but, am currently on the fence whether it be for Marine Biology or some concentration in Veterinary Science. I am certified in CPR and recently received my certificates in Basic Marine Fire Fighting, Personal Survival Techniques, Elementary First Aid and Personal Safety and Social Responsibilities in compliance with STCW Basic Safety Training from the California Maritime Academy's Department of Continuing Maritime Education. I have had some training in HAZCOM and am pursuing additional HAZWOPER training through the state of California.

In September of 2000 I retired from my former career as a corporate director in a software firm running SQA and Release Engineering departments. I particularly enjoy training teams in quality assurance practices and test planning processes. I also possess a wide range of hands-on skills in the industry as well: from SQL slinging to web development, image manipulation to building out servers. I have been a member of the WELL online community since 1989.

I had a wonderful dog, Stella, who passed away on 24 February, 2004.

I have a degree in Russian Area Studies from the University of Minnesota. I lived in Russia in 1988. I am very interested in Georgian and Tuvan language and culture. I would love someday to visit Kamchatka, Sakhalin, Lake Baikal and Tuva.

Some of the birds I have seen outside my window are the Oregon form of the Dark-eyed Junco, the Oak Titmouse, California Towhee, Pygmy Nuthatch and Chestnut-backed Chickadees.


I hope you will enjoy this page on Single Malt Scotch Whisky. Responsible moderate consumption of a fine single malt is a sumptuous pleasure. A fine single malt possesses a complex character analagous to that of a good wine. I hope you enjoy this nascent effort.
---
---
---
This page is the handiwork of vision.