Bonny Doon, Santa Cruz County, California......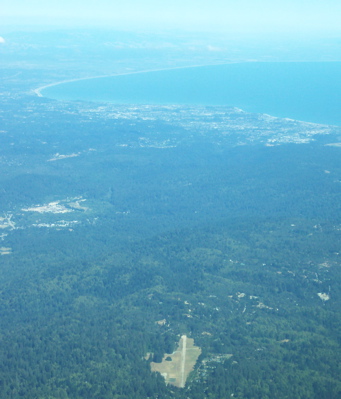 The view above Bonny Doon airport south to Santa Cruz

View the Monterey and San Francisco Bay area from 200 miles up in space
            At 2,200 Feet AMSL, this part of Bonny Doon is a wonderful place to live. Typical of California, the summer is hot and dry. Daytime temperatures are typically in the 90's (F) at our elevation, with lows in the 70's (F). The winter brings rain, sleet and snow, but mild temperatures and calm sunny days also break up the winter months. During the winter of 1996/1997, we received just over 90 inches of rain. The 1997/98 winter surpassed that number, even the one set in 1983 (just over 110 inches). Our unofficial reading was just over 117 inches. Contrast this with the early 90's, when there was as little as 25 inches in the same period. When it does decide to rain, it pours!

            Bonny Doon is located about 12 miles north of the University of California, Santa Cruz. The closest town is Felton, down in the San Lorenzo Valley, home of the Henry Cowell redwoods and the Roaring Camp Railroad. There is a rich diversity of life in the Monterey Bay area. You can find out what the local forecast says, and what the current view down at the beach is. I find this is quite handy for letting me know what I should bring to town, because the temperature can be as much as 25 degrees lower or higher than it is up here.
            This is also earthquake country. The earth moves quite often here, but we don't feel it unless it is over about 3.5 on the Richter scale. Bonny Doon is located between fault lines, and is a fairly solid mountain (granite and sandstone), so we feel about as safe as one can feel here.
---
          Some other links of interest in Bonny Doon:
            I have another home these days, where I live full-time, located on the island of Kaua`i, near Kilauea Town.
All of these places are special to me

            My brother Gary Mussell also has a home page. I also have a page of photos of my Grandparents and Aunts and Uncles, as well as other family pictures.
            We have a number of favorite WEB sites, related to our musical interests, as well as a gallery of photographs and stories about some of the musicians we have met over the years. We like the old-time mountain music! If you know of any links we missed, drop us a line so we can add them.
            And thanks for stopping by!

Back to the Broadcast Engineering Services of Bonny Doon Page

© 2013 Broadcast Engineering Services of Bonny Doon