Welcome to Lisa Hirsch's Home Page
I'm Lisa Hirsch, martial artist, opera geek, technical writer, and classical music writer/blogger. I live in Oakland, CA, and I spend way too much time on The Well, where I am co-host of the Oakland, Classical Music, and Cultures.ind Conferences.
If you've run across this page after doing a web search on my name, yes, I'm the Lisa Rachel Hirsch (or Lisa Hirsch) who went to Teaneck High School, in New Jersey (class of 1975), Brandeis University (class of 1980), and SUNY/Stony Brook (1980-82, no degree). In past careers, I worked at Mass. Mutual Life, Fred. S. James & Co., Kaiser Permanente, and Documentum.
I was known as Lady Ehrengard von Verlorenblum in the Society for Creative Anachronism, in which I participated from 1975-1979.
Some of the People Who Are Important to Me
The obligatory partner, friend, and pet page is here. (If you're important to me and your photo isn't there, it's very likely because I don't have a digital shot of you. Send one and I'll put it up.)
Dan Zan Ryu Jujitsu
I've practiced Dan Zan Ryu jujitsu since 1982 and I hold the rank of second-degree black belt (Nidan) in the American Judo & Jujitsu Federation. I have taught at my own dojo since July, 2012. Open Door Jujitsu is now in El Cerrito, at Mind Body Dojo 7512 Fairmount, El Cerrito, with classes on Tuesday and Thursdays, 7 p.m. to 9 p.m.
I was a student at The Dojo from 1982 to 1987; I helped found Laurel Jujitsu in 1988. We put on the 2003 AJJF Convention, for which I did publications, scheduling, and various other tasks. I taught at Laurel from 1991 to 2005; it is now closed.
If you're interested in studying jujitsu, taking a self-defense class (women only or mixed), or having me teach one at a site of your choosing, send me email or phone me at (510) 842-NAGE.
I have some opinions on choosing a martial art.
Choral Singing
I sang alto in Chora Nova most years from 2006 to 2011 and I sang with San Francisco Renaissance Voices for their July, 2007 concert.
I sang for one season in Soli Deo Gloria (a good chorus and nice bunch of people; they sing only sacred music, which is a minor barrier for me). I sang in The Haydn Singers, which is presently on hold because Paul Flight is now a very busy conductor, between Chora Nova and California Bach Society.
Other Stuff
I was a member of the concom for Potlatch 12, a small science fiction convention oriented to books, writers, and readers that was held in San Francisco in February, 2003. For Potlatch 10, I compiled the Native Guide, which provides information on places to go, things to see, and good restaurants in the area of the convention. It's been updated for Potlatch 12 and I'll eventually post the new PDF.
In 2007, I started keeping track of the books I've read. Yes, you do find out interesting things when you measure.
I'm a passable amateur photographer (I still use film sometimes). Way too many digital photos at my Flickr account. I am apparently the official photographer for Ladd Cellars - and ask to see the winemaker's business cards, which I originally designed and gave him. Some of the photos in the second iteration are mine, some are his.
I'm a decent cook. My chili recipe won first prize in the 2000 Well Chili Cookoff and third prize in 2003. I made a buche de noel for New Year's Eve 2004: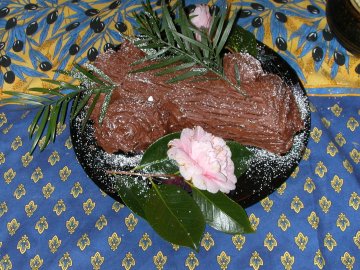 (Photo by Matt Austern)
Music Writing
Since February, 2004, I've been writing reviews and other articles for San Francisco Classical Voice. I have also occasionally published in Chicago Classical Review and Classical Voice North America. I reviewed one DVD for Opera News in 2005 (and ought to try to get more work from them).
I blog about classical music at Iron Tongue of Midnight, where you can find a complete list of my SFCV work in the sidebar. I link to a whole bunch of other worthy blogs. Note that as it comes up on its 12th birthday (I blame Alex Ross), the blog is over 3000 posts, so reader beware.
What I Do or Have Done For Money
I'm a technical writer at a company whose software you may have used. (It's true what they say about the lunches (and breakfasts, and dinners).) I work for four years (2006-10) in the Enterprise group, now called Google for Work, where I worked on documentation for the Google Search Appliance and Google Mini. The Mini is long gone, as of 2016, and the Search Appliance is in the sunset process now.
I spent almost six years (2010-16) in Platforms, where I wrote data center documentation for an internal audience. That means I can't tell you much about what I was doing, though I can point you to public articles about Google's data centers and an interesting talk by Amin Vahdat about Google's networking infrastructure. As of September, 2016, I am in Google Cloud documentation.
I'm advised that I should state the following:
Everything on this Web site is mine and mine alone; my opinions represent me only and have nothing whatsoever to do with my employer.
I worked for the Documentum division of EMC, in Pleasanton, CA, from April, 1998 until November, 2006, where I wrote primarily server products documentation. Now that EMC and Dell have merged, or maybe Dell bought EMC, Documentum has been sold off to one of its competitors, OpenText. As a friend who used to work with me there says, they can have the crappy codebase. Nearly everyone I worked with at Documentum is gone, gone, gone.
And about the merger? Well, I read that if he had simply retired, Joe Tucci would have gotten around a $600,000 payout, but by selling the company he will get around $21 million, presumably based on his stock holdings. You do the math - but keep in mind that the merger of two behemoths of old technology will just produce an enormous company that will have gigantic business and system integration problems and the same old 90s technology. I mean, EMC did such a great job of merging in Documentum, VMWare, etc. after buying them. You'll notice that VMWare founder Diane Greene is now and SVP at my current employer, for example.
I was one of the stalwarts producing political copy for President '96, a simulation game played on the Web. (Boy, do I wish we'd had President 2000.) You can also read my never-finished work-in-progress, the on-line guide to the Well's extract command.
I spent years at jobs I did to support my jujitsu habit. From 1983-89, I was in the insurance business. I had a freelance database programming business from 1989 to 1990, then spent nearly six years managing leases at Kaiser Permanent's Northern California Regional Offices. The endless reorg of 1993-96 finally drove me nuts, and one technical writing class at U.C. Extension got me into a new career. I free-lanced from 1996 to 1998, then landed at Documentum, and now at Google.
Politics
This Web site has a couple of my political rants (on the 2003 California recall election and the 2004 Presidential election) and a long list of Reasons to Vote George Bush Out of Office. (What I'm going to do with this, post-Nov. 2, remains to be seen.)
Do you hate politicians? I don't. I put in a good word for them here.
My Obsessions, Operatic and Pianistic
I'm a big fan of the pianist Stephen Kovacevich, who might be the greatest living player of Beethoven. I maintain an informal page of his upcoming concerts.

I've only been an opera fan since 1994. I blame Eva Turner.

What? You've never heard of Eva Turner? Click here to read about how I became an opera geek and to see some photos of this great, but little-known, singer.

I keep some other miscellaneous operatic info here.

You can search the Web from here using Google.

And here's a way to take a giant hard to handle URL and make it a TinyURL:

This home page maintained by Lisa Hirsch.