These are a few links to help you navigate here on my site, or to take you to some of my favorite places. Just click on the logo or image on the left. I do try to make sure these are current, but if you have any trouble connecting, or if you have questions or comments about them, please email me!


My Blog In response to your requests, I now archive my daily updates from this site's home page. I welcome your visits, and I hope you will feel free to comment, share your thoughts, and generally participate.




The WINGS newsletter Sign up here for my free monthly email newsletter! Full of Tarot lore, of course, plus reviews, introductions to worthwhile people, places, and ideas, and other topics to delight and inspire you. Make sure you are included.



Tarot Talk is where you can pour yourself a cup of something cozy and check in with other Tarot enthusiasts. Visit and share your experiences with the Tarot Card of the Week, ask questions, and get insights about the Tarot. All friendly comments are welcome.




The Raleigh-Durham Tarot Meetup If you prefer your Tarot discussions live and in-person, the Tarot Meetups are for you! We meet every third Wednesday of the month to do group readings, ask questions, compare decks, and generally enjoy the company of other Tarot enthusiasts. The meetups are free to participants and all levels of experience are welcome!




The American Tarot Association is a professional and social organization for Tarot enthusiasts, students, scholars, and readers. They promote the Tarot as a valid and useful tool for personal and spiritual growth and strongly emphasize its ethical use. As a member, I agree to abide by the highest standards of professional ethics and skill.




The Dragon's Cauldron is a group of Witches in the Research Triangle area who gather for ritual and merriment in the Reclaiming Tradition. Serving Raleigh, Durham, Chapel Hill and surrounding areas, we celebrate the sabbats as well as sponsor at least one public ritual each year. To join or learn more visit our website.




Wise Woman Herbal: I am so pleased and honored to have been personally invited to be a resource on the website of the pre-eminent Wise Woman and herbalist, Susun Weed. My blog is being featured in the November 2008 issue of her Wise Woman Herbal E-Zine.




Kind Veggie Burritos is my self-published cookbook of over 120 pages of recipes collected from the "parking lot scene" at Grateful Dead shows in the early 1990s. It is available by mail order only. Written for Deadheads everywhere, it is my gift of gratitude to the music and magic which has nurtured me in many powerful, gentle ways. Hence, it is not for profit, and all proceeds are donated to SEVA and the Rex Foundation.




Dancing Moon Books and Gifts in Raleigh is one of the largest independent Pagan, New Age and alternative retailers in the Southeast. Locally owned and operated since 1990, they offer a convenient, welcoming space for networking, classes, and shopping. Be sure to check their calendar for a variety of special events, including my own readings twice a month. Their mission is personal service, soulful awareness, and loving support for your sacred journey. Skip the giant corporate book chains and online behemoths. Vote with your dollars for the local folks that truly care.




The Indigo Life Center is an online resource for those seeking alternative health and spiritual solutions. As the Raleigh-Durham area's portal to complimentary therapies and spiritual guidance, the Indigo Life Center helps practitioners, seekers, teachers and students easily find one another.




Independent Animal Rescue is a private non-profit organization that cares for stray, abandoned and abused companion animals primarily in North Carolina's Research Triangle Region of Raleigh-Durham-Chapel Hill. Please visit them and help any way you can. And please be sure to spay and neuter your animal friends.



The Witches' Voice is the world's leading Neo-Pagan news and networking site. I am proud to be a sponsor of this advertising-free, community-driven website. They are a respected and powerful resource providing news, information, reviews, and connections for Witches, Pagans, Wiccans, and other Earth-based spirituality groups. Witchvox is also an invaluable reference and advocate for matters of religious freedom and anti-discriminatory issues.




The Reclaiming Tradition of Witchcraft is a community of women and men who practice the religion and magic of the Goddess — the Immanent Life Force. We see our work as teaching and making magic — the art of empowering ourselves & each other. In our classes, workshops, and public rituals, we learn and use our skills to deepen our strength, both as individuals and as community, to voice our concerns about the world in which we live, and give birth to our vision of a new culture.




Joanna Powell Colbert's Gaian Tarot celebrates the living Earth and those who seek to live in harmony with Her. It is an evocative and powerful tool for accessing inner guidance. The imagery of the deck combines multicultural Goddesses and other numinous beings with the mysteries of the natural world.




Kala Ambrose is the discerning and inspiring host of these fantastic podcasts! Free access to entertaining and thought-provoking interviews with today's most respected leaders, researchers and practitioners of the metaphysical, paranormal and spiritual realms.




Herbalist Sarah Campbell offers wonderful organic herbal body-care products (including creams, salves, bath salts & soaps), herbal healthcare and wellness products, and herbal ceremonial products. All are made by hand in small batches, with an awareness of lunar and seasonal cycles. She also teaches many classes and offers carefully chosen books and other accessory items.




Bonnie Cohen is more than just a Life Coach (although, yes, she is a certified, credentialed one). She is in truth a Fairy Godmother, complete with a playhouse full of art toys just for you, a magic wand, and your best interests at heart. If you want a better, more bodacious and juicy life, she will inspire you and offer you wise, practical guidance.




Mammograms for those in need Mammograms are among the best early cancer detection methods, yet 13 million women in the U.S. are 40 years old or older and have never had a mammogram. It only takes a few seconds to click here and help provide free mammograms to those in need. And while you're there, click to give food to the hungry, and to help the environment.




The Essential Herbal is an indispensable magazine by, for, and about herbie people, and the things they love most, namely....herbs! This is a truly wonderful magazine and website if you are at all called by the Green path.




The Tarot Garden Helping Tarot enthusiasts and their collections grow! With an outstanding, searchable database for Tarot decks, as well as the best Tarot deck emporium you could ever find, Tarot collectors and practitioners Jeannette Roth and Dan M. Pelletier are at your service. I am a proud member of their referral service, so please click here if you are searching for, or thinking of purchasing a new deck.




M. Macha Nightmare is a favorite author, teacher, Priestess and one of the founders of the Reclaiming tradition of Witchcraft. Among her many works are Pagan Pride: Honoring the Craft and Culture of Earth and Goddess, and she co-wrote the indispensable, beautiful Pagan Book of Living and Dying.




Melissa Harris art celebrates woman's love of life, beauty, nature and magic. Paintings, prints and more. Intuitive Spirit Essence Portraits. Her fabulous images celebrate sensuality, intimacy, and the sacred erotic.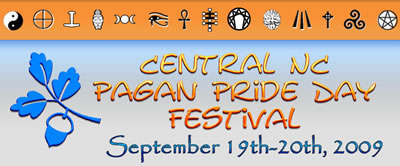 Central NC Pagan Pride is a chapter of the international Pagan Pride Project, a non-profit organization whose mission is to foster pride in Pagan identity, and to eliminate prejudice and discrimination based on religious beliefs, all through education, activism, charity and community. I am honored to once again be a sponsor for this important resource.



Cherry Hill Seminary is a privately owned, accredited Pagan seminary that offers programs in Public Ministry and Pagan Pastoral Counseling. Its program is based on the sacredness of connections and community building.




Medwyn McConachy - Sacred Healing Arts offers an interweaving of the teachings of earth-based spirituality with conscious awareness for personal and planetary healing. Medwyn is a gifted Wise Woman of spirit medicine, offering her services to grateful clients worldwide.




Amaya of Cornwall For people in the U.K. who would like a reading, visit Amaya's website. In a world filled with clutter and clamor, her quiet warmth and compassion shine clearly. With her 20 years of experience in tarot, palmistry and dream divination, she can open your heart and imagination to soulful abundance.




The Tintean Clann Danu is a Hearth and Community located in South Australia. Their focus is on the education, health, welfare and spiritual growth of Children. They walk their talk by offering free downloads of teaching resources, Pagan parenting information, and all sorts of goodies for those in the Earth-centered Western and Northern European traditions.