About Outlaw Bunny—Bard and Talismanic Artist
Her parents' immersion in folk culture influenced everything from her spirituality to her food choices to her art. And made her think those three things are part and parcel. But then, she has a hard time differentiating any two things from each other, because when she see them on an atomic level with her otherworldy eyes, they all look the same to her. :-)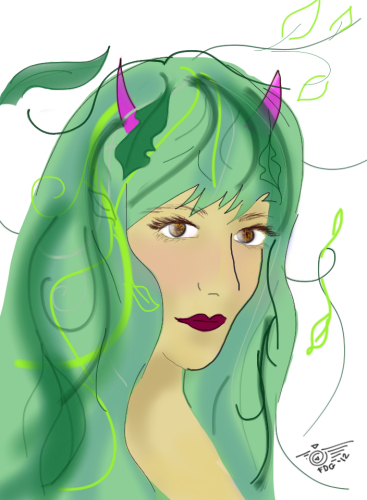 Outlaw Bunny (AKA Francesca De Grandis) started playing folk music in Boston clubs at age fourteen. She is basically a self-taught artist. She is grateful for the few classes she managed to take, which were mostly as a teen: this includes a silversmithing course; a few calligraphy tips from mom that helped get her started lettering; and a summer class or two at Boston's School of the Museum of Fine Arts.
She's toured the U.S. performing and leading hands-on folk culture workshops. When Multiple Sclerosis made holding a guitar too difficult, she took up mandolin. Her focus also shifted to painting and freeform bead-weaving.
She recycles what's on hand to create wearable art and home decor. Hoping to mirror a bit of nature's whimsy and wondrousness, she often designs her art by imagining what a Faerie would wear and where they would live. This is not hard for her, since she is a Faerie.
The shift to beading and painting does more than give her something she can physically manage despite disabilities. Creating talismanic art is a way to serve community despite being housebound from illness. She says, "Service keeps me whole. I may be stuck in my home, but my spirit travels through my art. It makes me feel connected to people."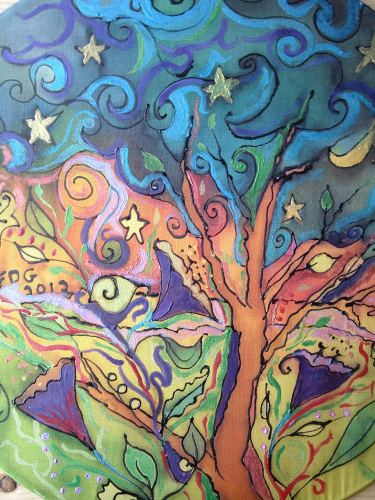 She recently discovered she can draw and paint. Apparently, everyone else already knew it. Her response to that is "Huh?" In any case, she'd only just come to realize her abstract drawing was okay. But to suddenly be able to draw literal things like a face is freaky to her.
She is still at the point where she is impressed by anything she draws. "Oh, that kinda looks like a face, hey, I can draw something that kinda looks like a face!"
Her visual art has appeared at www.jacquardproducts.com, and she is a www.dharmatrading.com's featured silk artist.
After leaving the music business for a contemplative life as a shaman, she discovered that music was part of her spirituality. She authored various books based on her years of teaching Celtic shamanism and interfaith experiential-mysticism.
She has also taught creative process to newbies and pros in a variety of artistic fields, for over two decades. She gives the support needed to help anyone realize they are an artist, because she understands this penchant is innate in all of us, and emerges given the right support.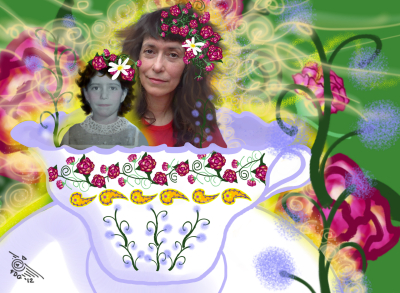 A friend told her, "You prove it IS possible to make a silk purse out of a sow's ear!" Outlaw Bunny is a Faerie rabbit who believes, "Art is like life: Its value is not in its mundane ingredients but in what we create with them. So my choice of materials ranges from the grand to the not-so-grand, because I use what's on hand. I want to find the beauty in what already is, coax it out, reveal it, adorn the ordinary so we can see it is not ordinary at all."
"As a professional illustrator and artist, I personally enjoy Francesca's artwork and find it to be original and inspired by the natural world. Her whimsical, bright style is a breath of fresh air for the world of fantasy and fairy art. The wild yet harmonious color palette and subject matter speak to an enchanted world of fantastical creatures, just outside our windows, on the edge of our own existence, where spiritual understanding through the artistic muse is accessible. Francesca's art captures this essence and brings it to the mundane world for our enjoyment." - - Roberto Campus, professional illustrator, seen in Marvel, DC, Dark Horse, Lucas Arts, Penguin Books, Hulk, Dungeon Magazine, GamePro.
To receive e-announcements of her album releases, classes, brilliant insights, books, life's synchronicities, and all the other stuff that drives her, sign up for her e-newsletters.
Copyright Francesca De Grandis. All rights reserved. No part of this publication -- this web page and the site's other pages -- may be reproduced in any manner without written permission. Copyright reverts to author.
This page was updated 5/2//2012