My Other Site,
Outlaw Bunny
Pagans have more aspects than just "being a pagan." None of us fits in a box. You might be a Wiccan single parent who reads historical novels, teaches soccer, and hopes to take singing lessons someday. Or you might be a Druid who attends Sunday Catholic mass and is in law school, while supporting yourself as a truckdriver.
Outlaw Bunny's Insane Domain celebrates your whole you. It is an interdisciplinary, interfaith interweaving of newly evolving DNA. My everything-under-the-sun site. Blogs about cooking, art, traditional folk music, you name it...and earth-based ecstatic mysticism, because that is always part of me.
My personal version of many aspects: A one-woman interfaith community, I practice shamanism and Chi Gung, am a long-time student of Taoism, and hang out with a Goddess-friendly Christ. I've also been told I'm somewhat of a Buddhist. I'm secretly a Druid. Along with my spiritual schizophrenia, I cook, bead, calligraph, paint, raise medicinal herbs, and do a zillion other things.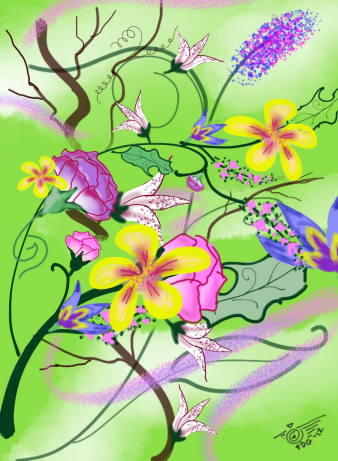 All these topics fit in my brain and my life, but it's too many topics for one little site. The nav bar alone would
be a nightmare!
And, oh my Goddess, there'd be too much to wade through! So, for example, each site has a bio relevant to the site's content, and the site you're on has info re my pagan classes, while www.outlawbunny.com discusses my interfaith curriculum.
I've devoted a lot of time and love to both sites, and hope you find them useful and fun.
I do different blogs on each; please post responses to blogs, sharing your own thoughts and journey, that would rock!
A somewhat tangential note: People drawn to my work are often, like me, considered "too different" by society at large and even by many pagans or other alternative folks. I feel impelled to offer a moment of healing. If that is relevant to you, I hope you take the sixty seconds it requires.
If you've been attacked for your spiritual beliefs, or because you were otherwise different, or because you stood up for people less fortunate than you, celebrate your uniqueness, with this affirmation: "I am a reflection of the entire cosmos. My many aspects, evershifting, honor and sustain the evershifting universe. I embrace my whole me, and thus discover each moment's unique gift."
And with that, here's Outlaw Bunny.
Copyright Francesca De Grandis. All rights reserved. No part of this publication -- this web page and the site's other pages -- may be reproduced in any manner without written permission.
Copyright reverts to author.
This page was updated 4/12/2012