Psychic Readings / Shamanic Counseling / Spiritual Healings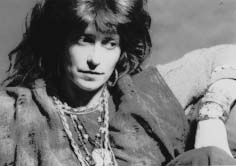 Visit Francesca De Grandis for
Psychic Readings / Shamanic Counseling / Spiritual Healings
Francesca has been featured in The New York Times, USA Today, and Cosmopolitan.
Complete Woman: "De Grandis teaches others how to have great sex, spiritual power, and enjoy the world..." Starhawk, author of The Spiral Dance: De Grandis "knows her stuff." Adrienne Amundsen, Ph.D., and clinical psychologist says Francesca "has the trustworthy ethics of a Buddhist priest, psychologically sound respect for the complexity of human process, and a wicked sense of humor that keeps serious material in healthy perspective."

Francesca says: My practical spirituality helps folks gain the good things in life -- fun, fine food, a happy home, and romance. (Think of me as "Thomas Moore meets Glinda the good witch!")
You are unique, with unique needs. Different people get different things from an appointment with me. I offer:
* Answers to: "What's the right direction for me to take?" "Should I stay with him?" "Where is my soul mate?"
* Down-to-earth advice: Mysticism can be practical: good magic gets your house cleaned, creates abundance, and helps you create bewitching sexuality. The spirits can reveal sound marketing strategies that will give you success in business, or a concrete, step-by step plan for you to take control of your personal life. I helped a gymnast choose the best set of moves for her Olympic performance.
* Healing of your inner blocks to happiness. I have helped folks who were happy and successful yet wanted more self-fulfillment and passion in their life. In addition, incest and other trauma survivors, and the recovery community have found crucial growth through visits with me. I promise I will not put rhetorical Band-Aids on deep soul-wounds. I help you love your body, be cleansed in spirit, and gain inner wisdom.
* Spiritual Power. I have been called a wise-woman, but I simply share the Goddess's wisdom. I will help you find the confidence and peace of mind to follow your own star.
With this many options, you get what you need. Lawyers and bike messengers, psychologists and trauma survivors, Christians and witches, and everyday people wanting inner transformation and spiritual depth: during your appointment, I might give you esoteric advice or mundane information or we might do ritual. Or I might give you tools for self-healing to take home with you. Or tell you to wash your dishes! Whatever you need to enjoy and transform your life. We will let the spirits guide us."

* Appointments for private consultations by phone *

REASONABLE PRICES

The Wiccan & Faerie Grimoire of Francesca De Grandis , an award winning site filled with spells, rituals, articles and other shamanic wonders since 1995, defined the Goddess Spirituality web site!
Copyright 1998, 2000, 2001, 2020 Francesca De Grandis. All rights reserved. No part of this publication -- this web page and the site's other pages -- may be reproduced in any manner without written permission. Copyright reverts to author.
This page was updated 9/22/2020.