Broadcast Engineering Services of Bonny Doon, Inc.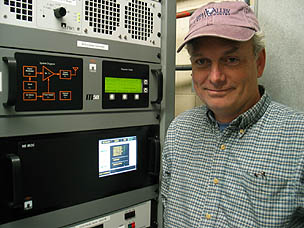 Donald E. Mussell Jr. CBT NCE
Broadcast Technical Consultant


Voice: (808) 828-0209
(831) 588-9463 cell
Voice Mail: (831) 420-8720
Corporate Office:
740 Front Street
Santa Cruz, California 95060
Hawaii Office:
P.O. Box 983
Kilauea, Hawaii 96754
(808) 828-0209
E-Mail: (No Junk Mail, Please!)

[ Services ] [ Facility photographs ]
[ AM Field Strength Measurements ] [ Client Links ] [ Local area EAS Plans ]
[ Contact Us! ] [ Who is BESBD? ] [ Equipment For Sale ] [ What is Bonny Doon? ]
[ Engineering Laws ] [ How Radio Works ] [ Baking Cookies ] [ Why I can still Hear ]
[ Where in the world is Don right now? ] [ My YouTube Videos ]

Take a look down this page for many interesting links related to radio broadcasting, engineering and music!
                    Broadcast Engineering Services of Bonny Doon can help you apply for and construct a Radio or Television station, provide project supervision for studio and transmitter site construction, tower erection and all other aspects of planning and building a telecommunications facility.
                    Broadcast Engineering Services of Bonny Doon can perform frequency searches, allocation studies, and perform the other studies needed to bring an application before the Federal Communications Commission, and see it through to the granting of a broadcast license.
Please call or for more information!
Here's a handy bunch of links you can look at:
A list of services: Some of the things we can do to help plan and build a Radio or Television station, as well as an explanation of various technical aspects of Broadcasting, and some interesting pictures; A list of Laws: Some of the Laws we engineer types have to grapple with daily; A list of Frequencies: Monterey Bay Engineering Resources (Frequency Lists for Central California); Links to some of our Clients, including:
Kauai Community Radio in Hanalei, Kauai, Hawaii
Hawaii Public Radio in Honolulu
Pacifica Foundation
WMMT Radio and Appalshop in Whitesburg, Kentucky
WVMR and the Pocahontas Communications Cooperative in Frost, West Virginia
Cape and Islands Community Public Radio in Woods Hole, Massachusetts


And also:

The History Of KAZU radio in Pacific Grove, California
The History Of KUSP radio in Santa Cruz, California
The brochure from the first NFCB radio convention, held in Madison, Wisconson (June, 1975)

Coastways Ranch

                    Broadcast Engineering Services of Bonny Doon is based in the Santa Cruz area, and the Hawaiian islands.
We like it out here...

You are the

visitor here since I don't know when. It's OK, I don't mind....





© 1994-2013 Broadcast Engineering Services of Bonny Doon, Inc.