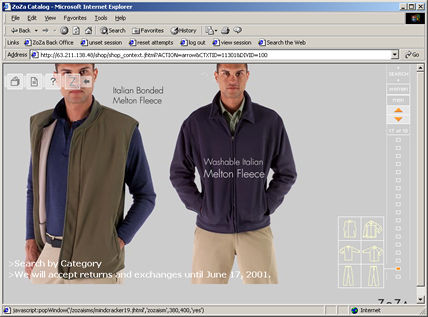 If you look closely at this page you will see a small set of dots over the right hand model's face.
These are visual clues that a Mind Cracker is lurking. If a Visitor clicked on these a Mind Cracker would pop up, "enticing" the visitor with a koan-like statement or activity.
Mind Crackers, commentary by our in-house Zen abbot, and a general nod tword clean graphic design were the extent of our Marketing department's grand scheme. A Zen Prada.
The business press always noted this scheme, along with the gong and no-shoes atmosphere, when writing about the Zieglers "latest hit."
At the end we were jettisoning this right and left, in an attempt to be more mainstream.