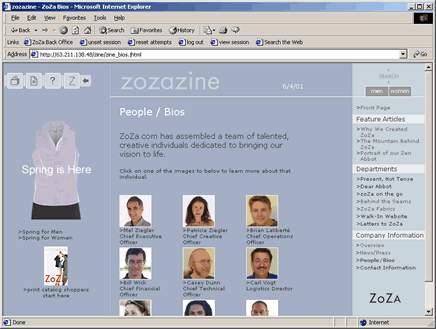 Some good people came through ZoZa...and we wanted to show them off.
Beyond that the major component of the Ziegler's marketing plan was to trade off the 'updated Banana Republic' story.
Notice that the technical guys in the picture above all were photographed in rooms without light. That's where they kept us!
Working for me, in order of hire:
Nic Phu - OK, Nic only works for himself. He was later titled Office Manager, but when he came aboard he helped with infrastructure projects. He was also a men's "fit model."
Ben Harper - Desktop and Internal/External Network Admin
Beverly Estrada - HTML and Photoshop, but also "Order Shepardess." She was doing a little SQL work at the end. Beverly practices that high-temperature yoga. I think she even teaches it. scary.