Learning to Play
Biographies

Please send me any suggestions or recommendations that you have. (If someone wants me to review your steel guitar-related product, send me e-mail!)

Here are the manufacturers I have listed. If you have any information on acoustic steel guitar makers who aren't listed here, please let me know. In roughly alphabetic order, they are Jim Adams, Randy Allen, Amistar, Sachar Amos, Asher, B & B Resophonic Guitars, Paul Beard Guitars, Bear Creek Guitars, Benoit Guitars, Berkeley Musical Instrument Exchange, Greg Beeton, Beltona, Daniel Brauchli, Paddy Burgin, Canopus, Celtic Cross, Churchill Guitars, Todd Clinesmith, Cole Clark, Barron Clarke, Continental, Crafters of Tennessee, David Dart, Davis-Cox Musical Instruments, Dean Guitars, Dick DeNeve, Dobro, Michael Dunn, Ellie Erickson, F1 Resophonic Instruments, Fine Resophonic, Fishook Guitars, Peter Gosden, Halua, Ivan Guernsey, Tom Hansen, Bill Hardin, Frank Harlow, Brad Harper, Butch Hodgkins, Ondrej Holoubek, Humbert, Johnson (MusicLink) , Rudy Q. Jones, Tim Kill, K&S Guitar Company, Lazy River, Liberty Guitars, Luttrell Guitars, S. B. MacDonald, Manzanita, Maricopa, Mattsen, Paul McGill, Gregg McKenna, Melobar, Meredith Guitars, Mermer Guitars, Ken Miller Guitars,Don Morrison/Donmo, John Morton, Musikalia, National Resophonic Instruments, Ozark, Ron Phillips, Rayco, Rednote, Red Line Resophonics, Reuter Guitars, Regal/Saga, George Rizsanyi,Tim Scheerhorn, Kurt Schoen, Shaw Guitars, Schoonover, Michael Terris, Timm Guitars, Julian Tubb,Ville Tyyster, Weber, Wechter/Scheerhorn, Bobby Wolfe and Joseph Yanuziello.
---
Dobro® was purchased in 1996 by Gibson, who consolidated their operations in Nashville, Tennessee. The Gibson site contains information about their entire line of Dobro® guitars, basses and banjos. Check their website for more information.
Gibson Guitars
1818 Elm Hill Pike
Nashville, TN 37210
(615)871-4500 voice
National Resophonic Guitars is making brass, steel & wood body guitars, ukuleles and more, mechanically amplified with hand-spun aluminum speaker cones for the loudest, sweetest, warmest sound on the planet. All instruments andmade at the factory in San Luis Obispo, California. You can obtain the catalog or a cassette featuring Bob Brozman which discusses the various instruments they make (over 19 different models!) and their variations. They have a good Flash-based website with a full list of dealers and much good information about their guitars.
National Resophonic Guitars
871-C Via Esteban
San Luis Obispo, CA 93401
(805) 546-8442
Asher Guitars makes an acoustic Weissenborn style guitar that beautifully compliments their high quality line of electric lap steels.
Asher Guitars & Lap Steels
2554 Lincoln Blvd. Box 1037
Venice, California, 90291
phone: 310-821-2888
877-466-9524 (toll free, USA only)
info@asherguitars.com email
Celtic Cross Instruments are the creation of Neil Russell in Victoria, BC, who is making Weissenborns (and mandolins, etc) that are very affordable and played by people like Steve Dawson of Zubot and Dawson.
Neil Russell
1441 Jamaica Road
Victoria, BC V8N 2C9
(250) 721-0712 phone

Melobar, producers of the "Melobro" acoustic resonator guitars, have resumed production of their instruments in Illinois. The fiberglass body allows them to build an instrument with no internal ring or support allowing the sound to reverberate through the body. The hard sides of the fiberglass reflect the sound better than wood bodies that absorb the sound. They attach wood baffles in the body to redirect the internal sounds out of the soundholes on the upper bout. The vibration of the wood baffles give the Melobro a more wood like sound than we've heard on any other resonator. The volume is also much louder (some bluegrass players have jokingly referred to the Melobro as the "banjo killer").
Melobar Guitars
PO Box 328
Mahomet, IL 61853
800-942-6509 toll free in USA
info@melobar.com
F1 Resophonic Instruments has closed due to the recent death of Alan Timmins.

Tim Scheerhorn makes beautiful custom resonator guitars and excellent steel bars. His many satisfied clients include Sally Van Meter and Jerry Douglas. He is no longer accepting orders for guitars.


Wechter Guitars in collaboration with Tim Scheerhorn have developed the Wechter/Scheerhorn Elite and 6500 series resonator guitars. The Elite guitars were designed by Tim Scheerhorn and hand built in the Wechter shop in Michigan. The 6500 series is built in China, with final finish work in the Wechter shop. The result is a series of very high quality yet affordable resonator guitars, with options including mahogany, curly maple and spruce woods.
Wechter Guitars
P.O. Box 91, 200 S. Gremps St.
Paw Paw, MI 49079 USA
Telephone: (269) 657-3479
Fax: (269) 657-5608
Email: info@wechterguitars.com
Paul Beard Guitars specializes in truly custom stuff, all solid wood including choice of exotics such as bubinga and zebra wood. He has a wide choice of custom and/or unique finishes. Paul's shop carries a full line of accessories under his own name as well as other commercially available stuff, including the low-priced Flinthill resonator guitar line. His video on Dobro® setup and maintenance has received very favorable reviews in the bluegrass-oriented magazines. Check out his "road-o-phonic" travel guitar!
Paul's website has many examples of his guitars and a complete list of the parts and accessories he carries. This is a beautiful site, well worth visiting.
Paul Beard Guitars
c/o Resophonic Outfitters
14122 Marsh Pike
Hagerstown, MD 21742
(301) 733-8271 voice
"Tooter" Meredith builds one of the most highly regarded high-end resonator guitars currently being made. He describes them as "The Muscle Car of Resonator Guitars" on his website. He uses the finest woods, Quarterman cones and a traditional design. For more details visit his website.
Meredith Guitars
31 Market Square
Rogersville, AL 35652
(256) 247-5793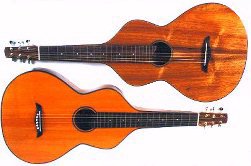 Berkeley Musical Instrument Exchange (formerly K&S) is now offering acoustic Hawaiian lap style slide guitars made in the style of the Weissenborn, Hi-Lo and Knutsen instruments of the 1920s. These guitars are available in various combinations of woods including California acacia (similar to koa wood), Spanish cedar, Honduras mahogany, etc. with tops of Sitka spruce, Canadian red cedar, or California acacia. These are very nice instruments with a sound and feel close to that of the old Weissenborn guitars at a very affordable price.
The Berkeley Musical Instrument Exchange
2923 Adeline Street (corner Ashby)
Berkeley,CA 94703
(510) 548-7538 voice
bmie@berkeleymusic.com email
Paul McGill is a guitar maker in Nashville, Tennessee. His classical guitars have been used by such artists as Earl Klugh and Muriel Anderson. His resonator guitar is similar in design to the old DelVecchio guitar made in Brazil. It has been very well received in the guitar community. McGill resonator guitars have been used by Earl Klugh, Chet Atkins, Los Indios Trabajaras, Don Potter, Ricky Skaggs, and Phil Keaggy.
McGill Guitars
808 Kendall Drive
Nashville TN 37209
(615) 385-9071 voice
(615) 352-9876 fax
conecaster@aol.com
Joseph Yanuziello builds a very fine resonator guitar and hollow-neck Hawaiian steels, as well as wonderful mandolins, electric guitars and lap steels. His Weissenborn-style "Hawaiian King" guitar is used by Don Rooke of the Henrys among others.
Joseph Yanuziello
81A Parkway Avenue
Toronto, Ontario, Canada, M6R 1T6
(416) 534-0419 voice
yanuziello@sympatico.ca
Bear Creek's Bill Hardin worked at OMI during the 1970's and 1980's, and at Santa Cruz Guitars after that. His Weissenborn-style acoustic lap steel guitars are heartily endorsed by Bob Brozman among others. His web page has more information and some nice images.
Bear Creek Guitars
29 Palena Place
Kula, HI 96790
bcguitar@bcguitar.com
Toll Free in USA 1-877-622-8216
Voice 808-878-8082
Fax 808-878-8063

Crafters of Tennessee builds the "Tut Taylor" resophonic guitars. Headed by Tut's son Mark, this small shop is turning out some of the best resophonic guitars currently made.
Crafters of Tennessee, LLC
14860 Lebanon Road
Old Hickory, TN 37138
615-773-7200 voice
615-773-7201 fax
Crafters@CraftersTn.com
Saga Musical Instruments imports a line of resonator guitars from Korea and Japan under the name Regal. They seem to be of variable quality. I've played one that ranked as one of the best resonator guitars I've heard, and played many others that were of lesser quality. Their prices are very reasonable, especially if you have the instrument properly set up. They are carried by Fifth String Music in Berkeley, Elderly Instruments in Michigan, (see addresses below) and many other music stores. Saga is a wholesale distributor only.
Saga Musical Instruments
429 Littlefield Avenue
South San Francisco, CA 94080
David Dart has a nice website with several images of his Weissenborn style guitars. For more information, visit his website or contact him via:
David Dart
P.O. Box 322
520 Hwy 128
Navarro, CA, USA 95463
(707) 895-2493 voice
ddart@pacific.net

Beltona was formed in 1991 by Steve Evans (a luthier/repairman) and Bill Johnson (an engineer) with the intention of producing the finest resonator instruments. All components, including resonator cones, are made by Beltona. Steve Evans moved to New Zealand recently and continues to offer these fine guitars. His brochure is one of the most beautiful ads I've seen!
Beltona
Old Parua Bay Rd
R.D.5
Whangarei New Zealand
00 64 9 438 3313 voice
00 64 9 438 3361 fax
sm21691@ihug.co.nz email
Dick DeNeve has been recommended as building a very nice resonator guitar. I haven't seen his work, so cannot comment any further.
Dick DeNeve
1333 Oneida River Road
Pennellville, NY 13132
(315) 695-6342 voice
Ondra Holoubek now has a distributor for his resophonic guitars in the USA and Canada. See the Gallery of Strings website for more information. Outside the USA and Canada, you may contact Mr. Holoubek via:
Ondra Holoubek
Lounovice 115
251 62 Mukarov
CZECH REPUBLIC
(42) (0204) 98415 phone
George Rizsanyi has become recognized world wide for the design and construction of his exquisite, hand-made, custom-built guitars. His black cherry resophonic guitar, the Rizsaniphonic, looks really nice.. More information can be found on his website, or by contacting him at:
Rizsanyi Guitars Custom Shop
3330 Hwy#10 (Pinehurst), R.R. #2
New Germany, Nova Scotia, Canada, B0R 1E0
(902) 527-0614 voice
fretboy@tallships.istar.ca
Daniel Brauchli writes: I am currently producing original instruments based on the Weissennorn idea but using a graphite brace system to increase volume. The sound has the balance of a wooden soundboard with the volume and dynamics of a resonator guitar. My website is www.danielbrauchli.com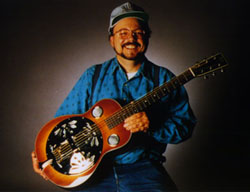 Randy Allen has been building fine stringed instruments since 1982. His resophonic guitars are available with 12 or 14 frets to the body, square neck or round neck, maple back and sides, and a maple or spruce top. His slogan, "Building tomorrow's collectible instruments today" is symbolic of the care and attention he puts into each instrument. For more information, check out his website or write to:
Allen Guitars
PO Box 1883 Colfax, CA 95713
530-346-6590 voice/fax
ag@allenguitar.com
Ivan Guernsey has built resonator guitars for Mike Auldridge, Stacy Phillips and Jerry Douglas among many others. His resophonic instruments are considered to be among the best currently being manufactured. For more information:
Ivan Guernsey
18402 Hwy.62
Marysville, IN 47141-9758
(812) 293-4524 voice
Gregg McKenna individually handcrafts each guitar in his New England shop using high quality woods and hardware. He has built many fine instruments through the years. McKenna guitars are known for their consistency in setup, tone, excellent volume, as well as the overall quality and durability of construction.
Gregg McKenna
510 King Street
South Windsor, CT 06074
Telephone: (860) 528-8939 (Mon.- Sat. 8am - 10pm EST)
Email: mckennaguitars@mckennaguitars.com
Mermer Guitars is a Florida luthier building Weissenborn style guitars with a difference. The internal bracing pattern has been modified to take advantage of the large resonating cavity, and several additional design features have been altered/added such as the offset soundhole(s) and "trap door". The Maalaea is available with a single or double offset soundhole which allows for modification of the top bracing, resulting in increased volume and a more balanced tone. A "trap door" (insert) at the butt of the instrument allows for easy access to the interior and serves as a platform for the mounting of electronics if desired. More information can be found here, or by contacting Rich Mermer at:
Mermer Guitars
P.O. Box 782132
Sebastian, FL 32978
(561) 388-0317 voice
Ken Miller has been building guitars since 1962. He specializes in Hawaiian acoustic steel guitars, classical guitars, and ukuleles. His Acousteel is an modern redesign of the Weissenborn-style guitars of the 1920's, with a modern design and bracing pattern that's quite interesting. For more information:
Kenneth Miller
1819 Raa Avenue
Tallahassee, FL 32303
(850) 386-4157 voice
kv@kenmillerguitars.com
Rudy Q. Jones has started building resophonic guitars again after many years. He was one of the top resophonic luthiers during the 1970's and makes a fine resonator guitar today.
RQ Jones
Route 3, Box 54-A
Old Post Road
Bristol, FL 32321
(850) 643-9196
In France, Fine Resophonic manufactures a complete line of resonator instruments: tricone and single-cone resonator guitars, mandolins and ukuleles in wood and metal. Mike builds, restores and repairs National guitars. He has built guitars for Bob Brozman and Louisiana Red. For more information:
Fine Resophonic
Mike Lewis/Pierre Avocat
3 Voie Coypel
94400 Vitry Sur Seine, France
01 46 77 86 17 or 01 81 51 16 14 phone
01 81 51 18 29 fax
Bobby Wolfe has been making outstanding resophonic guitars for many years and is considered one of the true experts on this type guitar in the USA. He has done a number of articles on the subject in Bluegrass Unlimited magazine and published a book of interviews with four of the leading players of this instrument today: Jerry Douglas, Tut Taylor, Mike Auldridge, and Josh Graves. He can be reached at:
Bobby Wolfe
18601 Shearer Rd
Davidson, NC 28036-7714
(704)892-5485 voice
Musikalia is an Italian manufacturer for Weissenborn-style Acoustic Hawaiians and folk instruments like Bouzoukis, Mandolins etc. For more information, contact them at:
Musikalia
Dr. A. Leone
Via De Palermo 2/4
I - 95030 Li Battiati (CT)
+39-95-211230 voice
+39-95-21277 fax
musikali@tin.it email
Liberty Guitars offers a series of affordable resonator guitars in both round neck and square neck styles. Retail prices are quite reasonable; the guitars are also sold through auctions on eBay. For more information:
Liberty Guitars
1321 Saxon Dr. #305
New Smyrna Beach , Fl. 32169
904-428-1434 voice
Libguitars@aol.com email
According to Christopher Ellis (cakra@gsat.edu.au), there is a very fine maker of metal bodied resophonic guitars in Newcastle, Australia by the name of Greg Beeton. He makes high quality National style single cone and tricone guitars. They are played by Australia's leading slide guitarists Phil Manning and Domonic Taylor (Backsliders).
Beeton Brass Guitars
23 Neridah Road
Belmont North NSW Australia 2280
(612) 4946-9696 voice/fax
The American Guitar Company of Los Angeles has been absorbed by Crafter of Tennessee. See their link above.
Ron Phillips began building metal bodied resonator guitars in 1992. He writes, "My main motivation for building the first guitar was that I wanted an old National, but couldn't afford one, so I figured I'd give it a shot. To date, I've built 29 guitars, some of which have gone to National Heritage Award recepients John Jackson, and John Cephas, Robert Lowery, West Coast Blues Queen Del Rey, and many other fine players. I build about five guitars a year, on a part time basis, with no two being alike, and I try to stay away from typical National themes, i.e., no "f" holes or sieve coverplates and no palm trees. I try to draw my inspiration from the Art Deco period mainly."
R.E. Phillips Metal Guitars
15 Kim Court
Martinez, CA 94553
metalgitar@yahoo.com email
Manzanita guitars are made in Germany. Two different luthiers using the same company name build resophonic, Weissenborn-style, Dobro-style and acoustic steel string guitars in three different workshops. David Lindley is the proud owner of their Weissenborn guitar, and is featured on their website. They have some very striking guitars, with unusual combinations of features that sound interesting. Their website is available in English and German.
Manfred Pietrzok
Sellenfried 3
D-37124 Rosdorf GERMANY
(+49) 551-782417 voice and fax
info@manzanita.de email
Canopus steel guitars are made in Japan by luthier Yas Kamiya. Yas worked at the Sho-Bud factory in Nashville in '70s, then came back to Japan and started making his own steel guitars (both electric and acoustic). The Canopus acoustic Hawaiian guitars are made from several kind of materials --- mahogany, maple, bubinga. There are Weissenborn style hollow necks or Kona style solid round necks with 6 or 7 strings. His guitars are played by David Lindley and Ben Harper among others.
Yasu Kamiya,"Picking Parlor"
1-3-1 Ohara Setagaya-ku
Tokyo156-0041 Japan
phone: 03-3465-0872
fax: 03-3465-0589
http://members.aol.com/kyjyasu1/joeindex.htm
Jerry Timm builds a nice looking squareneck resonator guitar. On his website, he says, "What sets this guitar apart from others on the market are several things: its simple beauty and the full, clear, warm sound generated from its small body and Quarterman Cone. It's pleasing to the eye and to the ear. The "Wavelength" Soundhole and abalone or mother of pearl fret indicators are unique qualities that you can't help but notice right away. These guitar bodies are available in all mahogany, koa, or mahogany with a sitka spruce top."
Timm Guitars
4512 47th St SE
Auburn, WA 98092
(253)833-8667 voice
jerry@timmguitars.com email
Dean Guitars, famous for their pointy-headed guitars during the 1980s (and for a series of ads featuring women in bikinis caressing their guitars), has a line of resonator guitars. Some have cutaways and are obviously better suited for standard guitar playing. They offer both biscuit and spider-type resonators and a couple of different finishes.
Dean Guitars
15251 Roosevelt Blvd., Suite 206
Clearwater, Florida 33760
(727) 519-9669 voice
(727) 519-9703 fax
gtr&bass@armadilloent.com

Butch Hodgkins is a resophonic guitar builder living in Allardt, Tennessee. He started building about 8 years ago as a hobby but has recently been devoted full time to it. Satisfied owners of his guitars include Richie Owens, Johnny Beller and Tom T. Hall. Butch writes, "George Gruhn is a dealer of my guitars and a picture of one can be seen by visiting the Gruhn Guitars inventory site. My guitars are known for their volume and pleasing, modern type tone."
Butch Hodgkins
P.O. Box 155
Alardt, TN 38504
931-879-7656 voice
pickin@tnaccess.com email
Michael Terris builds custom square-neck resonator guitars in New Jersey. His guitars were recently featured in the March 1999 issue of Guitar Player, in the Slide Zones article. For more information:
Michael Terris
P.O. Box 548
Califon, NJ 07830
(908) 638-6561 voice
michael@terrisguitarmaker.com
S.B MacDonald builds custom flat-top, resophonic and resonator-equipped electric guitars in Huntington, New York. He too was featured in the March 1999 issue of Guitar Player, in the "Slide Zones" article. For more information:
S.B.MacDonald
22 Fairmount St.
Huntington, NY 11743
(631) 421-9056 voice
scott@customguitars.com
Don Morrison makes a beautiful resonator guitar line. His motto is "shining, loud and magnificent", and his guitars live up to the motto. Don is located in Adelaide, South Australia and has a very nice site.
Donmo@donmo.com
PHONE: 08 83324737
Don Morrison. Adelaide, South Australia
http://listen.at/donmo.guitars
The Johnson resonator guitar line is distributed in the USA by The Music Link Corporation, although these links point to their wholesale-only website.
The Johnson line is sold by a number of online dealers and by music stores across the USA. The Johnson Style O resonator guitars I've seen are made in Shanghai, China, and feature Gotoh tuners and a biscuit-style bridge.
The Johnson resonator guitar brand has been replaced by the Recording King brand in the USA.
Continental resophonic guitars are handcrafted in Germany by AMI GmbH - Munich . They have eight different models of National-style resonator guitars (single cone and tricones), plus they can make custom instruments to your specification. They have a beautiful website as well. For more information:
AMI Musical Instruments
Turfstraße 1
D-81929 München
49-89-931032 voice
49-89-936752 fax
lutz@ami-gmbh.de email
Amistar resophonic guitars are made in the Czech Republic and distributed worldwide. They make bell-brass and graphite resophonic guitars, as well as the bodies and the metal parts for the CONTINENTAL guitars.
AMISTAR Ltd.
U jizby 17
143 00 Prague 4
Czech Republic
Telephone/Fax: +420 - 2 - 44 40 24 57
Email:amistar@amistar.cz
Mike Dotson's Maricopa Guitar Company has a unique lineup, including his Weissonator (a Weissenborn style resonator guitar) that's quite striking. Some of his guitars have been featured in the ASIA magazine Guitarmaker. His email address is maricopaguitars@cox.net if you're interested in more information.
According to C.J. Benoit of Benoit Guitars, " My love for music goes back to 1950 when I was a freshman in high school and two friends and I learned to play the guitar together. The acoustic guitar had a big influence on my life. After years of building acoustic guitars, I acquired a deep interest in the way various woods and bracings made so much difference in the quality of sound. A friend of mine who plays a resonator guitar, kept insisting that I build one for him. So I applied my acoustic guitar knowledge to the resonator guitars and much to my surprise found that besides the resonator, the wood that I was using on acoustic guitars also gave a magnificent tone to the resonator guitar. Through my guitar-building experience, I achieved a beautiful lacquer finish, which I still use on the resonator guitar today. I use the finest domestic and exotic woods to be found, never using laminated or veneer wood. Each instrument is built one at a time with great care. If you have a little time to view my website, I think you will see how much pride I take in each of my instruments."
Benoit Guitars
P.O. Box 213
Mauriceville, Tx. 77626
Telephone: (409) 745-1071
Email: ben@benoitguitars.com
Michael Dunn makes Weissenborn and Knutsen-style acoustic lap steel guitars entirely from yellow cedar (Alaskan Cypress) with a Mexican wood, Chakte-Kuk, used for the trimwork, fingerboard and bridges. Both have 640 mm string lengths.
The body on the Weissenborn is hollow all the way to the neck block and have a thin body. The Knutsen has a narrower, thicker and shorter body leaving four frets on a square neck.
Michael Dunn
708 3rd Avenue
New Westminster, BC Canada V3M 1N7
Telephone: (604) 524-1943
Email: guitarbuilder@shaw.ca
John Reuter builds acoustic and acoustic/electric resonator guitars as well as Weissenborn-style acoustic lap steels. He is the director of training at the Roberto-Venn school of Luthiery in Phoenix, Arizona, and has built resonator guitars for Jorma Kaukonen, Jerry Garcia, and Stevie Ray Vaughn. For more information visit his website.
Reuter Guitars
4011 S. 16th. St.
Phoenix, AZ. 85040
Telephone: (602) 243-1179
Email: reuterguitars@aol.com
Julian Tubb is a Canadian builder with some striking resophonic guitars in his repertoire. Julian lives in the town of Bergen which is about an hour west and north of Calgary. His instruments are an especially good deal for U.S. buyers at this time.
Julian Tubb Guitars
Bergen, Alberta, CANADA
Telephone: (403) 638-3949
Email: jtubb@telusplanet.net
Todd Clinesmith has been building resophonic guitars in Fortuna, California since 1996. All of his resonator guitars are hand crafted and made of solid woods personally chosen from thousands of board feet. He uses a unique sound post/baffle construction instead of the plywood "soundwell" found in traditional resonator guitars such as Dobros® and Regals. With sound posts under each leg of the spider bridge, the entire body of the guitar - along with the resonator chamber - contributes to the sound, producing superior volume, bass, and projection, as well as a brighter, fuller sound that grows as the instrument ages. The sound isn't restricted to the resonator chamber, and this construction is best for bringing out the wood's tonal qualities.
Todd Clinesmith
PO Box 73
Glide, OR 97443
New phone number:(707)496-2682
Email: toddclinesmith@yahoo.com
Frank Harlow is a respected resophonic guitar maker in Ohio. Stacy Phillips plays one of his instruments. For more information:
Frank Harlow
940 Rayberta Drive
Vandalia, Ohio 45377
Telephone: (937) 890-7801
Tom Hansen builds custom square-necked dobros on the island of Maui using all solid wood. Beautiful Koa grown in Hawaii makes a nice top, Honduras mahogany is used for the back and sides, with soundpost design, and ebony is used for the fretboard and headstock overlay. Abalone is used for fret markers, with Schaller tuners and an ivoroid-bound neck and body, Quarterman cone, bone nut, and a maple bridge. The finish is a high gloss lacquer.
Tom Hansen
P.O. Box 12436
Lahaina, HI 96761
(808) 205-7043
Tomabeard@yahoo.com
U.S. Mainland Contact
Mark Hansen
985 S. Wilson Avenue
Radcliff, KY 40160
Telephone: (270) 351-3882
Email: dhansen@radcafe.com
Mark Thibeault and Jason Friesen founded Rayco Resophonics in 2002, in a humble basement workshop in Vancouver BC. All Rayco Resophonics have the following features:
Tops, backs and sides are made with solid woods.
A Baltic birch tone ring and four soundposts support the cone. (Soundwell on some models)
Nut-serts with stainless steel bolts to fasten coverplate (eliminate stripped screw holes)
Hand fit, dovetailed neck joint.
Ebony fingerboard with bone nut and ebony capped maple bridge insert
Quarterman cones
Chrome plated brass coverplate and tailpiece
Schaller tuners
Limited lifetime warranty on materials and craftsmanship (original purchaser)
Rayco Resophonics
PO Box 3063
1400 Columbia Drive
Smithers, BC V0J 2N0 CANADA
Telephone: (250) 847-5001
Email: rayco.ca@telus.net

Emile Humbert makes some beautiful and well-crafted resonator guitars. See his website for more information or contact him directly.
Humbert String Instruments
3318 Ashmont Ln.
Missouri City, Texas 77459
832-492-3332
Email: emile@hstring.com

Elllie Erickson says on her website, "I build guitars. Acoustics and electrics, lap steels, both baritone and semi hollow electric, electric harp guitars, electric mandolins and octave mandolins. " Among her many unique creations is the Flying Veissenborn, an acoustic Weissenborn-style squareneck guitar.
Ellie Erickson
2421 E. Dayton St.
Madison, WI 53704
Telephone: (608) 242-9420
Email: ellieme@mimf.com
Tim Kill is an experienced luthier based on the Mornington Peninsula in Victoria, Australia. Tim creates all kinds of custom stringed instruments including electric and acoustic guitars, 12-string guitars, basses, stick basses, slide guitars, lap steel guitars, double basses, dobros, Weissenborns and more. He has a nice website - check out his beautiful Weissenborns!
Tim Kill
81 Speedwell Street
Somerville, Victoria, 3192
Australia
011 61 3 59 778 678 voice
or
011 61 3 9783 7864
Cole Clark Guitars is an another Australia luthier with a unique vision . One of his specialities is the SK8Lap lap steel, a combination skateboard/lap steel endorsed by Ben Harper. He makes a nice set of acoustic steel guitars as well as electric lap steels.
In Australia, please consult his website for a list of authorized dealers. Direct inquiries outside Australia through the information given below.
Cole Clark Guitars
3,7 Clare St.
Bayswater, Vic, 3153, Australia
Telephone: 61 3 9720 1696
fax: 61 3 9720 2621
Enquiries: mail@coleclarkguitars.com
Sales: john@coleclarkguitars.com
Ville Tyyster is a Finnish luthier making a range of acoustic and electric lap steels. His resonator guitars appear to me to be influenced by Rich and Taylor, and his electrics by Ben Asher. Either way, he makes a beautiful looking guitar. Contact information from his website.
Ville Tyyster
Ilottulantie 253
53400 Lappeenranta FINLAND (SUOMI)
Telephone: 050-3562640
Email: ville.tyyster@tyyster.com
Ozark resonator guitars are distributed in the United Kingdom by Stentor Music. They appear to be similar in design and quality to the Regal guitars sold in the USA and referenced above. For more information:
Stentor Music Co. Ltd
Reigate
Surrey RH2 9EZ
ENGLAND
Telephone: +44 (0)1737 240226
Fax: +44 (0)1737 242748
Email: ozark@stentor-music.com
Lazy River - Rance White makes a fine looking Weissenborn style guitar under the brand name Lazy River. The only contact information on his site is via email, rance@lazyriverguitars.com.
Sachar Amos is an Australian luthier building acoustic and electric slide instruments including Weissenborn, square neck resonators and electric lap steels. His Flash-based website requires a bit of navigation to get around, but his guitars look very nice indeed. For more information:
Sachar Amos
The Basin
Melbourne, Victoria
AUSTRALIA
Telephone: +03 9762 3303
Email: admin@sacharamos.com
According to Russ Mattsen of Mattsen Resophonic Guitars in New Zealand, "I hand craft metal body custom resonator guitars from my Nelson, New Zealand workshop. I build my own unique bodies, shape my necks and spin my own cones." His website has audio samples of his unique instruments. His email address is mattsen.guitars@xtra.co.nz. Peter Gosden is an independent luthier based in Devon, England. His speciality is acoustic and electric lap steel guitars. All instruments are truly hand crafted by one man from start to finish. This traditional approach together with a genuine passion for instrument making result in a beautiful and personal instrument.
Gosden Guitars
The Highlands, Bridgetown Hill
Totnes, Devon, TQ9 5BL
UNITED KINGDOM
Telephone: +044 01803 865701
Email: info@gosdenguitars.co.uk
Kurt Schoen is a self-taught luthier living in the hill country outside of Louisville, Kentucky. Kurt has focused on making very finely crafted resophonic box guitars. The instruments are unique in that all are box-shaped, with woods recycled from cigar boxes, wine tanks, salvage lumber, and cabinet makers scrap. The cover plates are hand-hammered from roofer's sheet metal or scrap brass. Each instrument takes over 50 hours to build. Despite this, each instrument has piercingly loud tone, low action, and truly are player's instruments.
Kurt Schoen
Email: kurt@schoenguitars.com
(502)548-1213 phone

Brad Harper crafts fine resophonic guitars in North Carolina. His website includes helpful links to sound files, so you can hear what he builds, as well as a fine photo gallery and some instructional material.
Harper Resophonics
8519 Lindholm Dr.
Huntersville, NC 28078
Telephone: (704) 258-7473
Email: info@harper-resophonics.com
Paddy Burgin specialises in Weissenborn style instruments and wood bodies resonators. His instruments are made of sapele mahogany and Tasmanian Blackwood, and come with a variety of trim, including traditional rope binding. David Linley plays one of his instruments, a mahogany Weissenborn.
Paddy Burgin
72 Hankey Street
Mt Cook
WELLINGTON
NEW ZEALAND
Telephone: +64 4 384 5572
Email: paddy@burginguitars.co.nz
Churchill Guitars of Australia makes the Jeff Lang model acoustic steel guitar (Weissenborn style). David Churchill is one of Australia's leading steel string flat top guitar makers, established 30 years. All guitars are hand built by David Churchill, using only aged timbers and specialising in cedar tops with Indian rosewood back and sides. Used and played by some of Australia's finest musicians such as Jeff Lang, Darren Jack, David Ross Macdonald (Waifs), Hat Fitz, Adam Hole, Matt Fagan, Ray Beadle, Don Neander, and Shannon Bourne.
Churchill Guitars
701 Barkly Street
Mount Pleasant
Ballarat VIC 3350
Australia
Telephone: +61 03 53322108
Fax: +61 03 53322108
djchurch@tpg.com.au email
Kristian Äng is the only known Swedish builder of resophonic guitars. He has been building resophonic guitars since 1999, as you can see on his website Rednote.se. He makes six and eight string guitars, with optional HipShot Trilogy bridges.
Kristian Äng
Nilses Bratter 11
424 91 Olofstorp Sweden
Telephone: +46 (031) 702 5050
Email: info@rednote.se
Adams Resonator Guitars are built by Jim Adams in Louisiana. He makes a very affordable resonator guitar in several models and with various wood and hardware options.
James Adams
550 Iowa Avenue
Gueydan, LA 70542
Telephone: (337) 774-2192
Email: jameshadams@aol.com
If you're looking for great sound in a resophonic, B & B Resophonic Guitars will hand-craft you a top-quality instrument with exceptional tone and volume at a competitive price. B & B Resophonics feature only the best in craftsmanship, materials, tonewoods and value - and they're guaranteed against construction defects for the lifetime of the original owner. You can see and hear a B & B Resophonic Guitar LIVE at every performance by The Rarely Herd.
B & B Resophonic Guitars
Albany, Ohio USA
Phone: 740-591-2415
Email: bandbresophonics@verizon.net
Halua guitars are acoustic steel guitars, hand made in Melbourne, Australia (previously in Oslo, Norway). Built from carbon fiber and titanium, the Halua is a radical twist to the traditional hollowneck lapslide guitars introduced by Christopher Knutsen and Herman Weissenborn around 1915. They are very interesting looking and sounding guitars, based on the website. Contact Hans J. Jahr at post@halua.no for more information.
Luttrell Guitars is a builder of fine hand crafted resonator guitars. Ralph Luttrell hand selects and mills his own tonewoods and hand builds each instrument. His designs incorporate the entire guitar body as the sound well. The neck and body are an integral part of the tone. This makes the selection of tonewoods very important in his designs compared to most resonator designs. Luttrell's elegant design also produces an instrument with the volume and punch normally associated with metal body resonators yet possesses the warmth and character of the worlds best all wood designs.
Luttrell Guitars
265 Johnson Ferry Rd
Atlanta, Ga. 30328
Phone: (404)325-7977
Ralph Luttrell email

Shaw Guitars creates custom, unusually beautiful lap steels, as well as regular guitars and basses. For more information, contact Rick Shaw directly.
Shaw Guitars
Phone: (254)722-3736
Rick Shaw email
Redline Resophonics is the Resophonic Division of Cumberland Acoustic. From their production facility just outside of Nashville, Tennessee, they handcraft each instrument from quality domestic and imported hardwoods.
Redline Resophonics
phone: (615) 826-7890
(877) 857-4896 toll free in USA
info@redlineresophonics.com email
Doug Myers has been building resonator guitars for eleven years under the label Fishook Guitars. His guitars are quickly climbing to the high end custom market.
Fishook Custom Guitars
24087 twp Rd 113
Warsaw, OH 43844
(740)398-4963 telephone
fishookguitars@yahoo.com email
Barron Clarke is the owner of Clarke Guitars, Australia's only comprehensive resophonic guitar repair, parts and custom building site. He says, "I carry the only comprehensive range of resonator parts in Australia. I also repair and upgrade (cheaper) resophonic guitars as well as build Spider bridge guitars based on original 30's guitars. Whilst my specialty is resophonics I also build six string lap steels out of solid Australian timbers and build acoustic guitars by order only.

"I supply people like Greg Beeton and Don Morrison with cones and parts as well as carrying their cones.
I am one of the few people in Australia who can set up a resophonic guitar and I say this without false modesty. (If you search my name it will come on on forums and I have only had positive comments about my work.
I am always happy to give advice to people who contact me."
Phone 02 6293 1513
Mobile 04 1706 2733
sales@clarkeguitars.com e-mail

Kent Schoonover has been building fine handcrafted resos of his own design since 1992. His "No Soundwell, No Posts, No Baffles" design utilizing an arched "Free" back was another departure in reso design at the time. He has excellent examples of his work available on his web site.
Kent Schoonover
Lone Grove, OK 73443
580-657-4117 telephone
kent@schoonoverresophonicguitars.com e-mail
Bruce Weber leads a team of experienced luthiers with the goal of providing you with the best hand-built acoustic guitars and mandolins in the world. In operation since 1997, you can be assured of not only excellence in quality, but reasonable delivery times and the best price. They have two resophonic guitar models, the Bandit and the Outlaw. For more details, visit their website or contact an authorized dealer.
Weber Fine Acoustic Instruments
5400 Frontage Rd.
Manhattan, MT. 59741
406-284-4390 telephone
info@soundtoearth.com e-mail
John Morton builds a unique and fine sounding Weissenborn-style metal body guitar, although he is currently focus on brass and nickel silver ukuleles (concert and tenor), and on a 14 fret stainless steel parlor guitar. He makes his own cones and hardware, everything except the tuning pegs, strings and nickel plating..
John Morton
2020 Jackman St.
Port Townsend, WA 98368
(360) 316-9478 telephone
john@jmorton.us e-mail