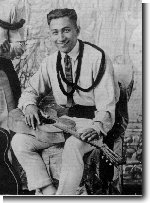 One of the few Hawaiian guitarists during the 1920's and 1930's who could be considered a legitimate contender to the title of "King of the Hawaiian Guitar" was Benjamin Keakahiawa Nawahi. "King" Bennie Nawahi was born on July 3, 1899 in Honolulu to a large family. He taught himself to play slack key guitar, and by the age of 15 was playing Hawaiian guitar in Honolulu parks for sailors and tourists.
In 1919 Bennie got a job playing steel guitar with his brother Joe's group, the Hawaiian Novelty Five, on the passenger liner Matsonia. The group worked between San Francisco and Honolulu, eventually touring North America on the Orpheum vaudeville circuit. Before long, Bennie left the group and became an established singer and ukulele virtuoso. He was crowned "King of the Ukulele" by impresario Sid Grauman of Grauman's Chinese Theater fame. His stunts included playing the song "Turkey in the Straw" on Hawaiian guitar with his feet.
By 1928 Bennie Nawahi had started his recording career, recording on many different labels, including Columbia, Victor, Q.R.S. and Grey Gull. He settled in Los Angeles in the early 1930s and formed a group called King Nawahi and the International Cowboys (which also featured a very young Roy Rogers). Nawahi was one of the few Hawaiian musicians to consistently black jazz or blues numbers, some with black groups such as the Georgia Jumpers. He was also unusual among Hawaiian steel guitarists of his day in that he used a single cone Triolian rather than the National tricone guitars preferred by others.
In 1935, tragedy struck Nawahi, as he suddenly lost his eyesight while returning home from a performance. Doctors were unable to explain why he became blind. After a short time, he returned to the stage, working with various Hawaiian groups in the Polynesian restaurants and clubs that were popular in Southern California. After World War II, he again joined his brother in the Nawahi trio, recorded a few additional tunes, and continued to perform in clubs.
In addition to his musical abilities, Nawahi was also famed as a long distance swimmer. In 1946 he swam from San Pedro to Catalina Island in just over 22 hours. He is still the only blind man to have completed this swim.
Remaining musically active through the years, Bennie Nawahi suffered a stroke in the late 1970s that left his body partially paralyzed. He died in Long Beach, California after a long illness on January 29, 1985.
Yazoo Records has just released the CD "King Bennie Nawahi: Hawaiian String Virtuoso" (Yazoo 2055). It features the following songs by Nawahi:
Hawaiian Capers - King Nawahi's Hawaiians
Singin' In The Bathtub - Four Hawaiian Guitars
Ukulele Benny - Georgia Jumpers
May Day Is Lei Day In Hawaii - King Nawahi's Hawaiians
Dinah - Red Devils
Mauna Kea - King Nawahi's Hawaiians
Honolulu Bound - Hawaiian Beach Combers
My Little A-1 Brownie - Charles B. Smith
Big Feet Rag - Georgia Jumpers
My Girl From The South Sea Isles - Hawaiian Beach Combers
Ticklin' The Strings - King Nawahi's Hawaiians
Black Boy Blues - Four Hawaiian Guitars
California Blues - Georgia Jumpers
I've Seen My Baby - Q R S Boys
Waikiki Blues - Hawaiian Beach Combers
I Went To Hilo - King Nawahi's Hawaiians
Guitar Rhythm - Georgia Jumpers
Hawaiian Melody - Hawaiian Beach Combers
Aloha Means I Love You - King Nawahi's Hawaiians
Wiggle Yo Toes - Q R S Boys
Otto Wood, The Bandit - Slim Smith
Maui No La Ka Oi - King Nawahi's Hawaiians
I'm A Dreamer Aren't We All - Hawaiian Beach Combers