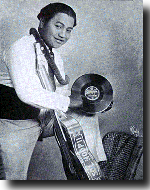 Solomon Ho'opi'i Ka'ai'ai was born in 1902 in Honolulu, Hawaii, the youngest of 21 children. He began playing ukulele at age three, and soon included guitar and Hawaiian guitar in his playing. He stowed away on an ocean liner in 1919 and ended up in San Francisco. From there he made his way to Los Angeles, where he formed a trio with Glenwood Leslie and Lani McIntire.
His first recordings in 1927 featured hot improvisation over jazz and blues tunes. He switched to electric lap steel around 1935 and developed a C# minor tuning (B D E G# C# E, bass to treble) which allowed more sophisticated chord and melody work than the open A or open G tunings in use at the time. He was an expert in applying his blues-influenced treatments to the standard songs of the day, as well as to Hawaiian favorites such as "Hula Girl" (150K .AU). He performed in many movies, including "Bird of Paradise", "Waikiki Wedding", "Song of the Islands", and a few Charlie Chan movies. He also performed in the soundtrack to the Betty Boop cartoon "Betty's Bamboo Isle".
In 1938, Ho'opi'i gave up his career in secular music to join the crusade of evangelist Aimee Semple McPherson. He made few recordings until his death in 1953 at the age of 51.
Rounder Records has a two-volume set of his greatest performances compiled by Bob Brozman. Both CDs are excellent and show off his exuberant style. Cord International offers a glimpse of his extraordinary early career & some of his finest work from 1927 – 1936 on a single CD. Grass Skirt Records in the UK offers a very nice collection of his work as well (along with other early steel guitar masters such as Sam Ku West, King Bennie Nawahi, and Jim and Bob).
---
Bud Tutmarc via his son Greg (gtutmarc@rockisland.com) writes:

The King of the Steel Guitar, Sol Hoopii, was a close personal friend of mine from 1942 until his untimely death in Seattle in 1953.

We played together in many places throughout the United States.

We now offer a special offering of the Bud Tutmarc collection of Sol Hoopii public performances, private parties and jam sessions including the last performance of Sol Hoopii. The collection features over 130 songs on 9 CD's packaged in an attractive and protective CD collection case.

These are not copies of recordings, but actual live performances that have never been heard in the general public since, including Sol's last public performance six weeks before his death.

You can order this Sol Hoopii registered collection by contacting:
Marc Records
910 Sixth Street South, Office Suite
Kirkland, WA. 98033
http://www.marcrecordsmusic.com/