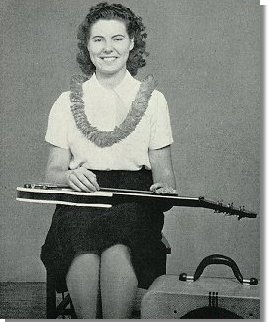 Definition
The steel guitar differs from a regular guitar in the way that it is played. The lap steel guitar is held in your lap facing toward you. The strings are raised above the fretboard; rather than pressing them to the fretboard, a steel bar is pressed against the strings. Typically the lap steel guitar is tuned in one of several "open" tunings rather than standard guitar tuning.
Origin
Steel guitars were originally invented and popularized in Hawaii. Legend has it that Joseph Kekuku, a Hawaiian schoolboy, discovered the sound while walking along a railroad track strumming his guitar. He picked up a bolt lying by the track and slid the metal along the strings of his guitar. Intrigued by the sound, he taught himself to play using the back of a knife blade.
Other persons who have been credited with the invention of the steel guitar include Gabriel Davion, an Indian sailor, around 1885, and James Hoa, a Hawaiian of Portuguese ancestry.
Hawaiian groups were a big hit at the 1915 Panama-Pacific International Exposition in San Francisco. From there the sound of the Hawaiian guitar spread throughout the United States. From about 1915 to 1930, a large number of Hawaiian guitar methods and songs were published by the major music publishers.
The sound of the Hawaiian guitar was picked up and incorporated into blues and country music. From there, the steel guitar slid its way into rock, pop, African and Indian music.
More information about Hawaiian steel guitar may be found on the Hawaiian Steel Guitar Association web site.
Performers
Performers who are well known as steel guitarists (as opposed to slide guitarists) include:
Weissenborn acoustic guitars
The forefather of the National, Dobro® and pedal steel guitars was conceived and built by Hermann Weissenborn in the early 1920's.

Hermann C. Weissenborn, a German piano and violin maker, emigrated to New York around 1902. In 1910 he moved to Los Angeles where he mainly did repair work on instruments until the end of the decade. With the Hawaiian music boom of the early 20's, Weissenborn started making ukeleles, flat-tops and eventually Hawaiian steel guitars. Chris J. Knutsen made similar guitars in the Seattle area at the same time. Both makers' guitars are sought after and imitated by contemporary builders, although they are usually referred to generically as Weissenborn guitars.

With their raised string action, frets flush with the fingerboard, square hollow necks and featherweight koa wood construction, the Weissenborns offered both greater volume and sustain than conventional Spanish neck guitars for Hawaiian lap steel playing. Due to their sweet timbre, expressive tone and eye catching design these guitars were an instant hit and stayed in demand until the advent of resonator guitars.
These guitars have experienced a revival due to their use by such artists as David Lindley and Ben Harper among others.
Christiaan Oyens has an excellent site devoted to these instruments. There's also a good Weissenborn site in Spain.

Dobro® and resonator guitars
Many country and bluegrass players use the Dobro® (or a resonator guitar), a steel guitar which uses an internal resonator to make it louder. "Dobro®" is a registered trademark of the Original Musical Instrument Company. Other resonator-equipped guitars are made by many different companies. You will see these referred to as "resophonic" or "ampliphonic" guitars. According to Bangs Tapscott, other resophonic guitars should be referred to as a TIFKAD (The Instrument Formerly Known As Dobro). Well known modern Dobro® players include:
Pedal Steel Guitar
The steel guitar eventually mutated as players sought to expand its usage. Additional strings were added, then additional necks. As the guitars got heavier, they were placed on legs, changing from lap steels to table steels. Finally pedals and knee levers were attached to the strings, allowing the player to change tunings as the guitar is played.
There are many web sites devoted to the pedal steel guitar if you want more information. Carter Steel Guitars has a very good site with lots of information. They're the hosts of the Steel Guitar Information website. Bobby Lee Quasar had the first pedal steel guitar site on the internet and runs a most excellent Steel Guitar Forum with many good discussions. Another good site is run by Dave Van Allen (check out his steel guitar timeline!). Joe Wright has a great web site with lots of information on learning to play pedal steel guitar.
All these sites have good information for the pedal steel guitar enthusiast- I recommend you check them all out. There will be many links on these sites which will take you to further sites.
Slide Guitar
The slide guitar is typically a standard guitar, held the usual way, and fretted with a piece of metal or glass, typically a tube worn on one finger. The sound of the slide guitar can be quite similar to the steel guitar. Famous slide guitarists include (but are not limited to):
Other Pages in this site
Here's a page of steel guitar tablature with contributions from several people.
I've put together a list of resources for the steel guitarist, such as guitar builders, stores that specialize in steel guitars, recommended tutorials, videos, etc. Check out the index at the side of this page for a breakdown by category.
There are a lot of steel guitar CDs out there. Here are some recommendations by me and other steel players.
There are many ways to tune the lap steel guitar. I have a list of some of the most common tunings.
Click here to see my discussion about various lap steel manufacturers, now including pictures of old instruments. (Clay Harrel's web site has lots more information on acoustic steel guitar manufacturers of the past.)
Believe it or not, there are a number of Indian steel guitar players. It's country music from another country! (Check out in particular Debashish Bhattacharya)
So what have I done? Here's my musical resume.
Of course, no web site would be complete without a page of links. Mine are mostly guitar related.
Other links you should investigate
John Tipka has an excellent site devoted to Hawaiian Steel Guitar, with information on Fender Stringmasters, building your own steel guitar, and some songs to learn.
Howard Parker has a site for Dobro® and other resophonic guitarists. Among other things, it has some good pictures of Mike Auldridge and Jerry Douglas. Howard also hosts the resophonic discussion list Resoguit. It's a great resource for those of us who play acoustic lap steel guitars. Visit his web site to subscribe.
Here is a discussion of Hawaiian steel guitar from Lark In The Morning Music in Mendocino, California.
A Usenet newsgroup devoted to the steel guitar has been created. It's called alt.guitar.lap-pedal. Clicking on the name may take you to it, if your service provider and internet browser allow such things. You'll find much better information on the Steel Guitar Forum, though.
If you really want to find out more about steel, click here.