Freddie Roulette is currently featured as a member of the Nightfire band. Visit their web site for more details.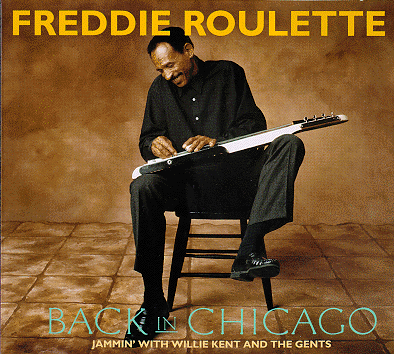 photo courtesy City Hall Records
Freddie Roulette's new CD "Back in Chicago" is here! It's available through
City Hall Records
25 Tiburon Street
San Rafael, CA 94901
(415) 457-9080 voice
(415) 457-0780 fax
There's a short interview with Freddie Roulette from 1997 at the SFGate web site. Here's a German article about Freddie with pictures of some of the recordings he's on.
Freddie Roulette may be one of the few living blues steel guitarists. I first heard of him on Earl Hooker's Arhoolie Records release "Two Bugs and a Roach" (Arhoolie CD 324). In the 1970's, he released a solo album called "Sweet and Funky Steel" on the Janus label. It was briefly available as a Japanese import in the 1980's when I picked it up. Although some of the songs sound a little dated, it's a good example of steel guitar in a blues context.
Freddie's playing style is enhanced by intense high-note squeals. He has a "cool" tone, very different from your typical country-style player. According to Andy Volk, Freddie Roulette uses the following tuning from low string to high:
G A A C# E A C# E
(string gauges .034, .052, .052, .038, .034, .020, .016, .012)
Andy says:
So it's your basic plain vanilla "A" tuning with the unusual unison "A" strings and a high "G" on the bottom making it an A7th tuning. My exposure to Roulette came from a Charles Mussellwhite CD reissue on Mobile Fidelity where he does some amazing playing but you need headphones to pick it out in the mix.
The last time I saw him perform was at the Guitar Player 25th Anniversary concert in San Francisco, playing the B.B. King tune "The Thrill Is Gone" with Henry Kaiser and Harvey Mandel. Although the show featured many hot guitarists, his solos stood out, both because of the uniqueness of his instrument and because of his style.
He is featured on the slide guitar compilation Slide Crazy (Rykodisc RCD10346) doing the song "Holiday for Strings". Freddie also appears on the album The Psychedelic Guitar Circus (Rykodisc RCD10347) with Henry Kaiser, Harvey Mandel, and Steve Kimock. This CD has now been reissued in the USA by Rykodisc. He also shows up occasionally at some of Harvey Mandel's gigs in the San Francisco Bay Area. More information on Harvey Mandel can be found here.
The following interview was done by Randy 'Rare' Resnick in Menlo Park, California on October 6, 1992. It is reprinted with his kind permission.
---
Q.
Well Fred, how did you get started on your instrument?
A. I was a little kid in grade school, St. Mary's School in Evanston, Illinois and I saw this girl playing a little six string lap steel so I decided to pick it up and I tool lessons in grade school from about seventh grade to eighth grade, something like that, and then I learned all the basics real quick, 'cause I learn quick, and I just went downtown in the Blues area and started picking up blues on my own.
Q. Who were the first bands you played with?
A. Earl [Hooker], I played down there with Puppy Hall Blues, Big Moose Walker and I played down there in the "Go-Go" era, down in old town in Chicago.
Q. What tunes did you play in those days?
A. Oh, I don't know! Basically coast to coast blues, all those classic blues, Puppy Howl Blues, you know, Bloomfield and all those guys were in Chicago then.
Q. Was that a time when you could go hang out and play?
A. Well I still do that (laughs)!
Q. Have you been back there recently?
A. No, but it's probably like the Bay Area!
Q. Was it a long and tortuous path that brought you to California?
A. No, it was a glorious, adventurous path. I came out with Musselwhite and we just went all over the United States.
Q. Who else was in that band?
A. Oh, he changed bands. Freddy Below, Louis Myers, but before that there was Eric Severied, Tim Kaihatsu who's with Robert Cray right now. I met Musselwhite in, Chicago and Musselwhite sent for me when he was in Massachussetts and our first gig was in Hartford, Connecticut with B. B. King, (laughs) so I remember that was the first gig I played with Musselwhite... officially.
Q. Did B. B. have anything to say?
A. Yeah, we sat back and drank about a half pint of gin and that was the first and last time I ever had a personal contact with him.
Q. What about Albert King?
A. I lit his pipe for him once (mine was already lit) and that was at the Keystone in Berkeley.
Q. You're working on an album now?
A. Yeah, it's gonna be half jazz, half blues, you like Round Midnight to Ray Charles' "Heat Of The Night" which I've always wanted to do that song, which I've never really done and released it on an album. And a few originals, I've got about 30 minutes of material right now. Being a steel guitar player, I have to stretch that instrument way beyond its original intent in order to make it, which is what I do, so I have to be creative, which I am, not to a great success I would want to be, but you know, I can get by!
---
More information about the
Randy Rare
CD with special guest Freddie Roulette is available on
Randy's web site
.
To contact Freddie Roulette:
Triple J J J Productions
Towne Terrace Suite 16a
Middletown, NY 10940
Attn: Fredrick Jackson
(914) 346-4613
---
Big thanks to
David Gross
(
david@punmaster.com
), who corrected my memory of the Guitar Player anniversary concert, and also provided me with updated information on Freddie Roulette.
Thanks to Corey Cowan (Peadge@aol.com) for the correction to the song "Puppy Howl Blues".