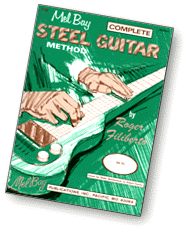 Many of these books listed below can be ordered by your local music store. You can also find them on the J.K. Lutherie web site. They are a mail order company that specializes in Guitar related items. They have a small sellection of books and videos on steel guitar, and hundreds of others on guitar in general.
Please send me any suggestions or recommendations that you have. (If someone wants me to review your steel guitar-related product, send me e-mail!)
The Mel Bay website now has descriptions of many of their instructional methods for resonator guitar, pedal steel guitar and lap steel guitar.
Stacy Phillips is the author of the classic Dobro method called, strangely enough, "The Dobro Book". It covers many different styles of steel guitar playing, and is an excellent introduction to the instrument.
Peter Eden says, "The Stacy Phillips book has a lot of information, lots of licks, tunes, etc. But when used in conjunction with the tape (actually, the copy I bought had one of those flexible plastic records attached), it can be a bit frustrating, since the tape doesn't illustrate all the examples in the book and there is often no reference to book pages, etc. "
It is published by Oak Publications in New York City, but I haven't been able to find a contact number. This book should be available through your local music store or directly from Stacy Phillips. If not, try this fine acoustic-oriented store:
Fifth String Music
3051 Adeline Avenue
Berkeley, CA 94703
(510) 548-8282
Stacy Phillips is also the author of a fine Hawaiian steel guitar method called "The Art of Hawaiian Steel Guitar". This is the first new Hawaiian steel guitar method in many years. It features a nice combination of Hawaiian tunes, many of which can be found on currently available CDs. It is published by Mel Bay Publications, who carry several other steel guitar and dobro instruction books. These books should be available at your local music store. If not, you may contact them directly.
Mel Bay Publications, Inc.
#4 Industrial Drive
Pacific, MO 63069-0066
(800) 325-9518
Mel Bay's Complete Dobro® Player is intended for people who already know how to play, but want to get better at it. Stacy Phillips's new instructional method starts with a lot of small examples, little riffs and such, using different fingerings and phrasings, and proceeds to fulfill his goal of being a book for the complete Dobro® player . This is the sort of book you want to read from beginning to end, rather than jumping around. He lays a foundation in the beginning chapters and expands upon the foundation as he goes along. Stacy covers many different styles of resophonic guitar playing, including bluegrass, Hawaiian, blues (Albert King!), rock and country. I got a kick out of his version of Eric Clapton's version of "Hideaway" (originally done by Freddie King). He also covers everyone from Jim and Bob, the "Genial Hawaiians", to Jerry Douglas.
Mel Bay's Complete Dobro® Player is intended to be complementary to and an extension of The Dobro Book. The classic method book that Stacy wrote in the 70's has a lot of good stuff in it, but it doesn't go into as much detail as this book does. Stacy has a lot more room to discuss many other concepts in this volume.
I think the additional years of teaching and performing have given Stacy a better perspective on how to approach teaching the instrument. He illustrates different approaches to the instrument, pointing out how different people play, and how you can adapt their styles to your playing. Every major resophonic guitarist seems to be recognized in some way in the book.
I appreciated the interviews in the back of the book. Stacy talks with Jerry Douglas, Mike Auldridge, Gene Wooten, Buck Graves, Bob Brozman and others about their views on resophonic guitar playing.
I also have the accompanying tape, which is excellent for getting an idea of what he's trying to do. The examples are clearly recorded, at a medium to slow tempo, so you can hear what he's trying to get across. Several of the examples are split into two channels - Dobro on the right, guitar accompaniment on the left - so you can practice on your own. Because the whole book uses tab notation rather than standard music notation, and because I tend to learn by hearing rather than by reading, I found the tape to be very valuable.
DeWitt Scott, owner of Scotty's Music in St. Louis, Missouri and host of the annual International Pedal Steel Guitar Convention, has published through Mel Bay a new book that any C6th lap steel player should have. Titled Basic C6th Nonpedal Lap Steel Method, this book fits the title exactly. Scotty starts with the extreme basics and progresses to some pretty difficult stuff. The songs are not your typical Hawaiian tunes, but the overall Hawaiian tonality of the tuning comes through in the presentation. Songs are listed in both standard notation and tablature, a big help for those who wish to read music.
The Mel Bay website at http://www.melbay.com has more information on these methods, as well as many other Mel Bay books and tapes.
The following two reviews are courtesy of Peter Eden.
"Dobro® Techniques for Bluegrass and Country Music", by Stephen F. Toth - This book, which comes with a cassette tape, is quite a bit less intimidating than Stacy Phillips'. What I like most about the book was mutiple versions of the same tune, each progessively more difficult. The downside is that the book is not long enough.
ISBN 0-931759-68-4
Centerstream Publishing
PO Box 5450
Fullerton, CA 92635
Mel Bay's Dobro® Songbook, by Tom Swatzell and Ken Eidson - While there is no tape with the book, the front of the book gives Ken Eidson's address. This book contains two verions of every song, a simple one with just the plain melody, and a more fancy one "Dobro-ized". All songs are notated both in tablature and treble clef, a practice which is useful when playing with others.
The William Leavitt tuning (C# E G Bb C D) is an interesting tuning developed by the late Chairman of the Guitar Department at Berklee College of Music in Boston. Mike Ihde, Associate Professor of Guitar at Berklee, has a series of ten jazz standards such as "Someday My Prince Will Come", "Moonlight In Vermont", and "Misty" arranged for this tuning. You can purchase Mike's recordings of these tunes, tablature and notation, and/or a play along cassette. More information can be obtained by writing to Mike directly:
Mike Ihde
P.O. Box 143
Berklee College
1140 Boylston St.
Boston, MA 02215
(617) 247-6878 fax
mihde@berklee.edu email
David Hamburger's "The Dobro® Workbook" is subtitled "Licks, Techniques, and Improvisation for Lap-Style Resophonic Slide Guitar".
Jerry Byrd's Instruction Course for Steel Guitar is the overall Bible of the lap steel guitar world. Sold through Scotty's Music in St. Louis, Missouri, this book comes in a large 3-ring heavy cover with a plastic holder for the cassette tapes. Included are two 2-track stereo Rhythm/Demonstration tapes. Steel Guitar by Jerry Byrd is on track 1 and trio accompaniment in on track 2. This allows the student to turn off track 1 and play with the trio. Covers material in books 1 and 2.