Learning to Play
Biographies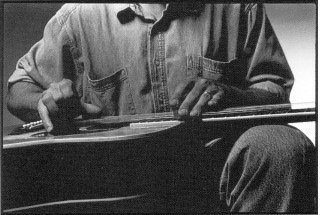 Here are some suggested CD's to seek out if you want to learn more about different types of steel guitar music. Please e-mail me any suggestions as well. Click here to go to the Hawaiian, Blues, Country and Western, Bluegrass, Rock, Indian or Other categories. I've updated this list to reflect new releases and remove some older, out-of-print releases.
The image to the right is of Kelly Joe Phelps.
---
Probably the best overview of the state of the art in lap steel guitar playing is the CD Legends of the Incredible Lap Steel Guitar on Horse Rock Records. Producer Roger Smith has managed to line up a who's who of the steel guitar community. Tracks featured include the following:
Gary Brandin "In The Dark"
Harry Manx "Only Then Will Your House Be Blessed"
Bobbe Seymour "There'll Be No Teardrops Tonight"
Orville Johnson "Mardi March"
Bob Brozman "It Happened In Monterey"
Greg Leisz "Santo's Dream"
Tom Morrell "Steel Guitar Rag"
Stacy Phillips "Flambée Montalbanaise"
Herb Remington "Hula Blues"
Cindy Cashdollar "Locust Grove"
Ken Emerson "Ka Loke De La Corazon"
Kayton Roberts "Bells Of St. Mary's"
Jeff Lang "London"
The Fugitive Steeler"Saturday Night Shuffle"

There's a mix of acoustic and electric steel guitars throughout. An essential release!
Hawaiian
Here are a couple of good sources for the Hawaiian CDs below (and many other Hawaiian items):
Auntie Maria's Hawaiian Music Island carries all sorts of Hawaiian music on video, CD and cassette. All items in her online catalog are in stock and will be shipped within one working day of your order. She also has a calendar of live Hawaiian music worldwide on her nicely done web site.
Cord International is dedicated to bringing "lost" classic Hawaiian recordings back to the islands, and back to the people around the world, who treasure them.† Since 1974 they have brought the sounds of vintage, traditional, hapa-haole and contemporary Hawaiian music to people everywhere.†They have an extensive web site with all kinds of Hawaiian music at reasonable prices.
Cord International
PO Box 152
Ventura, CA 93002
(805) 648-7881 voice
(805) 648-3855 fax
Hukilau Hulas, Crescendo GNPD 35 - Most Hawaiians would probably call this tourist music. So what? This CD has just about all of the standard Hawaiian tunes you have to learn if you want to play this type of guitar. When I play this at work, everyone makes fun of me. Then they go around humming "The Hukilau Song" the rest of the day. Go figure. There are several different steel guitarists on this CD. Freddie Tavares is the only one I've been able to positively identify.
Hawaiian Steel Guitar Classics 1927-1938, Arhoolie/Folklyric 7027 - Twenty-six tracks of Hawaiian guitar as it should be. Check out Jim and Bob, the Genial Hawaiians doing an incredible jazzy version of "Home on the Range".
Barney Issacs and George Kuo - Hawaiian Touch, Dancing Cat Records WH38026 - An all instrumental recording of Hawaiian guitar (Dobro) and slack key guitar. Donald Fong says, "Barney Issacs has a master's touch. He's no slouch on the faster numbers, either."
Bob Brozman and Ledward Kaapana - Kika Kila Meets Ki ho'alu Dancing Cat Records 8022-38031-2 - This all-instrumental album is the second in Dancing Cat's groundbreaking series of pure acoustic steel guitar and slack key duets. It brings together two masters of their crafts (Bob Brozman on acoustic steel and Ledward Kaapana on slack key) from different cultures who share their aloha for vintage Hawaiian music in a free flowing session of great foot tapping music and good fun. At 74 minutes (16 songs), this all-instrumental recording is a great addition to the Hawaiian steel guitar tradition.
Ken Emerson - Slack & Steel, Liko Records LRCD-2002 - an excellent addition to any guitarist's collection, this CD features Ken Emerson on slack key, acoustic and electric lap steel, and various other guitars. Ken is a disciple of Gabby Pahinui, and has picked up the nuances of Sol Ho'opi'i's playing while adding his own stylings. The result is both relaxing and invigorating, well worth seeking out.
---
Blues
Black Ace - I am the Boss Card in your Hand, Arhoolie CD 374 - B.K. Turner, the Black Ace, has a wonderful voice and good technique. He recorded in Dallas in the 1930's and again in the 1960's. This CD contains everything.

The Slide Guitar - Bottles, Knives and Steel, Columbia CK 46218 - Part of the Columbia Roots 'N' Blues series, this two volume set covers a wide range of blues slide and steel guitar styles. Featured artists include Robert Johnson, Blind Willie Johnson, Sylvester Weaver, Sister O.M. Terrell, Son House, and many others. Volume One is the better choice, but both are hard to find now.
---
Country and Western
Hank Williams 40 Greatest Hits, Polydor 821 233-2 - features the fine steel playing of Don Helms (with Jerry Byrd featured on some cuts). This is required listening for anyone who wants to learn how to play behind a singer. Put this on and play along; you'll learn a lot!
Stratosphere Boogie: The Flaming Guitars of Speedy West and Jimmy Bryant, Razor and Tie RE2067 - At last the guitar wizardry of these two guitar superheroes has been transferred onto CD! Speedy played pedal steel guitar; Jimmy was one of the first endorsers of the Fender Broadcaster/Telecaster. Truly incredible guitar teamwork - an essential purchase. My only complaint is that the CD is only 36 minutes long.
If you can't find it in your local record store, contact Razor and Tie directly at
Razor and Tie Music
P.O. Box 585 Cooper Station
New York, NY 10276
(800) 443-3555
If you have the money, Bear Family has released a four CD boxed set of Speedy West and Jimmy Bryant called "Flaming Guitars". It's a wonderful set, containing a lot of different examples of their guitar artistry.
---
The following country artist reviews are courtesy Andy Volk, (avolk@ix.netcom.com):
Spadella! The Essential Spade Cooley, Columbia Legacy, Country Classics, CK 57392 - " Superb non-pedal steel solos by Joaquin Murphy. Joaquin set a style and pace for jazz steel that was years ahead of his time and until this collection, almost impossible to find."
Western Swing on the Radio, Country Routes RFD CD07 - "Great cuts from Hank Penny, Tex Williams,The Brazos Valley Boys, Cecil Brower and his Kilocycle Cowboys and more. There's a cornucopia of great steel playing by Joaquin Murphy, Speedy West, Noel Boggs, Freddie Tavares and several lesser known players. Because these were live radio broadcasts, there's a looseness and sense of fun you seldom hear in studio recordings."
Shirley Bergeron, "French Rocking Boogie", ACE CD-CHD 353 - "This is folk music in the best sense. Singing in Cajun French, Shirley Bergeron plays steel for the first nine songs. There are no hot licks on these three-chord tunes, but this is solid and soulful music and it's nice to hear the steel guitar in this context. "
Mike Auldridge, "Treasures Untold", Sugar Hill SH-CD 3780 - "One of the smoothest, most inventive Dobro players around. His style encompasses Bluegrass, Country, Pop, and a strong undercurrent of Swing. His touch and control on six and eight-string Dobro are especially impressive on the instrumentals "Deep Water", "Carolina Palms", and a supercharged version of Buddy Emmons' "Raisin' the Dickens".
Herb Ellis "Texas Swings", Justice JR 1002-2 - "If there were ever any doubters, Herb Remington proves here why he's a member of the Steel Guitar Hall of Fame and one of the greatest swing steelers ever. Remington on pedal steel, joins jazz guitar legend Herb Ellis and a cooking band including fiddle great Johnny Gimble and of all people, Willie Nelson on his acoustic/electric Martin guitar."
Hillbilly Boogie, Columbia Legacy/Country Classics CK 53940 - "Although I'd always appreciated Leon's McAuliffe's playing, this collection spotlights him at his most dynamic and swinging on two wonderful cuts from his post-Bob Will's band. "Take it Away Leon" is especially noteworthy - a tour de force boogie tune with a snappy, sophisticated arrangement. Besides Leon, there's a ton and a half of great non-pedal playing throughout and unlike some compilation disks, there isn't a clunker in the collection."
Bob Wills & His Texas Playboys - "The Tiffany Transcriptions" Vols 1-9 - "These are my favorite recordings of Wills' career and probably the hottest incarnation of the Playboys on record ... Noel Boggs, Herb Remington, and Roy Honeycutt are the featured steel players ... It's interesting to contrast Remington's singing, legato sound with Boggs' more mellow, yet pulsing chordal approach."
Distributed by
Rhino Records
10635 Santa Monica Blvd.,
Los Angeles, CA 90025-4908
Tom Morrell & The Time-Warp Tophands, How the West was Swung Vol. 7 "No Peddlers Allowed" WROO8 - "Five - count 'em - five great steel guitar stylists on one CD! John Ely, Bob White, Herb Remington, Bobby Koeffer and Tom Morrell give a master class on the level of music that can be produced by just one bar, two hands, eight or ten strings and no pedals. "
(Available from Norris Family Music, 214-285-0157 or Tom Bradshaw, 510-686-0196)
NOTE: Tom Morrell's Pteroyldactyl Tales - How the West Was Swung Vol. IV has - hands down - some of the most astounding swing jazz lap steel soloing you'll ever hear. Tom sounds like Barney Kessel or Tal Farlow playing steel as he burns through tunes like Bluesette, I Can'T Give You Anything But Love, Mood Indigo and more. Clint Strong on electric guitar is pretty impressive as well.
Hillbilly Fever Vol. 1, Legends of Western Swing - Rhino R271900/A 26108 - "Volume 1 features some outstanding steel work that was heretofore almost impossible to find. Among the highlights are Bob Dunn's great single string work on Milton Brown & his Brownie's seminal Taking Off and Noel Bogg's classic Steelin' Home"
Jazz From the Hills, The Country All Stars, Bear Family BCD 15728AH - "Classic country-swing from Jethro Burns, Chet Atkins, and a surprisingly swinging Jerry Byrd on lap steel. Some of the music is kinda corney but it's great fun. Highly recommended."
Big Sandy and his Fly-Rite Boys, Jumping from 6 to 6, Hightone HCD 8053 and Swingin' West, (Hightone) HCD 8064 - "Jumping from 6 to 6 has a raw, hillbilly bop feel while Swingin' West, offers smoother western swing and great songwriting. Steelman Lee Jeffriess is one hot player; he's influenced by Speedy West and Vance Terry. Lee attacks each solo with incredible drive and dynamics. and as a live act, these guys are unbeatable."
---
Bluegrass and New Acoustic Music
Sugar Hill Records in North Carolina seems to have a monopoly on interesting acoustic steel guitar records. They carry a wide range of bluegrass, folk, new acoustic, and other types of music. Write to them for a free catalog.
Sugar Hill Records
P.O. Box 4040, Duke Station
Durham, NC 27706
(909) 489-4349
The Great Dobro Sessions, Sugar Hill SH-CD-2206 - Billed as "a gathering of resophonic pickers", this CD features ten different dobro players - Mike Auldridge, Curtis Burch, Jerry Douglas, Josh Graves, Robe Ickes, Oswald Kirby, Stacy Phillips, Tut Taylor, Sally Van Meter, and Gene Wooten. This is an excellent overview of various stars of the resophonic world. This CD won a Grammy award in 1995 and the IBMA award for Best Recorded Performance.
Under The Wire, Jerry Douglas, Sugar Hill SH-CD-3831 - Jerry Douglas is the current king of the Dobro guitar. His speed, tone and taste are unmatched. Many dobro devotees claim they can tell his work within a few notes. Under The Wire was released a number of years ago on the MCA Master Series, but languished after MCA just didn't know how to market him (is he jazz? new age? bluegrass?). It has been reissued on Sugar Hill Records. Check out Jerry's other earlier releases on Rounder Records.
All In Good Time, Sally Van Meter, Sugar Hill SH-CD-3792 - Sally is one of the finest resophonic guitar players in the San Francisco Bay Area. She has played with many different acoustic groups, among them the Good Old Persons. This solo album contains some bluegrass, some Celtic, some ballads, and a lot of fine playing. My favorite cuts on this CD are "Amor de Mi Vida" and "The Bird That I Held In My Hand". If you cannot find this CD in local stores, you may write to Sugar Hill Records directly.
Stacy Phillips and Paul Howard - Stacy Phillips/Paul Howard, Malahat Mountain Music MMM CD006 - After getting the cassette which accompanies Stacy Phillips' Complete Dobro® Player, my only complaint was that I didn't get to hear enough of his playing. This CD gives me more of what I want, featuring everything from cover versions of Jimi Hendrix's "The Wind Cries Mary" to Jim and Bob's "St. Louis Blues". Stacy continues to be one of the most idiosyncractic resophonic guitarists out there. Highlights for me are the beautiful jazz Dobro opening "Blue Prelude", Stacy's own "Last Rose of Autumn" (a different version than on The Great Dobro® Sessions) and a great version of "St. Louis Blues". Oh, yes, I can't forget the medley of "Perry Mason Theme/Sleigh Ride".
BoneBottleBrassOrSteel -Doug Cox & Friends - Malahat Mountain Music MMM CD004 - Doug's second solo CD is a nice improvement over his previous effort, Canadian Borderline (MMM CD001). This time he enlists the help of a wide variety of fine Canadian, American and English musicians, including Long John Baldry, Ken Hamm, Tony Trischka, Al Hume, and Clive Gregson. Doug uses some unusual tunings (such as Db B Eb Ab B E on Joni Mitchell's "Circle Game") and techniques to cover a wide range of tunes. Besides the Joni Mitchell tune, he covers "Wrapped Around Your Finger" by Sting, "While My Guitar Gently Weeps" by George Harrison, and "Good Morning Blues" by Leadbelly. His strongest playing is shown on the songs with Ken Hamm, where you get a chance to hear his sensitive solos and accompaniment with an well-matched guitarist.
---
Rock
David Lindley is probably most famous for his lap steel work with Jackson Browne. He was the second non-pedal steel guitarist I'd ever seen (the first being Steve Howe of Yes). His solos on the songs "Redneck Friend", "Running on Empty" and "Stay" are classics. He also led his own band, El Rayo-X, during the 1980s, and had many hits, probably the most famous being the song "Mercury Blues".
A good start is his first record with El Rayo X, called, strangely enough, El Rayo-X. This may be hard to find. It was originally issued on Elektra/Asylum in 1987. It includes "Mercury Blues" and many other strong songs.
Check out David Lindley's web site for information on obtaining his self-produced CDs with percussionist Wally Ingram (earlier releases featured Hani Naser). These recordings feature David's singing and Weissenborn steel guitar playing (along with other instruments such as the saz and bozouki) together with an amazing array of percussion instruments.

Ben Harper - Fight For Your Mind , Virgin Records America 7243 8 40620 2 6 - Ben Harper is one of the few lap steel players out there trying to expand its use in a rock context. This album and his previous, Welcome to the Cruel World, feature his Weissenborn lap steel playing together with a more modern rhythm section (including tabla and Hammond organ on some cuts). My favorite song on the album is "Ground on Down".

Friends of Dean Martinez - The Shadow of Your Smile - SubPop SP306b - These guys have a Spaghetti Western theme going. Ben Elm's steel guitar playing is perfectly in sync with the atmosphere this band creates on this 13 cut CD. I visualize this band as playing in a truck stop in Tucumcari, New Mexico, with free Bombay Sapphire martinis for unsuspecting cowboys. My favorite cuts are "Chunder" and "All The Pretty Horses".

Morphine - Cure For Pain, Rykodisc RCD10262 - Okay, it's not steel guitar. It's two string slide bass, baritone sax, and drums. It's way cool. It's rockin'. The songs are good, too. Check this out as an example of another kind of slide. More information about Morphine is available from Rykodisc or here.

The Henrys - Chasing Grace - Bar/None AHAON-081 - The Henrys are a Toronto-based band featuring Don Rooke on Kona acoustic Hawaiian guitar, accompanied by electric and acoustic guitar, bass and drums. Their music, however, is far from Hawaiian, effortlessly mixing movie soundtrack instrumentation with alternative rock attitude. This instrumental quartest is joined on their second release by wordless vocals, trumpet, conch shell, and keyboards. A release that grows on me the more I listen to it.
---
Indian Steel Guitar (collaborations with Western artists)
A Meeting By The River, Water Lily Acoustics WLA-CS-29-CD - One of the more unusual steel guitar recordings you'll find. This is a collaboration between Ry Cooder on slide guitar and V.M. Bhatt on the mohan vina, which appears to be a modified hollow-body guitar with sympathetic strings added, played on the lap with a steel bar. Ry's son Joachim plays dumbek and Sukhvinder Singh Namdhari plays tabla (both are types of drums). The combination is amazing, especially the tune "Ganges Delta Blues". Here's a black and white JPEG of the cover.

Bourbon & Rosewater, Water Lily Acoustics WLA-CS-47-CD - I was so happy with the Ry Cooder/V.M. Bhatt collaboration listed above that I finally broke down and bought this one. The combination of Jerry Douglas, V.M. Bhatt and bassist Edgar Meyer is a real winner. More country than Indian, this CD really shows off the chops of both guitarists. This is not as contemplative as the previous work; it has more fire to it. Jerry Douglas' solo work is featured on the blazing cut "Mississippi Mud".
---
Other Interesting Stuff
Orville Johnson - Slide & Joy, Orville Johnson Music OJM 002 - Orville Johnson is one of the most unique voices in dobro-style playing today. He plays a early 1930's Style 45 Dobro© guitar on this 11 track CD with a highly melodic style. I particularly enjoy the tunes "First Song" and "Fried Onions", but the entire CD is recommended. (available directly from Orville Johnson:
Orville Johnson
PO 16435
Seattle WA 98116
206-932-4971
orvillej@attbi.com email

Firebird Suite, Mike Perlowin - Newport Classic NPD 85583 - Mike brings the steel guitar into the world of classical music with his first recording. After listening to this recording, I'm surprised it hasn't been done earlier or more often. The steel guitar work on this CD sounds at times like a harp, at times like a viola. This is really a selection of different classical and semi-classical works, including Debussy, Gershwin, Stravinsky and other composers. Highly recommended if you are interested in exploring an unusual take on familiar music (or if you want to hear classical music done right!) Mike is currently finishing up a new CD featuring music from the West Side Story.
Sacred Steel: Traditional Sacred African-American Steel Guitar Music in Florida - Arhoolie CD 450. Originally released on cassette by the Florida Department of State's Division of Historical Resources, Arhoolie just recently released this on CD. It has extensive liner notes on the history of the churches involved, the history of steel guitar music within these churches, and the musicians involved.This new CD features the traditional sacred African-American steel guitar music of the Jewel and Keith Dominions of the Holiness-Pentecostal church in Florida. According to the extensive liner notes, members of these churches began playing sacred music on the electric steel guitar in the 1930's. Willie Eason (one of the featured guitarists) is credited as the first person to introduce steel guitar to the congregation.
The CD is broken down into two parts - Instrumentals and Concerts, and Live Religious Services. The live services are excerpts of worship services that can go on for as long as five hours. I find the performances to be quite inspiring. My current favorites are Glenn Lee's "Call Him By His Name" and Willie Eason's "Franklin D. Roosevelt, A Poor Man's Friend" (sounding somewhat like "If I Had My Way" by Blind Willie Johnson). All of the tracks are great, though. If you're looking for a different way to approach the steel guitar, this is certain to be something you'll like.
Slide Crazy, Sky Ranch CD 652324 - an excellent overview of the state of the art in slide and steel guitar, circa 1994. Features cuts by everyone from Elliot Sharp to Freddie Roulette to Sonny Sharrock to Dave Tronzo.
Everybody Slides - two releases on Sky Ranch - volume 1 is CD652301, volume 2 is CD87874. Both of these releases continue the fine Sky Ranch support of slide and steel guitarists by providing great samples of what people are doing with little steel bars, rods, etc. and guitars. If you want to hear artists such as Roy Rogers, Sonny Landreth, or Johnny Winter without having to buy a full CD, this is a great way to start. My favorite cuts, of course, are the ones featuring steel guitar. Volume 2 is especially recommended for the rare track "Everybody Slides" featuring Mike Auldridge, David Bromberg and the late Lowell George of Little Feat.
Steve Cunningham is an Atlanta-based lap steeler with a new and refreshing approach to contemporary lap steel playing. His new CD "Dubious Tones" is sure to please fans of contemporary jazz guitar and to increase interest in playing lap steel in such a setting. The opening track "BruddaBru" and the song "She Never Knew" are played with regular guitar and display his considerable chops and songwriting skill. All other songs reflect his steel guitar prowess. He's obviously listened to David Lindley, Tom Morrell, and Aubrey Ghent, absorbed their stylings and incorporated them into his own.
Highlights of the CD include the Indian-sounding "Hemp", the acerbic "Sphere's Blues", the mysterious sounding "The Creeping Man" and the Thelonious Monk tune "Rhythm-a-ning", but there are strong songs throughout. Special mention should be made of Brian Hall's support on upright bass on most tunes.
Nine of the twelve tracks are Cunningham originals; he covers Thelonious Monk's "Rhythm-a-ning" and the traditional songs "How Great Thou Art" (in a decidely Sacred Steel vein) and "America" (on a National wood body resonator guitar).
The CD is available through his web site, http://www.stevecunningham.net and is recommended!
---
Thanks to Jeff Mead, John Tipka, Donald Fong, Andy Volk and others for their contributions to this page.