Learning to Play
Biographies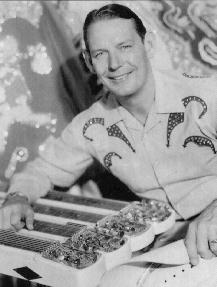 During the heyday of Western Swing music the phrase "Take it away Leon", nearly became a household phrase in the south. It was spoken by Bob Wills and referred to Leon McAuliffe, one of the best and most famous steel guitarists in the world. Though McAuliffe is most famous for his association with the Texas Playboys, he also had a respectable solo career.
William Leon McAuliffe was born in Houston, Texas on March 1, 1917. He began playing both Hawaiian and standard guitar at age 14. He began appearing on a local radio station as part of the group the Waikiki Strummers in 1931. Two years later he joined W. Lee O'Daniel's Light Crust Doughboys, with whom he recorded on ARC in Chicago. He learned to electronically amplify his guitar from Houston's Bob Dunn, a member of Milton Brown's Musical Brownies. Fiddler Jesse Ashlock invited the 18-year-old McAuliffe to join Bob Wills' Texas Playboys in 1935. He remained with the band for many years, recording many songs, moving to California, and even appearing in several motion pictures.
His signature song was "Steel Guitar Rag", a tune he apparently adapted from a combination of Sylvester Weaver's "Guitar Rag" and part of the Hawaiian song "On The Beach At Waikiki". (see below for a different explanation)
During World War II, McAuliffe was a flight instructor. After the war he stayed in Tulsa and founded a big band, the Cimarron Boys. After working on a Tulsa radio station, he and his band recorded for Majestic and then Columbia during the 1950s. One of his most famous tunes was "Panhandle Rag" (413K .AU) which reached number 6 in the Country/Western charts in 1949.
McAuliffe was one of the first people to use multi-neck steel guitars, with each neck tuned differently. According to Stacy Phillips' The Dobro Book, the four necks shown in the image above were tuned in the following tunings (bass to treble):
F# A C# E F# A C# E
E G# D F# G# B C# E
D Ab Eb F F# A C# E - note: the Ab is one half step beneath the third string
A B C D E G B D (bass tuning)
By the 1960s, Western Swing had fallen out of vogue and McAuliffe began only playing locally. Later Starday released some of his work with the Cimarron Boys. He also recorded a couple of albums during the '60s for Dot and Capitol. In 1954 he purchased radio station KAMO in Rogers, Arkansas.
Western swing music was re-popularized due to the work of bands like Asleep At The Wheel and Commander Cody and His Lost Planet Airmen in the early '70s. In 1971 McAuliffe and Wills made a reunion recording with other members of the Texas Playboys and Merle Haggard. After Wills died a few years later, McAuliffe participated in a tribute at Fan Fair 1975. Later he would occasionally stage reunions between himself and the Texas Playboys. He also recorded a few solo albums. In 1984, some of his earlier solo work was reissued in Columbia's Historic Edition Series. Leon McAuliffe died September 20, 1988.
Here are some additional facts according to the late G. Don Thompson, Leon's business partner and manager:
Leon never did live in California. He left Bob Wills when he entered the Navy and did not return after he was discharged. He was a flight instructor in the Navy as well as member of Tex Beneke's Navy Band. Leon only lived in Tulsa and in Rogers, AR. He had an apartment in Claremore, OK,only when he was teaching western swing at the college there. His home remained in Rogers during that period.
After he came out of the Navy he started his pop "big band". That is when he started his western band. In fact he called it Leon McAuliffe and his "Western Swing Band". The name "Cimarron Boys" never occurred until we acquired the old Akdar Temple building and started the Cimarron Ballroom. Then they became the "Cimarron Boys".
Before he met Bob Dunn and his electric steel, he used a dobro with a bar under the strings.
We also owned "Cimarron Records" we released a number of other artists as well as Leon and the band. One was Bob White after he left Hank Thompson. He called them Bob White and the "BobOLinks". We release 7 singles on Leon and two albums. I sold the masters to King Records in Cincinnati. They later sold them to Starday who later reissued them one or both of them. I never kept copies of the Starday releases since they were the old Cimarron albums.
Other facts. He is release, as best I remember, two or three singles on Dot. Then we made two albums for Capital and released, I think, two singles. Then we reactivated Cimarron and released 4 or 5 singles on Leon. "Cozy Inn" made quite a bit of noise and we agreed with ABC-Paramount to cut additional tunes....then they released the Cozy Inn album.
"Steel Guitar Rag" was not taken from a Hawaiian tune. The first five notes of SGR are the same notes he used to tune the guitar at the time. "Panhandle Rag" is just the reverse order of the same five notes.