Learning to Play
Biographies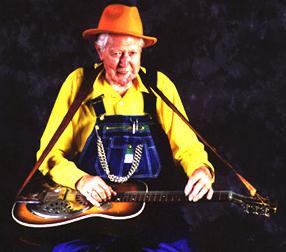 This page is heavily based on the liner notes by Charles Wolfe from the 1994 Rounder Records album Brother Oswald.
He is one of the most recognizable figures in the history of country music: big floppy overalls with an old-fashioned gold watch chain hanging from the pocket, a wide-brimmed slouch hat, big heavy work shoes that slap the floor like a gunshot, an infectious grin lighting up a friendly, open face, and a gleeful braying horse laugh that is one of the most reassuring sounds in show business. For over fifty years his art has graced the stage of the Grand Ole Opry, much of that time in the company of the legendary Roy Acuff. His "screaming tenor" singing accompanied Acuff's lead on dozens of classic recordings, and his clawhammer banjo playing kept alive the spirit of pioneer mountain musicians like Uncle Dave Macon. But for many fans, his greatest claim to fame comes from the other instrument he is known for, the one he popularized with country and bluegrass fans everywhere: the Dobro®. He was born Beecher Ray Kirby, went to work for Roy Acuff as Pete Kirby, but is known to millions today as Bashful Brother Oswald.
Like many of the early Smoky Mountain Boys, Oswald was actually born near the Smokies; in his case, it was in Sevier County, the same region Dolly Parton came from, just a few miles from present-day Gatlinburg. He was one of eleven children born to G.W. Kirby, a barber and mountain man who liked to run fox hounds and play the fiddle and banjo. He also was a well-known teacher of shape-note singing schools, and actually had several songs published in the old Stamps-Baxter gospel song books. He was thirty-six years old when Oswald was born, on the day after Christmas in 1911. "I was playing ever since I was a child," Os remembers. As a boy, he helped distribute moonshine for his father, carrying the pint bottles in an extra guitar case - and giving the neighbors in Sevierville the impression that he was good enough to have two guitars. Though he became adept at the old clawhammer banjo styles, like many younger musicians, Os's serious interest was in the guitar.
Though he had received his basic grounding in southern mountain music, this budding musician would find his most important inspiration not in the South, but in the Midwest. In 1929, when he was eighteen, Os followed the path of thousands of other young mountaineers and went north to get work in the auto factories. "I had an uncle who was a boss at the Buick Motor Company in Flint, Michigan," he remembers. At first he found he could make some money by playing for square dances at the "house parties" held by other transplanted southerners. "There wasn't no such thing as clubs back then. Everybody made their own home brew and had their house parties." At one such party Oswald met a Hawaiian guitar player named Rudy Waikiki. "That was when I first heard someone play something like my style. He was a real Hawaiian boy, from over in the islands, and he was playing this way and I loved it. I'd go to them parties just to watch him play. Then I'd go home and get my guitar and try to do the same thing. I was just playing a straight guitar and I had to raise the strings up, put a nut under the strings."
It was still the heyday for Hawaiian guitar music, and all around the country bars and beer gardens were hiring Hawaiian bands. Musicians like Sol Hoopii, Frank Ferera and Roy Smeck were spreading the new sound via records and radio, and both blues and country guitarists were listening closely. When a cafe owner told Oswald one night that he had to learn Hawaiian style or be out of a job, he wasn't surprised - and was able to adapt with no problem. During the 1933 World's Fair in Chicago, Os was adept enough with the new sound that he was able to cruise the beer joints with his guitar, playing for tips. Though he met and impressed people like Gene Autry, and though he had the dubious distinction of playing in clubs owned by Al Capone, his career eventually stalled and he returned to Knoxville to take a "regular" job in Kern's Bakery.
Os brought with him an old steel-bodied National guitar and continued to play with local bands. Knoxville in the mid-1930s was a curious musical center; though only a stone's throw from the Smoky Mountains, the town could boast two major radio stations which had a surprisingly cosmopolitan tone. There was as much swing and pop music as hillbilly, and Lowell Blanchard's "Mid-Day Merry-Go-Round" had a national reputation. One of the popular local bands was Roy Acuff's Crazy Tennesseans, which featured the Dobro® sound of Clell Summey on numbers like "Steel Guitar Chimes." On occasion, Acuff would ask Oswald to fill in for Summey, and he began to notice Oswald's improving style. In February 1938 Acuff and his band were hired for Nashville's Grand Ole Opry; Acuff went over well, but by the end of the year most of his band had decided to quit. Os recalls: "One boy, Jess Easterday, stayed with Roy and told him the boys were planning to leave. So Roy came to Knoxville and got me and Lonnie Wilson and Jake Tinkdale - he played blackface - and got us to come down. So we were here the night they were going to leave and went on the stage and left them standing backstage. He let them go right then - and they didn't know we were gonna replace them."
This was January 8, 1939, and the timing couldn't have been better. By July Oswald had done his first recording session with Acuff, playing his Dobro® on "Old Age Pension Check;" by September the band won a slot on the new NBC network hook-up for the Grand Ole Opry; and in 1940 the band travelled to Hollywood to make the film "Grand Ole Opry" for Republic. Throughout all of this, Oswald's Dobro® attracted interest and fascination. "People couldn't understand how I played it and what it was, and they'd always want to come around and look at it."
For the next fifty-three years - until Roy Acuff's death in 1992 - Oswald became the cornerstone of The Smoky Mountain Boys, Acuff's "right-hand man" as many said. "Oswald was the glue that held the Roy Acuff Show together," recalls Opry announcer Hairl Hensley. Acuff never tired of telling how Pete Kirby became Bashful Brother Oswald (it was to create a stage brother for banjoist Rachel Veach, in order to diffuse criticism of an unmarried girl travelling with the band), and recalling that he didn't even know Os could sing when he first hired him. In later years, as Acuff's health became more fragile and he cut back on his touring and recording, Oswald began to go out more on his own, usually working with fellow Smoky Mountain Boy Charlie Collins. After Acuff died, Os and Charlie continued as regular members of the Opry, until finally, in January 1995, Os was made an official Opry member in his own right. To his thousands of fans world-wide, the induction was an honor long overdue.
In January 1972, several months before Os would join the Nitty Gritty Dirt Band for their historical set Will The Circle Be Unbroken, he and Tut met in the Glaser Sound Studio in Nashville. He had with him his 1929 model Dobro®. "I got this one from Shot Jackson," he recalls. "He had found it in a pawn shop up in Asheville, North Carolina, and he was fixing to put pedals on it. I said, `Let's swap. You take my old guitar and I'll take that one and you can put pedals on my old guitar.' And he said, `OK, we'll swap even.' I've had this one ever since - and that was back in the 1950s."
"When I came down here with Roy in 1939, I came with an old silver National. They called it German silver. Metal body. But you can't hear them ten feet away. And I had always liked the sound of Clell (Jody's) Dobro®, and about two months after I got down here, I ordered a spruce top Dobro® from a music store here in Nashville, and they were so new then that the store had to order it from Chicago. Cost sixty dollars new; I paid ten dollars down and two dollars a week. Then about 1943 or 1944 somebody stole it out of my car on a tour at St. Augustine, Florida."
Oswald prefers to fit his instrument with three unwound and three heavy gauge strings, and to tune it a step above standard to what he calls "high bass A tuning" - A, C#, E, A, C#, E. This, combined with his heavy bar and his tendency to angle the bar a lot, gives his style its famous "brightness." He gets most of his famous harmonies by picking the first and third strings together. His trilling technique, heard so often in his classic back-ups to Acuff records, he learned from Rudy Waikiki; "he would use two finger picks and a thumb pick."
For more of Oswald's stories and jokes, get his book Bashful Brother Oswald: That's the Truth If I've Ever Told It by Peggy and Mike McCloud. It's $15.95, postpaid from
Bashful Brother Oswald
PO Box 1734
Madison, Tennessee 37116
For more than 40 years as "Bashful Brother Oswald" in Roy Acuff's band, Pete Kirby was the most prominent Dobro® guitarist in country music. His "Wabash Cannonball" solo is one of the most famous of all Dobro® guitar performances. The Brother Oswald signature model Dobro® replicates his 1928 Model 27, with parallelogram soundholes, V-shaped roundneck with radius fretboard and metal "high nut" adapter.
---
Oswald's latest CD, entitled Oswald - Carry Me Back, has been released by RME Records. It contains ten tracks, 33 minutes of old time and bluegrass music. Special guests include George Jones, Terry Eldredge, Bobby and Sonny Osborne. For details or to purchase copies, contact:
RME Music
P.O. Box 1464
Goodlettsville, TN 37070
marmist@bellsouth.net email
---
Beecher Ray Kirby passed away on Thursday, October 17, 2002. May he rest in peace.