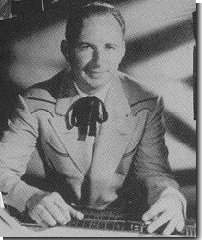 Earl "Joaquin" Murphey was discovered by Spade Cooley's band as a teenager. His approach to chord melodies and single string soloing was unprecedented for the time. One could hear overtones of Benny Goodman and Django Reinhardt in his style. Working with Cooley, he contributed outstanding solos to numbers such as "Three Way Boogie" and "Oklahoma Stomp". He also recorded incredible instrumental solos on tunes like "Honeysuckle Rose" and "Sweet Georgia Brown" as part of the cowboy vocal group Andy Parker and the Plainsmen, where he was a featured soloist.
Joaquin Murphey is held in the absolute highest regard by all who have followed him on his chosen instrument: lap steel. He did some recording on pedal steel guitar, but his reputation was formed in the mid 40s to mid 50s. He was an instantly recognizable stylist on the recordings of T. Texas Tyler, Spade Cooley, Tex Williams, Roy Rogers, Andy Parker and the Plainsmen, Smokey Rogers, and a few others. Murphey is a major inspiration to Buddy Emmons, Vance Terry, and others who have attempted to put some jazz/swing feeling into their playing. His extended improvisations on single strings are astonishing.
He was inducted into the Steel Guitar Hall of Fame in 1980 and has recorded very little since the 50s (effectively just one LP, on pedal steel guitar). It's a shame he did not record more, but he spent all of his career in Southern California working primarily with dance bands rather than playing a million recording sessions like Speedy West.
Staying in Los Angeles and the lack of solo recordings affected his visibility with the average country fan and casual steel fan. Probably only Jerry Byrd among mainland artists is held in similar regard as a lap player - and Byrd had a totally different style and background, with virtually no work in dance bands.
Joaquin Murphey passed away on October 25, 1999 from complications caused by metastatic cancer.
Discography
There are only a few sources for Joaquin Murphey's steel guitar work. Some of his best and hottest solos can be found on the Spade Cooley retrospective Spadella!, Legacy/Columbia CK57392. This CD features Murphey blazing through his signature song, "Oklahoma Stomp".
Another interesting CD is Tex Williams On The Air, 1947-1949, Country Routes CD RFD 17. This is apparently a series of air checks and was recorded in Southern California at various nightclubs, including the Palace Barn and the Riverside Rancho. The band includes Johnny Weis on guitar and vibes and Pedro DePaul on accordion. Overall sound quality is patchy at times, but this is an excellent look at how Murphey shone during live performances. His version of "Texas Playboy Rag" is another showstopper.
According to Mitch Drumm,
"Flip Parker - the son of Andy Parker who had the group "the Plainsmen" in the mid 40's - has stated that he intends to release 1 or 2 CDs of vintage Plainsmen material. This means that the stupefying 78 "Sweet Georgia Brown/Honeysuckle Rose" (Coast 8008) should at last be reissued. It is both the finest thing Joaquin ever did and arguably the best swing steel/swing fiddle workout I have ever heard."
As of this writing, none of the Plainsmen material has been reissued to my knowledge.
Herb Steiner's web site features some excellent MP3 examples of Joaquin's playing. Look under "Cool Sounds"
---
John McGann has transcribed 18 of Joaquin Murphey's solos and compiled them in a book any fan of his should be proud to own. With a beautiful design by Andy Volk, Joaquin Murphey: Classic Western Swing Steel Guitar Solos contains both standard and tablature notation of many songs available on various CDs and on Herb Steiner's web site. Each solo can be played either on lap OR C6th pedal steel (without pedals, of course!) For more information, contact Mr. McGann at the link above or write to him at:
John McGann
PO Box 688
Jamaica Plain MA 02130
---
Thanks to Mike Johnstone, Jesse Morris and especially Mitch Drumm for their assistance in providing information used on this page.