Learning to Play
Biographies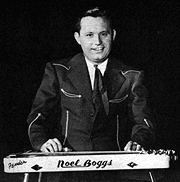 Noel Edwin Boggs was born November 14, 1917 in Oklahoma City, Oklahoma. He learned to play the steel guitar in junior high school, and worked for three radio stations in the Oklahoma City area while still in high school. In 1936, he joined Hank Penny's Radio Cowboys and toured the southern and eastern United States. He returned to Oklahoma City and joined WKY radio as a performer, also recording at this time with Wiley and Gene. In 1941, he started his own band, and played in the Oklahoma City area for the next three years.
In 1944, Leon McAuliffe left Bob Wills and His Texas Playboys to form his own band, the Cimmaron Boys. His good friend and fellow admirer Noel Boggs became his replacement, appearing on many of the Tiffany Transcriptions, as well as on the hits "Texas Playboy Rag", "Roly Poly", "Stay A Little Longer" and "New Spanish Two Step".
In 1946, Noel left the Playboys to undertake an extended booking at the Hollywood Palladium. He rejoined Wills, then left again and joined Spade Cooley, the King of Western Swing. He stayed with Spade Cooley's Dance Band until 1954. After that he formed his own quintet, playing throughout California and Nevada as well as on USO tours.
Boggs was a close friend of famed jazz guitarist Charlie Christian. Together with guitarists Jimmy Wyble and Cameron Hill, he would take Christian's solos note for note from such tunes as "Flying Home" or "Good Enough To Keep" and create arrangements for three guitars. Boggs was one of the first people to jump from one neck to another in the middle of a solo. He was also famed for his ability to play piano-style block chords, both as accompaniment and within his own solos.
Noel's first steel guitar was a Rickenbacker. In 1946 he met Leo Fender while working with Spade Cooley at the Santa Monica Ballroom. He became the proud owner of Fender's first steel guitar and an important endorser and promoter of Fender's equipment. The friendship between Noel Boggs and Leo Fender was such that Leo Fender was the godfather of Noel's daughter Sandy.
During his life, Noel Boggs appeared on some 2,000 recordings as a soloist, with Bob Wills, Spade Cooley, Jimmy Wakely, Hank Penny, Bill Boyd, Sheb Wooley, Les Anderson, Merle Travis and the Cass County Boys. He worked on the radio with Roy Rogers, Gene Autry and the Sons of the Pioneers. He made regular television appearances with Spade Cooley and on Jimmy Wakely's television show. His motion picture work included appearances in Rhythm Roundup, Blazing the Western Trail, Lawless Empire, Frontier Frolic, Everybody's Dancin', and Out West Teenagers.
Noel Boggs died on August 31, 1974 and is buried in Granada Hills, California.
Suggested Listening on CD
Bob Wills & His Texas Playboys - The Tiffany Transcriptions Volumes 1-9 - these transcriptions, originally recorded in San Francisco between 1945 and 1947, include over 220 selections, ranging from blues to jazz to Hawaiian to polka to country. An excellent way to hear Noel in his prime with a hot band behind him.
Spade Cooley - Spadella! (Columbia CK 57392) - Noel Boggs and Joaquin Murphy are both featured on this excellent compilation, although the skimpy liner notes don't indicate who's featured on which songs. I believe Noel Boggs is featured on the song "You Don't Miss Your Water".
Hillbilly Fever Vol. 1, Legends of Western Swing - Rhino R271900/A 26108 - Noel Boggs is featured on several songs, including his own hit "Steelin' Home"
Western Swing on the Radio, Country Routes RFD CD07 - features some of his earlier work with Hank Penney
The Very Best of Noel Boggs, Varese Saraband 302 066 138 2 - a re-release of Boggs' 1958 and 1964 sessions for Shasta Records. Some of his best solo work performed with piano, organ, and guitar accompaniment.