Learning to Play
Biographies

Please send me any suggestions or recommendations that you have. (If someone wants me to review your steel guitar-related product, send me e-mail!)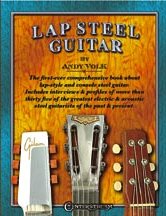 Andy Volk has authored the definitive book about lap-style and console steel guitar. Simply titled "Lap Steel Guitar", this book includes interviews with, and profiles of, more than 35 of the greatest electric & acoustic steel guitarists of the past and present in the Hawaiian, Country, Western Swing, American Roots, Cajun, Sacred, Rock & Roll, and World Music idioms as well as 40 color pages containing photographs of some of the most desired vintage steel guitars and new instruments from many of the best contemporary builders, as well as comprehensive information about steel guitar tunings.
It's a deep book with a lot of useful information, beautifully laid out and well organized. It contains great interviews with famous and obscure musicians, all of whom should be better known thanks to this book.
Andy's book deserves to be up there with Lorene Ruymar's as a standard reference for steel guitarists. The two books compliment each other well and are a must-have for every steel player's library.
The book may be ordered directly from Andy via Volk Media's web site or through your local book store.
Also published by Centerstream Press and sponsored by the Hawaiian Steel Guitar Association, The Hawaiian Steel Guitar (and its great Hawaiian Musicians), edited and compiled by Lorene Ruymar, stands as the ultimate reference work for people interested in the Hawaiian steel guitar, much in the same way as Bob Brozman's "The History and Artistry of National Resonator Instruments". In this book Lorene Ruymar has condensed the 100 year history of this quintessential Hawaiian instrument into 200 pages. Packed with photographs, drawings and reprints of various types, this book gives you a lot of information. Contributions are included from over 70 different people, including Jerry Byrd, Bob Brozman, Mike Perlowin, and many others.
There are seven chapters in this book, with each chapter containing several articles by various authors. Chapter 1 discusses the origin of the steel guitar. Chapter 2 documents the steel guitar's spread throughout the world, from Sweden to Tonga, with special mention of the steel guitar's acceptance into other forms of American music such as blues and country music. Chapter 3 discusses the various mainland schools, cultural influences and instruction methods. Chapter 4 is devoted to short biographies of many steel guitarists around the world. Chapter 5 covers the physical development of the steel guitar, including acoustic Hawaiian guitars, resonator guitars, lap steels, table steels, and pedal steel guitars. This chapter contains many photographs of various steel guitar models, both acoustic and electric. Chapter 6 discusses the many playing techniques developed over the years, and includes a very complete list of common steel guitar tunings. Chapter 7 is all about the Hawaiian gu