Image below © 2001 Rickenbacker International Corporation. Reproduced by permission.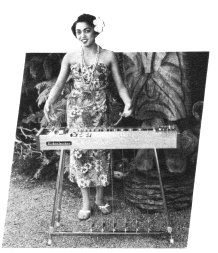 This is necessarily a very limited discusssion of lap steel guitar models. I've chosen to focus on electric lap steel guitars, as there still isn't a definitive reference book for these instruments (as there is for the National and Dobro® acoustic guitars). As I find out more, I'll try to add to this page.
If you are looking for information on pedal steel guitar models and manufacturers, try b0b's Steel Guitar Links.

Much of the information provided in this page is paraphrased from Gruhn's Guide to Vintage Guitars by George Gruhn and Walter Carter, ISBN 0-87930-195-3. Published by the publishers of Guitar Player magazine, it's a essential resource if you want to find out anything about good American guitars. If you want to find out more about your specific steel guitar (such as the date it was manufactured, or specifics about the model you own), you ought to buy this book. The suggested list price is $27.95 in the USA. It is available from any good music store or from Gruhn Guitars.
Eric Shoaf has graciously provided me with additional information based on his many years collecting steel guitars. His comments follow the discussion of each manufacturer.
Clay Harrel has a wonderful web site with much more information, not only about lap steels, but all kinds of musical instruments. Many of the Gibson lap steels shown on this page are from his collection.
I have information on Alamo, Alkire, Bigsby, Carvin, Danelectro, Dickerson, Dobro/Regal, Fender, Framus, Epiphone, Gibson, Gretsch, Guyatone, Harmony, Magnatone, National/Valco/Supro, Norman English, Rickenbacker, Teisco del Rey and Vega.
---
Alamo
Alamo was founded by Charles Eilenberg as Southern Music of San Antonio, Texas around 1947. Alamo made many different guitars and amplifiers.
Models included:
No. 2493 Embassy
No 2490 Jet
Challenger
No. 2499 Futuramic Dual Eight
No. 2497 Futuramic Eight
No. 2499 Alamo Dual Eight String Professional Model
No. 2493 Embassy (different from the Embassy above)
---
Alkire
The Alkire Eharp (a ten string lap steel) was developed by Eddie Alkire around 1939 in a search for more harmonic possibilities for the lap steel guitar. Alkire Eharps were made by Harmony and Valco. See this link for information on Eddie Alkire and his ten string steel guitars. Here is the eHarp player's web site.
---
Bigsby
Paul Bigsby is generally considered to be one of the great steel guitar manufacturers. He's also famous for being one of the first builders of electric solidbody guitars, as well as for the vibrato mechanism seen on Gibson, Gretsch, and many other guitars. His steel guitars were played by Joaquin Murphey, Speedy West, and many other famous guitarists of the day. Most of the guitars I've seen have been double or triple neck guitars, with the name Bigsby prominently displayed on the front of the instrument, usually along with the name of the original owner.
---
Lowell Kiesel started out making steel guitars and amplifiers in San Diego, California immediately after World War II. He renamed his company Carvin (a combination of the names of his two sons, Carson and Gavin) and went on to make a wide variety of guitars, amplifiers, and other musical equipment. Carvin is and was the only sizable guitar maker that sells most of its merchandise through mail order. Carvin made Hawaiian guitars in various combinations, but I haven't seen any information on particular model numbers.
---
These are relatively rare lap steel guitars, although not particularly collectible. If you have any information on their steel guitars, please let me know.
---
Dickerson
Dickerson steels were the precursors of the Magnatone line. Delbert J. Dickerson began manufacturing guitars in the 1930s. At the height of the company's manufacturing career they were building 200 guitars a week under 10 different brands, including Varsity, Southern California Music Company, Oahu, Bronson, and Roland Ball (father of Ernie Ball). The patent rights were sold to Gaston Factor in 1944, who later sold the rights to Magna Electronics. Apparently Sol Ho'opi'i was an endorser of the Dickerson line. The cover of the book "The Hawaiian Steel Guitar" is an artist's rendition of Sol holding a National. Inside the book is the real photo, with Sol holding a Dickerson.
---
Dobro/Regal
The term "Dobro®" is a registered trademark, but is also commonly used to refer to any resophonic guitar. Dobros have been made since the 1920's. A discussion of the history of the Dobro Company can be found on their web site. Dobro electric lap steel guitars were manufactured from 1935 to 1943. Models offered included metalbody and woodbody electric Hawaiian guitars.
---
Epiphone
Epiphone started making electric steel guitars in 1936. The models offered included:
Rocco
Century
Coronet
Varichord
Kent
Epiphone stopped making steel guitars around 1958.
Eric's Comments: Epiphone made some cool steels but they didn't sound good with period amps and didn't sell well (there are no production numbers but this is based on availability in the vintage market). Actually they aren't bad sounding steels if you can turn up the treble on your amp, and some are fairly fancy. I don't see many from beyond mid-1950.
---
Fender
The very first Fender guitars were lap steel guitars. Fender steel guitars were first made in the early 40's, usually sold together with a tweed amplifier. Models offered included the following:
K&F - (Kaufmann and Fender)
Princeton
Six and eight string models were offered. Fender also made some student steels under the name White. They were named for Forrest White, Vice President and General Manager of Fender from 1954 to 1966. The Fender steel guitar line was discontinued in 1981.
Fender pedal steels were made starting in 1950's and discontinued in 1981. Models offered were the following:
Eric's Comments: These were cataloged as available through 1981 but in fact I see few from the 1970s. Most of the ones I see, and assume to be most numerous are the 1950s and 1960s models. The serial numbers I've seen seem to follow no recognizable pattern. The easiest way to verify the date the instrument was constructed is to look under the tuning mechanism. A date of manufacture will usually be penciled in under the tuning peg plate.
---
Framus
Frankische Musikindustrie (Framus) started as an acoustic guitar manufacturer after World War II in Erlangen, Germany. They relocated to Bubenreuth in 1954, and to Pretzfeld in 1967.
Models included:
Deluxe Table Steel 0/7
Student Hawaiian Steel 0/4
---
Gibson
Gibson started manufacturing lap steel guitars in 1935. The prewar models offered included:

Postwar models included:
Ultratone 7
Century 10
Century Deluxe
Skylark (aka the EH-500)
Skylark Deluxe
CGT (also known as CGTN, CG-523)
CG 520
Pedal steel guitars included:
Electraharp (EH-620, EH-610, EH-820, EH-810)
Multiharp
Gibson also made steel guitars under the following brand names, as well as some special order models:
Kalamazoo:
KHG-12
KHG-14
KEH-R (Oriole model)
Mastertone
Recording King:
Gibson discontinued their steel guitar line in 1968.
Eric's Comments: There is a publication on Gibson Production Numbers 1948-1979 which I have found to be help since you can judge the relative rarity of certain models. Certainly the fact that they made 15,000 BR-9 models is borne out by what I see on the vintage market. Everybody has a BR-9. Like Fender, sales of Gibson steels trailed off in the late 1960s and few were sold thereafter. As far as collectibility, the Gibson Ultratone and Century models are two of the fanciest lap steels ever made. The 1958 Ultratone with PAF (Patent Applied For) pickup is a rare bird, with less than 100 made. If you find one, be sure the pickup is an original PAF, since people have been known to replace them with another. PAFs are pulling $500 each on the vintage market.
---
Gretsch
With the exception of the Electromatic Hawaiian model, all Gretsch steel guitars were made by Valco. Models offered included:
Jet Twin Console
Jet Mainliner
Jet Airliner
Gretsch steel guitars were manufactured from 1940 to 1963.
---
Guyatone
Occasionally you'll see Guyatone guitars in the American market. These guitars were made in Japan between 1946 and approximately 1960, and are characterized by relatively poor construction. If anyone can provide a listing of the Guyatone steel line, please let me know.
---
Harmony
Harmony was at one time the largest American musical instrument manufacturer. The company was started in 1892 and purchased in 1916 by Sears, Roebuck of Chicago. By 1923 their annual overall instrument production was 250,000.
Harmony introduced the Roy Smeck Hawaiian guitar in 1930. By 1938 they were making electric lap steel guitars, using pickups manufactured for them by Rickenbacker. Harmony guitars may be found under the brand names La Scala, Stella, Sovereign, Silvertone, and others.
The Harmony company went out of business in 1974, partly due to competition from Japanese manufacturers.
---
Magnatone
Dickerson steels were the precursors of the Magnatone line. Delbert J. Dickerson began manufacturing guitars in the 1930s. At the height of their manufacturing career they were building 200 guitars a week under 10 different brands, including Varsity, Southern California Music Company, Oahu, Bronson, and Roland Ball (father of Ernie Ball). The patent rights were sold to Gaston Factor in 1944, who later sold the rights to Magna Electronics. Sol Ho'opi'i was an early endorser of the Dickerson line. The cover of the book "The Hawaiian Steel Guitar" is an artist's rendition of Sol holding a National. Inside the book is the real photo, with Sol holding a Dickerson. The Magnatone name was owned at various times by Estey Electronics, Magna Electronics, and the Estey Musical Instrument Corporation. The Unofficial Magnatone Archive has some nice photos of their various fine amplifiers.
Thanks to Ashley McKnight, formerly of Gruhn Guitars, I have found that Magnatone shipped the following models during the 1950's and 1960's:
Ray Meany Aloha model
Amerloha
G-70
G-65
Starlet
Melodier
Lyric (double neck table steel)
Maestro (triple neck table steel)
Quad (four neck table steel)
---
National/Supro/Valco
National lap steels were made from 1935 until 1968, when the company became bankrupt. (Clay Harrel's web site has a good discussion of acoustic National guitars.) Models offered included:

Professional Hawaiian
Silvo
Console
Woodbody
Chicago
Waikiki
Electra-Chord
Trailblazer
Clipper
Triple-Neck Hawaiian
Rocket One Ten
Studio 76
Console 16
Supro steel guitars were made from 1936 to 1969. Models offered included:
Electric Hawaiian
Hawaiian
Avalon Hawaiian
No. 20
No. 30
No. 70
Baton
Irene
Varsity
Console 16
Valco made steel guitars for many other companies, including Montgomery Wards and Sears. Models offered under the Valco name included the Hawaiian Steel and Deluxe Pro (similar to the National New Yorker).
In 1988, Don Young and McGregor Gaines formed National Resophonic Guitars in San Luis Obispo, California. They have carried on the National tradition of fine acoustic and electro-acoustic guitars, but have not made electric lap steel guitars.
Eric's Comments: You can find these under the usual Valco brand names right up until the company went under in 1968. Valco made some Silvertone steels for Sears but my research in old Sears Catalogs shows that steels were last listed in the 1964 catalog. Ditto Airline for Montgomery Wards. Supros and Nationals were made right to the end, but the Oahu name seems to have been dropped in the late 1950s. There are no production numbers for Valco made steels, but the consensus is that many thousands were made. If you owned a chain of music stores and wanted to put the store name on the lap steel instead of a brand, that was possible with a minimum order (someone has told me 200 units but I can't substantiate that). I have seen some of these at shows. They often look liked cataloged models but with "Bobby Marlowe" or some such name instead of "Tonemaster" or "Gretsch".
---
Norman English
Norman English lap steels are generally made by Valco of Chicago, who also made National, Supro and other brands. See the listings for those guitars.
---
Rickenbacker
Check out Rickenbacker 's web site for a collection of old catalogs from the 1930s to the 1980s. There are many cool lap steels represented within.
Rickenbacker 's original lap steel guitar, the "Frying Pan", is one of the most collectible lap steel guitars. The Model A-22 (22-1/2" scale) and A-25 (25" scale) were introduced in 1934, and discontinued in 1958. The Model B series was made of Bakelite and had many variations, including up to ten strings. It was made from 1935 to 1971. Other models offered included:

Model A-22 (Frying Pan, 22 inch scale)
Model A-25 (25 inch scale version)
Image © 2001 Rickenbacker International Corporation
Model S
Academy
Model G
Model TW
Model CW
Model JB (Jerry Byrd model, similar to the CW)
Image © 2001 Rickenbacker International Corporation
Model J-6
Model 100 (there were two Model 100 guitars made. One was a sheet metal body with chrome finish, also known as the Silver Hawaiian; the other was the low end of the wood body line of the 1950s and 1960s)
Model 102
Doubleneck guitars were available in many combinations of 6, 7, and 8 string necks. Pedal steel guitars were offered from 1961 to 1971, but were not as successful as the non-pedal guitars.
Eric's Comments: Gruhn's book says the last Rick steels were made in 1971, but I looked at one last year that had a definite 1975 production date and had a toaster pickup and not the horseshoe. There are no good production numbers on Rickenbacker steels except for the first couple of years of the bakelite model of the mid-1930s. Rickenbacker's steels changed in the 1950s with the pickups being reconfigured to give a more trebly sound (like Fender). New models were introduced with Fender-type styling and upward facing drop-in tuners. The Rickenbacher Silver Hawaiian is extremely cool, being a metal body that is completely chrome plated. The Model G is the same with gold trim. It's RICH!
---
Teisco del Rey
Information on the Teisco line of steel guitars courtesy the articles in Vintage Guitar magazine by Michael Wright.
Although the Japanese firm Teisco made its mark in the USA with the standard guitars sold under the brand names Teisco, Kingston, World Teisco, Silvertone, Kent, Kimberly and Heit Deluxe, they also made a series of lap steel guitars. I've seen Kent and Teisco lap steels before, but usually in very rough condition. I would say Teisco model lap steels are one of the rarer lap steel models, at least in the US. Models offered during the 1950s and 1960s include the following, with rough approximate dates of production in parentheses:
EG-7L (1954-1955)
EG-K (1955-1962)
EG-R (1954-?)
EG-NT(1955-1962)
EG-Z (1955-1962)
EG-A (1955-1962)
EG-S (1955-1962)
EG-P (1955-?)
EG-8L (1955-?)
EG-M (1955-1963)
EG-NW (1955-?)
EG-TW (1961-?)
Harp-8 (1961-1967)
EG-O (1962-1963)
EG-U (1962-1963)
EG-L (1962-1963)
EG-6N (1962-1963)
EG-8N (1962-1963)
EG-DB (1963-1964)
EG-DB2 (1963-1964)
EG-DT (1963-1964)
H-39 (1964-1967)
H-905 (1964-1967)
TRH-1 (1964-1967)
H-850 (1964-1967)
---
Vega
Vega lap steels were apparently made between 1937 and 1961. Models included:
DB-DG (doubleneck eight string)
Odell
If you have more information, please let me know.
---
Images courtesy John Hall of Rickenbacker Int'l Corp., Richard Shatz, Blake Hawkins, Lynn Wheelwright, Terri Ivers, Gaylon Matthews, Jim McGlynn, Steve Senerchia, Steve Ellis, Clay Harrell, Collector's Choice Guitars, and Gruhn Guitars among others.