Learning to Play
Biographies

Image below © 2001 Rickenbacker International Corporation. Reproduced by permission.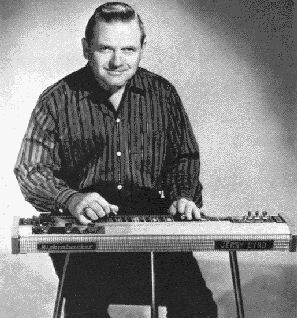 Jerry Byrd is probably cited by more steel players as the single most influential player in their early musical development than any other musician. He almost singlehandedly defined the steel sound of early Nashville and created an extremely personal style whose trademark vibrato and lush tunings became the most-imitated way to play Hawaiian music.
Jerry Byrd was born March 9, 1920 in Lima, Ohio. His country and western steel guitar playing can be heard in his work with such artists as Chet Atkins, Jethro Burns, Marty Robbins, Hank Snow, Roy Clark, Ernest Tubb, Red Foley, Burl Ives and numerous others. His work with Hank Williams was done on a Rickenbacker BD-6 lap steel tuned to C6 tuning. This guitar is now in the Country Music Hall of Fame in Nashville, Tennessee.
Byrd has been a lifelong exponent of traditional Hawaiian music. In the 1960's, he grew weary of the super-hyped, pressure cooker world of commercial country music. Byrd moved to Honolulu in the early 1970's and has become a revered and much honored presence for his efforts at teaching native Hawaiian youths about steel guitar - ironically, their own instrument! He is a consummate master of all the basic Hawaiian tunings such as C6th (his signature tuning) B11th, E13th, C#m9, F#m9, and several more. He composed several tunes that have become steel guitar standards including "Steelin' the Blues" and "Steelin' the Chimes".
His 1950's records can be found in used vinyl stores, on eBay, on cassette from the Steel Guitar Forum, or from Scotty's Music.
There are a couple of Jerry Byrd CDs available. By far the best one currently available is Steel Guitar Hawaiian Style, Lehua SLC-7023. It includes lush Hawaiian standards such as "Pau'au'au Waltz" and "Sand"(350K .AU) as well as uptempo march tunes. It's available from Scotty's Music,314-427-7794 or Tower Records,1-800-ASK-TOWER.
Scotty's also sells Jerry Byrd's instruction book and video. The video is rather basic, but it does introduce a beginner to the correct playing technique for this style.
The book, however, is the bible for people interested in this style of playing. It's now in its 4th edition, is 133 pages long and comes with two audio cassettes. It covers A major, E7th, C# minor, C# minor 9th, E 13th, B 11th and C 6th tunings and has invaulable information on slant bar technique, tunings, string gauges and reading music for steel (in C6th tuning only). There are full tablature arrangements for many tunes - some are very hip, others are rather lame. At $100.00 US, this book isn't cheap, but if you want to conjure images of sleepy lagoons, swaying palm trees, and limpid tropical nights - all in your own home - this book is your roadmap.
One of Jerry Byrd's biggest fans, Ray Montee, has created the Jerry Byrd Fan Club site to honor his idol. It's highly recommended if you want more information about Mr. Byrd.
Jerry Byrd passed away on April 11, 2005. His influence on the steel guitar remains immeasurable.