Learning to Play
Biographies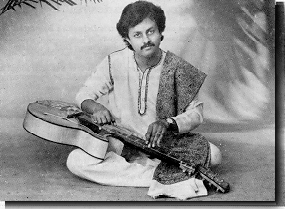 Debashish Bhattacharya is now online!
Debashish Bhattacharya started learning Indian music from his parents, before he learned the alphabet. In his childhood he mastered many Indian classical instrumental styles as well as vocal music from different musical teachers in Calcutta. He became a disciple and student of Brij Bhushan Khabra, the father of Indian classical guitar, and trained under Ajoy Chakraborty, the eminent Indian vocalist. He has also studied with Ustad Ali Akbar Khan.
As a performer, Debashish gave his first guitar recital at the age of four on the All India Radio, and in a public concert. In his twenties, he evolved a unique style of playing guitar, synthesizing selected features of various other instruments such as the Veena, Sitar, Sarod and Kannur. In 1984, he was awarded the President of India award at the age of 21.
His main guitar was developed by him after years of research and experience. It consists of a Hofner acoustic F hole guitar with a piece of wood running the length of the guitar's neck. This piece of wood extends the width of the the neck, making room for twelve sympathetic strings, and five supporting strings for additional versatility. Debashish plays this guitar while sitting cross legged, with the guitar held on the lap and played with a small steel bar, metal picks and a celluloid thumb pick.
Since 1996, his collaboration with fellow slide guitarist Bob Brozman has resulted in the "World of Slide" tour, which has taken him through the USA, Canada and Europe.
Discography:
Cassette:
Music Today No. A 92067 - India
CD:
The above CDs are available from Khazana Online if not available locally.
Video:
Hindustani Slide - Vestapol 13031, Rounder
The World of Slide Guitar featuring John Fahey, Bob Brozman, Martin Simpsoon, Mike Auldridge and Debashish Bhattacharya - Vestapol 13061
Other links:
There's a small biography of him at the Frequency Glide Enterprises site.