Learning to Play
Biographies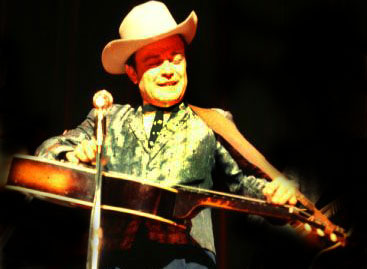 Josh Graves is one of the main people responsible for the acceptance and popularity of the Dobro® in bluegrass and country music. Born Burkett "Buck" Graves, and raised in Tellico Plains, Tennessee, he was only nine when he heard Cliff Carlisle of the Carlisle Brothers, performing a few Jimmie Rodgers tunes with the Dobro®. Graves loved the sound and became close friends with Carlisle.

In 1942, Graves joined the Pierce Brothers and began playing in Gatlinburg. Later he played with Esco Hankins and Mac Wiseman before becoming a part of the Wheeling Jamboree with Wilma Lee and Stoney Cooper. Graves remained with Wilma and Stoney through the mid-'50s. During a performance at the Grand Ole Opry, Graves made a big impression upon Lester Flatt and Earl Scruggs who invited him to join their Foggy Mountain Boys. Initially he was a bass player, but about a month after joining, Scruggs and Graves worked out a way to use Scrugg's innovative three-finger banjo picking style on the Dobro®. In the late '50s, acoustic instruments were out of favor, due to the popularity of rock & roll. The survival of the Dobro® as an important instrument in country can largely be attributed to Graves, who alternately electrified audiences with a red-hot picking style and then cooled them down with a bluesy, sweet mellowness. Graves remained a primary member of the Foggy Mountain Boys until they disbanded in 1969. Afterward, he joined Flatt's Nashville Grass and did session work on the side. In 1971, he began playing with Earl Scruggs Review; three years later, he decided to go solo.

Graves' first solo effort was Alone at Last on Epic. He also continued session work -- playing with artists like Charlie McCoy, J.J. Cale, Steve Young, and Kris Kristofferson -- and collaborating with other musicians, such as his 1975 duet album with Jake Tullock, "Just Joshing". He continued in a similar vein through the 1980s and the '90s. Josh Graves teamed up with such greats as Kenny Baker, Eddie Adcock and Jesse McReynolds in 1989 to form the Masters and release an eponymous album. -- Sandra Brennan

CMH Records has released a musical documentary on CD about Josh Graves (CMH CD-8015). Entitled "Josh Graves- King of the Dobro", it features personal reminiscences and historical accounts by Bill Monroe, Jerry Douglas, Mac Wiseman, Lance Leroy, Joe Wilson and Marty Stuart, and 20 different songs, featuring John Hartford, Vassar Clements, and many other fine bluegrass musicians.

With banjo-style finger rolls and bluesy lead lines, Josh Graves made the Dobro® guitar an essential bluegrass instrument. The Josh Graves signature model Dobro® is a recreation of his 1928 Model 37, formerly owned by Cliff Carlisle, with such vintage features as a solid headstock and 25-inch scale (a half-inch longer than standard).