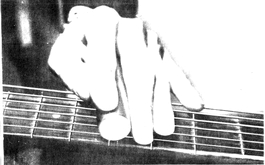 Please send me any suggestions or recommendations that you have. (If someone wants me to review your steel guitar-related product, send me e-mail!)
Most steel guitar players use one of two bar styles. The Hawaiian or pedal steel bars are completely round, tapered on one end, and useful for slanted chords and single notes. The Stevens steel has a contour along the top which allows the user to hang on to the bar better and provides better control for hammer on/off playing. I use both styles, depending on the type of playing I'm doing. I tend to use the Hawaiian bar on lap steel and the Scheerhorn/Stevens steel on my National.
Latch Lake Music Products sells the Broz-o-Phonic Authentic Hawaiian Steel Bar Slide, as well as many other fine steel and slide accessories. They are good products. I recommend and use the Broz-O-Phonic personally. It's all stainless steel, with no chrome to wear off. The bar is sized correctly for six string guitars and is not as cumbersome as a pedal steel guitar bar.
Latch Lake Music Products
3115 Mike Collins Drive
St. Paul, MN 55121
(651) 688-7502
(800) 528-2437
Tim Scheerhorn makes a fine alternative to the Stevens steel. His bars are tapered at both ends and heavier than a Stevens steel. The telephone number given below is his home number, so if you call, please do so during normal working hours for the Eastern USA time zone.
Tim Scheerhorn
120 Sam Hollow Rd
Dickson, TN 37055
(615) 441-5935
The Shubb-Pearse steel bar is attempt to make a steel bar that is the best of both worlds. It has a rounded end but a contoured body. Rick Shubb now has several different Shubb-Pearse bars designed with the help of Pete Grant and Sally Van Meter. He also makes the official Dobro® steel bar, in addition to his software for musicians - SongMaster and GigMaster. They also make the GS steel, originally developed by Gary Swallows. Check out their web site for more information.
The Shubb Company
P.O Box 550
14471 Highway 1
Valley Ford, CA 94972
(707) 876-3001 phone
(707) 876-3034 fax
Jim Dunlop USA sells a number of different kinds of steel guitar bars (they call them "tone bars") as well as slides for the slide guitarist. Check out their web site for more information, or contact them directly at:
Jim Dunlop USA
P.O. Box 846
170 Industrial Way
Benicia, CA 94510
(707) 745-2722 voice
(707) 745-2658 fax
email: customerservice@jimdunlop.com
John Pearse shows off his new cryogenic steel bars on his web site. According to the web site, they are "carved from an ingot of highest quality 440 stainless steel. Each bar is heat treated to 60 Rockwell hardness before being cryogenically frozen at -300 degrees to remove all construction stresses." For more information, contact them directly at:
Breezy Ridge Instruments, Ltd.
PO Box 295
Center Valley, PA 18034
(610) 691-3302 voice
(610) 691-3304 fax
email: Jpinfo@aol.com
Bill Stroud's steel bars are used by many professional steel guitarists. He makes an excellent series of steel guitar bars and accessories. They are expensive but highly recommended.
B.J.S.
8886 Highway 22
Route 1, Box 151
Dresden, TN 38225
(901) 364-3519 voice
(901) 364-5750 fax
Jim Burden makes Bullet Bars, which are described as custom built individually from high grade 303 stainless steel then polished to a mirror finish. Why stainless steel? Great tone and sustain, plus it doesn't rust chip or flake off like plated bars. More information can be found on his web site.
The Red Rajah steel bar is a metal tone bar with a tough powder coating that glides over the strings with practically no noise. Models range from 5.5 ounces to 11 ounces in weight, with a Stevens-type bar among the choices available. For more information:
Brattain Guitar Products
11206 Lake June Suite C
Balch Springs, TX 75180
(972) 286-9703 voice
chuckguitar@msn.com

Loni Spector Productions makes the SlipperySlide, the only all glass tone bar for steel guitarists. Each bar has the 'SitarSound Experience' flattened edge, allowing the user to playe with a sitar effect. These bars come in a wide variety of colors and sizes, and are a striking addition to your tonal palette. For more information:
Loni Specter Productions
7104 Deveron Ridge Road
West Hills, CA. 91307
(818) 992-0745
lonster@earthlink.com email
Ervin "Snake" Harris makes the Snake's Bars for Dobro® and Steel Guitar from stainless steel and a combination of exotic woods. Each bar is custom made to fit your hand. They look great too! As he says on his web site, "I make Dobro bars to meet your needs or specifications from any type of wood you prefer, exotic or domestic hardwood. [Patent Pending]. My Dobro bar is made using exotic hardwood [iron/lead wood] and I fasten it to a piece of stainless steel with glue. It takes me 6 to 10 hours to make ONE bar that I'm proud of and I know my customers will be completely satisfied with."
Ervin [Snake] Harris
542 Ruritan Drive
Emporia, Virginia 23847
(434) 634-6432
DobroDaddy44@aol.com email
Tribo-Tone guitar slides are made by Eric Ebner in Austin, Texas. As he says on his web site, "A common artifact of slide guitar music is the hiss, grind, and squeak noise created by dragging an object across the guitar strings. This noise was never part of any design criteria but by default has remained an almost standard, yet unintended feature. Tribo-Tone™ slides all but eliminate this un-musical, un-intended noise. This puts the musician in control of the sound. By improving the signal to noise ratio between the guitar player and their instrument, notes are free to ring true and clear."
Tribo-Tone™
3005 South Lamar
D-109-378
Austin, TX 78704-8864
Phone: (512) 796-7375
Customer Inquiries: questions@tribotone.com
Orders: orders@tribotone.com
Diamond Bottlenecks in the United Kingdom is a manufacturer of glass slides and bars for both slide and lap guitarists. Their dedicated range of solid glass lap and pedal steel slides are crafted from four alternative thicknesses of hardened clear-glass bar, depending on the player's guitar preferences.
A variety of differing 'nose profiles' are offered - 'bullet' or 'flattened snub-nose' are the standard requested profiles, but any individual custom profile of your own preference can be accommodated, just contact them for more information.
Diamond Bottlenecks, Redhouse Glasscrafts, Ruskin Glass Centre
Wollaston Road
Amblecote
Stourbridge, West Midlands
DY8 4HE ENGLAND
slides@diamondbottlenecks.com email
Workshop: +44 (0) 1384 399460
Office: +44 (0) 1527 578236
Greg Boyd is the man to see when you want the EG Smith stainless steel bar. These have been handmade since 1972 and feature a textured top, making them easier to hold.

Many professionals have used them for years. For more information, visit the web site.
House of Fine Instruments
Makers of EG Smith Bar
311 Knowles St
Missoula, Montana 59801
406/327-9925

Paloma Stone Slides are hand crafted ceramic tone bars, available in both Stevens and bullet styles. These are lightweight, high quality bars, and represent an excellent value for both the beginner and experienced player. The lighter weight of the ceramic makes them easier to hold over a long period, and the glazed surface makes them glide smoothly over the strings.
Paloma Stone Guitar Slides
205 Nevala Road
Woodland, WA 98674
360-225-1037
jay@stoneslides.com email
Capos
Capos are also known as "cheater bars". When placed across the fretboard, a capo allows you to change the tuning of your guitar, making it seem as if they guitar is tuned one or more steps higher than it really is. For a good discussion of resonator guitar capos, including photos of various kinds, visit the Resophonic Outfitters web site.