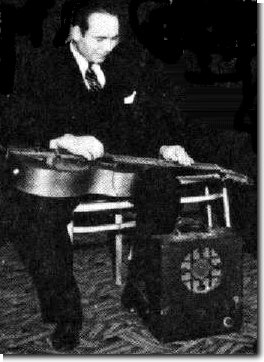 Robert Lee Dunn was born in Fort Gibson, Oklahoma, on February 5, 1908, the oldest of four children. He became interested in Hawaiian guitar as a young boy and took correspondence courses on the instrument from Walter Kolomoku. At the age of 19 he joined a professional touring unit called the Panhandle Cowboys and Indians.
He joined Milton Brown and the Musical Brownies in the early 1930's, replacing Wanna Coffman. His steel playing was featured on the recordings by this band until he left the band following the death of Milton Brown in 1936. Bob Dunn's first recordings for Decca with Milton Brown are considered to be the first electric instrument recordings. After Brown's death, Dunn played with many different groups, including Roy Newman, Cliff Bruner's Texas Wanderers, Bill Mounce and the Sons of the South, and Buddy Jones. He made some recordings on Decca under the name Bob Dunn's Vagabonds (actually Cliff Bruner's Texas Wanderers).
Bob Dunn's style was virtually unique among the steel guitarists of his time. He was an admirer of the trombonist Jack Teagarden and took a similar approach to his soloing, using a horn-like phrasing far away from the Hawaiian stylings of the day. He always tried to treat the steel guitar as a jazz instrument, or what he termed a "modern instrument".
Bob Dunn ended his professional musical career with the onset of World War II. He enlisted and served during the war. After the war, he earned a degree in music from the Southern College of Fine Arts and opened a music store in Houston. He died in Houston on May 27, 1971.
Here's Bob Dunn's solo from the song "Cheesy Breeze" (134K .au). It gives a small idea of the invention and daring Dunn brought to his guitar playing.
---
Thanks to Cary Ginell(cginell@gte.net), Heikki Laakkonen (heikki.laakkonen@pp2.inet.fi), Jon Johnson, and Jesse A. Morris (Tiffanytra@aol.com) for their assistance with information presented on this page.