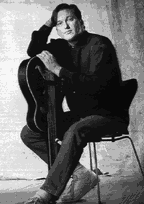 Jerry "Flux" Douglas is one of the real masters of the resophonic guitar. His speed and melodic taste make him a legend among steel guitarists. Jerry was raised in eastern Ohio, and introduced to the Dobro® through the playing of Josh Graves with Flatt and Scruggs. He began working out his chromatic style when he was about 15.
Jerry started playing with his father's group, the West Virginia Travelers, from Warren, Ohio, from the time he was 15 until he joined the Country Gentlemen in 1973. In 1975, he left to join J.D. Crowe's band. In September 1975 he formed Boone Creek with Ricky Skaggs. Boone Creek disbanded in 1978. Jerry joined the Whites in 1983 and played with them for six years, releasing several records with them. He was one of the first artists signed to the MCA Masters series in 1986 and released three albums (two of which are out of print).
Jerry has played with artists as diverse as Ray Charles, Reba McEntire, Rosanne Cash, James Taylor, Garth Brooks, Vishwa Mohan Bhatt, and Paul Simon. He is a member of the American Music Shop house band on The Nashville Network. Besides his own solo CDs, Jerry's Dobro® and occasional lap steel playing have been featured on recordings by artists such as Tony Rice, David Grisman, Mark O'Connor, Bela Fleck, Sam Bush and Russ Barenberg.
If you want to contact Jerry Douglas, please do so through his management:
D.J. McLachlan Management
New York/Nashville
845-634-4443/615-292-0099 phone
845-634-2245 fax
DJMGT@aol.com
Dobro® has recently released a Jerry Douglas Signature Edition model. It features a solid top, mahogany back and sides, bound ebony fretboard, and ebony peghead overlay with pearl Dobro logo. Internally, it has soundposts and tone bars instead of the traditional soundwell, and has a built-in McIntyre transducer pickup with a 1/4" endpin jack.
Here's a sample of Jerry Douglas from the song " From Ankara To Izmir"(250K .AU) as found on the Sugar Hill CD "Skip, Hop & Wobble", SH-CD 3817.
Selected Discography
A more complete discography can be found at Wendell Norman's web site.
Other Links
Concert information for Jerry Douglas can be found at Pollstar. Mel Bay has just released a transcription of "Skip, Hop and Wobble" - more information is available on the Mel Bay web site. Here's an old article on Jerry Douglas and the Art of Listening at The Amplifier. And here is a great radio interview with Jerry (requires RealPlayer).