Learning to Play
Biographies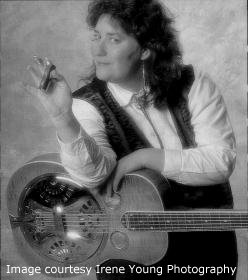 Over the last twenty years, Sally Van Meter has gone on to include musical collaborations with well-known artists that include performances and recordings with David Grisman and the late great Jerry Garcia, Tony Rice, Chris Hillman, Jerry Douglas, Peter Rowan and the Rowan Brothers, Laurie Lewis, Russ Barenberg, Kathy Kallick, the Nashville Bluegrass Band, Maura O'Connell and the inimitable Leftover Salmon. Sally's many years as a performer, session player and music teacher have gained her a reputation of rock-solid musicianship that has earned her such praise as "...capabilities far more than skin deep", ... "tasteful player with great chops", ...Sally's playing is noted for her rich tone, expressiveness and her attention to back-up." Her film and television credits include the film Gather At The River, featuring Peter Rowan and the Nashville Bluegrass Band, and nationally televised features such as TNN's Texas Connection , CBS' Northern Exposure, and Unsolved Mysteries; also, her work can found in the KIA Automobile commercials. Sally has also been featured on Nick Forster's highly acclaimed NPR radio show, E-Town. On the Sugar Hill label, Sally's solo album All In Good Time, (produced by Jerry Douglas ) was a finalist nominee for the IBMA Instrumental Album of the Year. Sally's other Sugar Hill recording, The Great Dobro® Sessions (produced by Jerry Douglas and Tut Taylor) earned her a 1994 Grammy Award for the Best Bluegrass Recording from NARAS. In 1995, Sally was invited to record with David Grisman and Jerry Garcia for a special project, executive producer Bob Dylan, for Columbia Records entitled The Songs of Jimmie Rodgers-A Tribute. Sally's love of teaching has led her to being a mainstay at workshops like Augusta Heritage Workshops, a nationally recognized NEA program and the South Plains College Bluegrass Camp and the Puget Sound Guitar Workshop. You can often find Sally participating in many festival workshops.
From 1977 through 1996, Sally was a member of the well-known group the Good Ol' Persons. Sally has been an IBMA Finalist Nominee for Dobro® Player of the Year from 1990-1997 and in 1996 won two IBMA awards for Best Instrumental Recording and Recorded Event of the Year, ( The Great Dobro® Sessions ). She has extensively toured the United Kingdom and Europe from 1985 -1996. In 1996, Sally was invited to the Slovak Republic as a featured performer along with Jerry Douglas, Bob Brozman, Tut Taylor and Peter Rowan to headline DOBROFEST 96, a National Festival Celebration of the Dobro® Guitar and its inventors, the Dopyera Brothers in Trnava, Slovakia. These days, Sally resides in Boulder, Colorado and is currently touring and performing with Tony Furtado. Sally Van Meter continues to be a performer of substance, style and distinction in the fields of bluegrass and alternative music.
Here's what some folks are saying about Sally:
"Playing long straight understated lines, Sally Van Meter sets a new standard for lyricism on the Dobro." Acoustic Guitar
...Dobro lovers will especially take note of Sally Van Meter, a brilliant technician who has her own sound and gobs of soul." Guitar Player
"Good Dobro® players can make their instrument go from the quick spritely bluegrass to the lovely romantic sound that comes very close to human vocal quality in the right hands. Van Meter has those hands; able to cover both ends of this spectrum and lots in between." Dirty Linen
...Ms. Van Meter can do it all - ( Sally ) hits the most tasteful notes at just the right times, with no extra throwaways. All Wheat, no chaff." Bluegrass Unlimited
...( Sally Van Meter's ) playing aptly puts her on a high plain of musicianship to be respected by all. New ideas and a creative approach to bluegrass and acoustic music abound here. Chalk one up for the dobro." Bluegrass Canada
..."first-rate instrumental work, led by Dobro® Dynamo Sally Van Meter." Option Magazine
"All In Good Time showcases VanMeter's sure, deft touch and clear, rich tone in a bluegrass-based-set that abounds in musicality as well as in flying fingers."
Sing Out!
You can find Sally's solo and session work on these fine recordings:
On Columbia Records:
On Sugar Hill Records:
All In Good Time- featuring Todd Phillips, Mike Marshall Jerry Douglas and others
Blue Rose- featuring Laurie Lewis, Molly Mason, Cathy Fink and Marcy Marxer
The Great Dobro® Sessions- with Jerry Douglas, Russ Barenberg, Bela Feck and others
Tree on A Hill- featuring Peter Rowan and the Rowan Brothers
Matters of the Heart- featuring Kathy Kallick, Scott Nygaard, Jerry Douglas
On Rounder Records:
Singin' My Troubles Away- featuring Laurie Lewis and Grant Street
The Oak and Laurel- featuring Laurie Lewis and Tom Rozum
North of the Border- featuring John Reischman, Todd Phillips, Scott Nygaard
On Hollywood Records:
Euphoria-featuring Leftover Salmon
For more information, contact:
Sally Van Meter
PO Box 1513
Lyons, CO 80540
info@sallyvanmeter.com