For current information on Rob Ickes, please visit his web site (http://www.robickes.com)
What's new: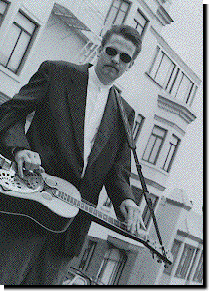 Actuab Publications now has the Rob Ickes AcuTab transcriptions, Vol I available. Included in this 56 page book are more than 50 solos in tablature for 33 tunes taken from the first three Blue Highway recordings, It's A Long, Long Road, Wind To The West and Midnight Storm.
Homespun Tapes has the "Essential Dobro Techniques" by Rob Ickes, a two-video set for intermediate to advanced players. More information can be found on Homespun Tapes' web site. The tapes can also be ordered directly from Rob Ickes at the address given below.
Mel Bay Publications has a tablature book containing all of the songs from Rob's solo CD "Hard Times". You can order your copy directly from Rob; the cost is $14.00 USD (includes shipping).
Rob Ickes
PO Box 731
Spring Hill, TN 37174
Rob's second solo CD "Slide City" was released in 1999 on Rounder Records (Rounder 0452). Mel Bay will be releasing a book of Rob's music in tablature format. You can contact Rob directly if you wish to purchase these articles from him when they become available. Here's an audio clip from his new CD, the solo from Rob's song "Dwight's Blues" (200 Kb, .au format).
Great music comes from taking chances. Rob Ickes has learned that lesson and learned it well. Since emerging on the national bluegrass scene a decade ago, Rob has developed into one of the premier pickers on the circuit, being named IBMA's "Dobro® Player of the Year" in both 1996 and '97, and winning critical acclaim with his 1997 solo recording debut, Hard Times, a delightful and adventuresome blend of bluegrass and blues. Slide City is a heady mixture of bluegrass, jazz, and rock and features Rob backed by a versatile combo with special guests Tim O'Brien and Suzanne and Sidney Cox.
"Rob Ickes's appealing Dobro® stylings make him one of the leading new voices in contemporary acoustic music."-David "Dawg" Grisman
Rob Ickes has been an integral part of Blue Highway since the band exploded onto the bluegrass scene with its debut album ,"It's a Long, Long Road," which topped the bluegrass charts, won the International Bluegrass Music Association's 1996 Album of the Year award, and helped the band pick up IBMA's Emerging Artist of the Year as well.
An even more unexpected honor for Rob was his selection, also in 1996, by the IBMA voting membership as Dobro® Player of the Year. Never before in its seven-year history had this award been bestowed upon anyone other than Jerry Douglas.
While Blue Highway has provided Rob his greatest touring exposure to date, he was by no means without prior credentials. He has toured with the Weary Hearts, the Lynn Morris Band and Alison Krauss and the Cox Family. He has played on several albums by artists such as Chris Jones, Tony Furtado, Laurie Lewis, Claire Lynch, and the Cox Family. Included among his credits are two 1994 Grammy-winning albums: I Know Who Holds Tomorrow by Alison Krauss and the Cox Family and The Great Dobro® Sessions, produced by Jerry Douglas and Tut Taylor. The latter featured a veritable Who's Who of important Dobro® players, Rob being the youngest.
Rob Ickes fell in love with bluegrass as a boy in Millbrae, California, a suburb of San Francisco. His mother played guitar and bass, and his older brother played banjo. His grandfather was a fiddler. "There were lots of fiddlers in the family," recalls Rob, "my grandpa's brother, his dad, his nephew, and two grandnieces. They all play just like him - with a light touch; I guess it's a Scandinavian style. I was supposed to be a fiddler, too. Grandpa gave me a fiddle when I was seven, but I never stuck with it."
It was Mike Auldridge's first solo Dobro® album which first overwhelmed Rob with the passion to play. Immersion in Mike's music was total for a time. "I went through a period when I sounded just like Mike," recalls Rob. "I learned everything he did on his first three albums."
Early on Rob also learned Bashful Brother Oswald's Dobro® tunes from tablature and pieces from Stacy Phillips' instructional materials, though, as Rob comments, "I don't play anything like that now." Later on he listened carefully to Josh Graves and Jerry Douglas and absorbed what they were doing.
Rob, however, has moved well beyond the copying stage. He is remarkably versatile. As his solo album demonstrates, Rob is equally at ease with driving uptempo tunes, laid-back blues, sweet melodic pieces, straight-ahead cooking bluegrass, and even a bit of tasteful jazz. His technique, while most impressive, is never highlighted for its own sake. To the contrary, with Rob, technique serves only as a vehicle for conveying appropriate musical ideas.
Rob's sound is his own, the product of the various styles and musicians he has listened to and of his own creativity. Blues is an important part of Rob's style. "I like bluegrass so much because of the blend of black and white musical influences," asserts Rob, "the blues and the Scotch-Irish fiddling. So much of American music we owe to black people - like Robert Johnson or Leslie Riddle [Maybelle Carter's African-American blues guitar teacher]. It's too bad a lot of people don't want to give black musicians the credit they deserve."
Rob Ickes does his picking on a Scheerhorn resophonic. Tim Scheerhorn (1454 52nd St., Kentwood, MI 49508; [616] 281-3927) builds these beauties with the finest woods and hardware available. Jerry Douglas and Mike Auldridge also own at least one. Ickes' current favorite is made of Brazilian rosewood. His bar or steel of choice is made by Scheerhorn as well and, unlike the standard Stevens steel, has sharpened ends, perfect for the pull-offs and hammer-ons that are such a big part of modern lap-style playing. Ickes uses ProPik fingerpicks and Golden Gate thumbpicks. For live bluegrass gigs, he now carries an AKG C1000 condenser mic for consistent sound. He has, at times, also used a McIntyre flattop guitar transducer.
Discography
Solo recording