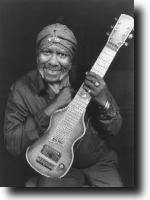 One of the few blues steel guitarists, Sonny Rhodes was born Clarence Edward Smith on November 3, 1940 in Smithville, Texas. He was the sixth and last child of Le Roy and Julia Smith, who were sharecroppers. Rhodes began playing seriously when he was 12, although he got his first guitar when he was eight as a Christmas present. Rhodes began performing around Smithville and nearby Austin in the late '50s, while still in his teens. Rhodes lists as his guitar influences T-Bone Walker, Pee Wee Crayton and B.B. King among others. Rhodes's first band, Clarence Smith and the Daylighters, played the Austin area blues clubs before Rhodes decided to join the Navy after graduating from high school.
In the Navy, he moved west to California, where he worked for a while as a radio man and closed-circuit Navy ship disc-jockey, telling off-color jokes in between the country and blues records he would spin for the entertainment of the sailors. He learned to play lap steel guitar from Oakland bluesman L.C. "Good Rockin'" Robinson.
Rhodes recorded a single for Domino Records in Austin, "I'll Never Let You Go When Something Is Wrong," in 1958, and also learned to play bass. He played bass behind Freddie King and his friend Albert Collins. After the Navy, Rhodes returned to California, and lived in Fresno for a few years before hooking up a deal with Galaxy Records in Oakland. In 1966, he recorded a single, "I Don't Love You No More" b/w "All Night Long I Play the Blues." He recorded another single for Galaxy in 1967. In 1978, he recorded "Cigarette Blues" b/w "Bloodstone Beat" on his own label. He is featured singing "Cigarette Blues" on a short film by Les Blank.
Rhodes first toured Europe in 1976. He was recorded by several European labels, apparently without much success. His European recordings include "I Don't Want My Blues Colored Bright" and a live album, "In Europe". In 1985 he released "Just Blues", on his own Rhodesway label.
In the 1980's, he began recording for the Ichiban label and later for Kingsnake. His albums for Ichiban include Disciple of the Blues (1991) and Living Too Close to the Edge (1992).
More recently, Rhodes has gotten better distribution of his albums with the Sanford, Florida-based Kingsnake label. Aside from his self-produced 1985 release Just Blues (now available on compact disc through Evidence Music), he has released The Blues Is My Best Friend, Out of Control and Born To Be Blue.
More information on Sonny's touring and recording schedule may be obtained by contacting:
Rhodes Warriors
134 Preakness Dr.
Mt. Laurel, NJ 08054

Curtis Hewston has a nice piece called Hangin' With Mr. Rhodes on The Blue Highway. There's another good interview on Euphony's web site. The House of Blues web site has an article called Losing Control with Sonny Rhodes that's pretty good as well.