Learning to Play
Biographies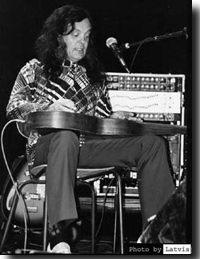 David Lindley's new web site is now available: http://www.davidlindley.com - check there for tour dates.
(above) David Lindley - image courtesy Jarmo "Latvis" Latva-Äijö
(below) One of David Lindley's many Weissenborn lap steel guitars. Image by Brad Bechtel.
---
David Lindley and Wally Ingram's latest album, "Twango Bango Deluxe" (Ulftone 003) is available directly from David Lindley (see information at the bottom of the page), or by visiting Ulftone's web site.
David Lindley is now represented by the Rosebud Agency of San Francisco. They will be developing their web site with more information. For tour dates, check on their Itinerary page.
The Rosebud Agency
P.O.Box 170429
San Francisco, CA 94117
(415)386-3456
FAX(415)386-0599
E-Mail info@rosebudus.com
---
Please note the new address below. Send your fan mail, correspondence, etc. to this address:
David Lindley Inc.
P.O. Box 370
Upland, CA 91785-0370 USA

---
Multi-instrumentalist David Lindley performs music that redefines the word "eclectic". Lindley, well known for his many years as the featured accompanist with Jackson Browne, and leader of his own band El Rayo-X, has long championed the concept of world music. Lindley's electro-acoustic performances effortlessly combine American folk, blues, and bluegrass traditions with elements from African, Arabic, Asian, Celtic, Malagasy and Turkish musical sources. Lindley incorporates an incredible array of stringed instruments, including but not limited to Kona and Weissenborn Hawaiian lap steel guitar, Turkish saz and cumbus, Middle Eastern oud, and Irish bouzouki. The eye-poppingly polyester-clad "Mr. Dave"s uncanny vocal mimicry and demented sense of humor make his between songs banter a highlight of the show.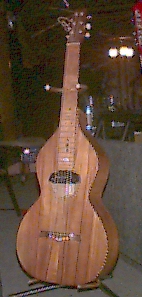 David Lindley grew up in Southern California, first taking up the banjo as a teenager, and subsequently winning the annual Topanga Canyon Banjo And Fiddle Contest five times as he explored the American folk music tradition. Between 1967 and 1971 Lindley founded and lead what must now be seen as the first world music rock band, the Kaleidoscope. In 1971 "Mr. Dave" joined forces with Jackson Browne, serving as Jackson's most significant musical co-conspirator until 1981. In 1979 Lindley had begun working with old friend Ry Cooder on Bop Till You Drop and the Long Riders sound track, a musical collaboration that lasts to this day, and has spawned many recording projects and several world tours as an acoustic duo. In 1981 Lindley created his own remarkable band El Rayo-X, which integrated American roots music and world beat with a heavy reggae influence. El Rayo-X toured the world for the next eight years, releasing three albums on Electra/Asylum - El Rayo-X, Win This Record and Very Greasy -as well as a live E.P. During this period he also came forth with a solo album, Mr. Dave.
Lindley and guitarist Henry Kaiser went to Madagascar for two weeks in 1991 and recorded six albums of indigenous Malagasy music (including two collaborative CDs, A World Out Of Time Volumes One and Two on Shanachie), which proved to have a major impact on the world music scene, both for the quality of the Grammy nominated music recorded, and the fair and ethical way the Malagasy musicians were dealt with. Throughout this long and distinguished career, Lindley has displayed his instrumental artistry on the recorded works of Bob Dylan, Rod Stewart, Linda Ronstadt, Warren Zevon and many others.
In 1990 a chance meeting of Lindley and Hani Naser led to an impromptu jam and an instant decision that "we should take this on the road". The duo recorded two self released "official bootleg" compact discs Live In Tokyo Playing Real Good and Playing Even Better on Pleemhead Audio, which are available through David Lindley Inc. In 1997 David and Hani agreed to go on to different projects. Hani Naser is currently working on a solo recording.
---
Other Lindley Links
The Rough Guide to Rock has a nice overview of David Lindley's work. Here's a sample of Dave's Weissenborn guitar on the tune "How Can A Poor Man Face Such Times and Live?" (363K .AU) from David Lindley and Hani Naser Playing Even Better, Offical Bootleg #2.
---
David Lindley Merchandise
Compact discs available through mail order
David Lindley And Hani Naser Live In Tokyo Playing Real Good Official Bootleg #1
Recorded live at the Club Quatro in Tokyo, this seventy minute compact disc features David on oud, bouzouki, saz, and Hawaiian lap steel guitars and Hani on durbeeka and djembe. It contains Bon Ton Roulie, Ain't No Way, Her Mind Is Gone, She Took Off My Romeos/Pretty Girl Rules The World, More Than Eva Braun, Play It All Night Long, Cotton Mill Blues, Rag Bag, Way Out West In Kansas, Tiki Torches At Twilight, and Mercury Blues.
David Lindley And Hani Naser Live All Over The Place Playing Even Better Official Bootleg #2
Combining live cuts from McCabe's Guitar Store and bootlegs confiscated at other gigs, this sixty three minute compact disc follows in the footsteps of its older brother O.B.#1 the songs include Jimmy Hoffa Memorial Building Blues, The Meatman, How Can A Poor Man Face Such Times And Live?, Lick The Tears, Afindrafindrao, Well Well Well, Tijuana, Poor Old Dirt Farmer, and About To Make Me Leave Home.
Twango Bango Deluxe
Recorded at various locations throughout the USA, this CD has over 75 minutes of David Lindley's twango and Wally Ingram' bango on twelve different tunes. The songs include Cat Food Sandwiches, Minglewood Blues aka New Minglewood Blues, Spodie, Coot From Tennesse, Do You Want My Job?, I Am A Patriot, Well Well Well, Waimanaolo Blues, This Barstool's Reserved For My Heart, Pay Bo Diddley, People Sure Act Funny, and Cottonmill Blues.
El Rayo X Live!!
Live recordings from 1986 (with one from 1997) - with El Rayo X (Jorge Calderon-bass; Ray Woodbury-guitar; Wm. "Smitty" Smith-keyboards;Walfredo Reyes-drums). Songs include Do You Wanna Dance, Papa Was A Rolling Stone, Jah Reggae, You Been Doing Something Wrong, I Can Tell By The Way You Smell, Bon Temps Roulle, Alien Invasion, Quarter of a Man, Your Old Lady, Turning Point, I'm A Hog For You Baby, and Rave On.
Mail Order Information
Each compact disc is $15.00 USD with a $5.00 USD postage charge. Outside the US and Canada, the CDs are $20.00 USD. Send a check to:
David Lindley Inc.
P.O. Box 370
Upland, CA 91785-0370 USA